To mark the end of 2021 I have created this art print that looks at my roots.
In this note you will find about the making of this design, but first lets commence with a short festive poem.
'Make merry, comrades, eat and drink
(The sunlight flickers on the sea),
The garlands gleam, the glasses clink,
The grape juice mantles fair and free,
The lamps are trimm'd, although the light
Of day still lingers on the sky;'
Sunlight On The Sea
By Adam Lindsay Gordon
Alcazar de Sevilla
In September 2021 I went with my partner Simon to Seville, where my family lives. Every time I go to Seville I make sure I find time to visit the Alcazar de Sevilla.
Alcazar de Sevilla
One morning I took my dad to the Reales Alcázares de Sevilla. Possibly one of the most beautiful historic buildings in Spain. It dates from the 12th century but has elements from the Roman period, the mesmerising medieval era with Islamic and early Christian influences, the Renaissance, Gothic and so on. The palace has the most stunning work of traditional tessellated and painted tiles.

Walking along the many rooms of the palace I picked very distinctive elements:
Reales alcazares de Sevilla. A Collage.
Back at my parents my young nieces and nephews arrived and I proposed to them that we all created a collage with very bright sheets of cardboard to depict the objects I had photographed from the Alcazar Palace.
So we created a collection of individual objects that can be arranged to form their own distinctive collage.
These are some of the results:
Drawing the Seville Alcazar. Familiar faces.
Back in Brighton, in my art studio I drew the elements again with ink. While I was drawing the figures I thought that the heads could be portraits of my partner and I.
Alcazar de Sevilla Art Print
The final process is the addition of colour digitally, and once I have the images I can proceed to create the final arrangement of the collage. I love creating formal symmetries and relations between the objects.One more step was the addition of the tile effect made with two superimposed ink drawings of a grid for the grouts and drawn scratches to form the usually chipped corners of the tiles.
Once completed I showed the final draft to some of my best friends. They got so excited that they commissioned me versions with their portraits and different colours and arrangement of objects.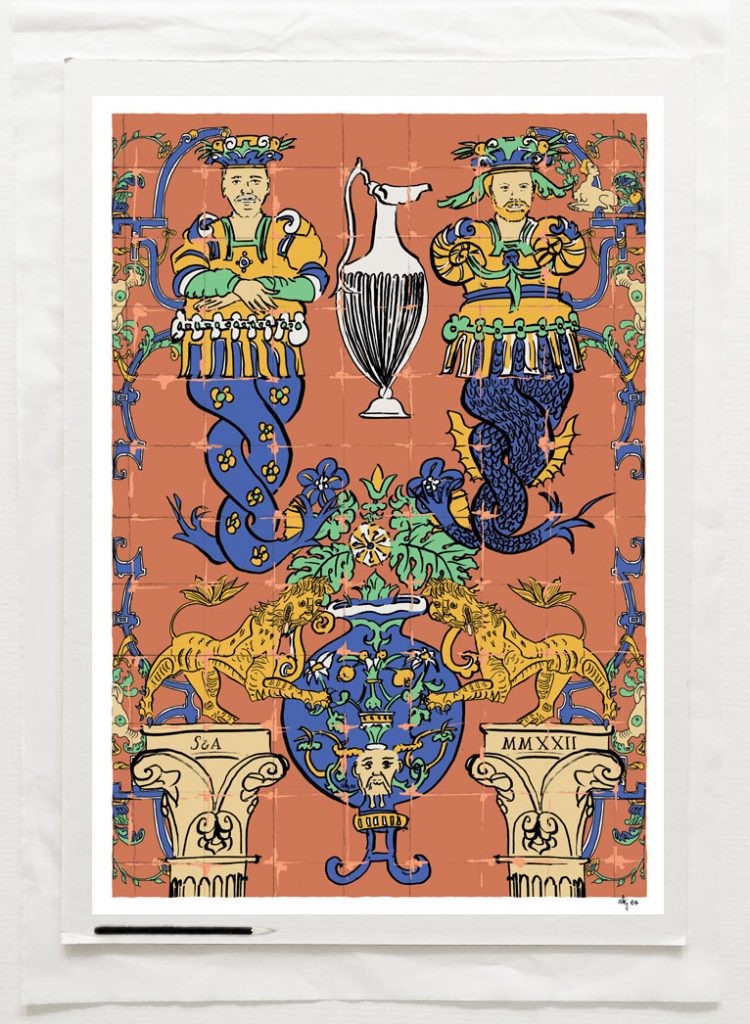 Thank you for reading this short note. It would be lovely to know your thoughts.