The city of Brighton and Hove is often referred as 'London by the Sea'. This term somehow reflects the vibrancy and multicultural spirit that this place has. I am proud to call this city my home from the early 2000. My first visit to Brighton was like for many of us as a day outing. I came down by train from London,  from the station after a short walk down to the beach you can enjoy a view similar to the one shown above in my print. Brighton has a wonderful legacy of historic buildings from different eras the and natural beauty of its coast that is part of the South Downs National Park.
Brighton Art Prints
I normally carry my sketch book with me around town. I love drawing studies and ideas in situ. The large drawings are made in my studio which is in the old town in an area called the North Laine.
Brighton Artist Print
When I first started, my prints were lets say pocket sized. Then I started to sell these in art fairs and galleries. Eventually and linked to the tradition of printed panoramas I embarked on the idea of producing my own very first wide angle vista. You can see the print base drawing below of my first ever panoramic print.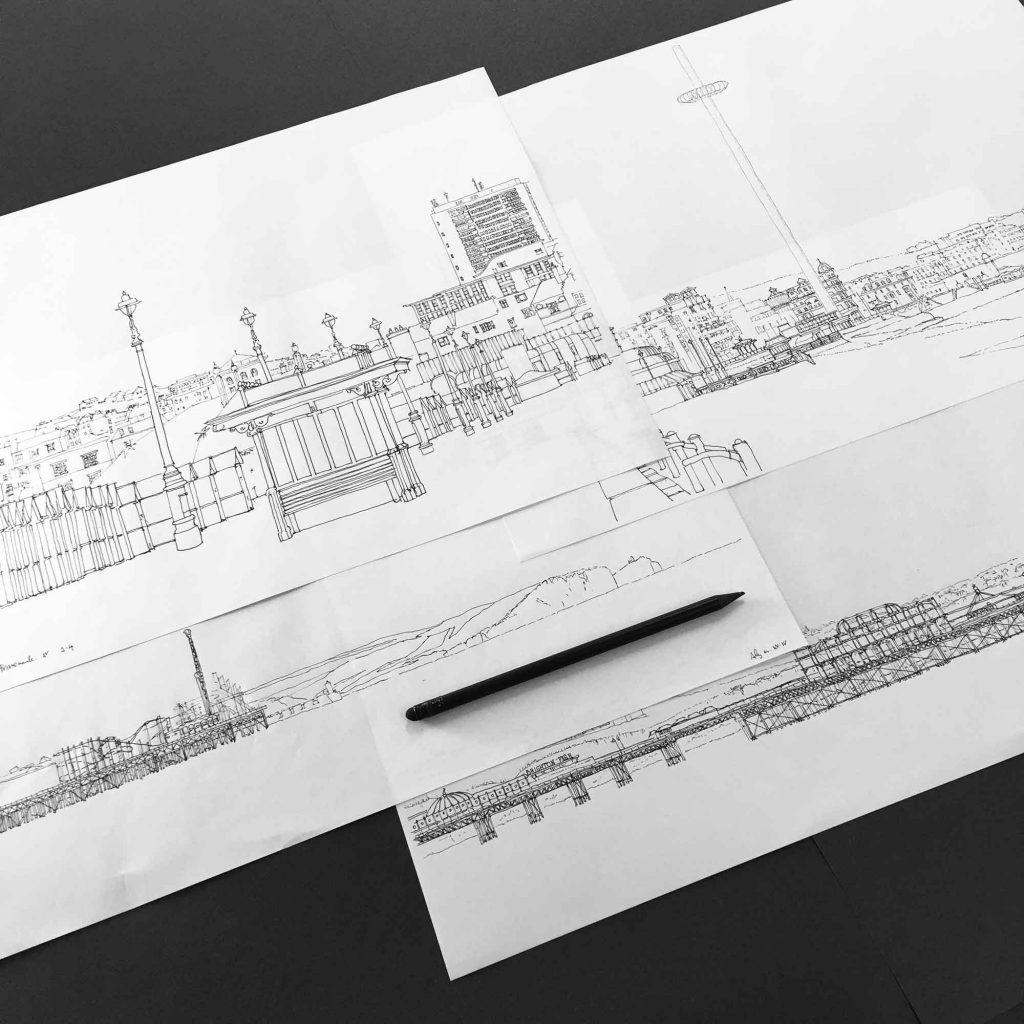 Brighton Pier Prints
Brighton has been a magnet for artists for centuries. The picturesque vistas of the historic regency architecture by the sea has been depicted as subject in prints by many famous artists. For inspiration I often visit the Brighton Museum where you can find a wonderful collection of prints. Once my base line drawing is completed I scanned it to meticulously apply colour digitally. I work with local specialised printers that use art paper and archival inks. Each print is individually signed and numbered as a limited edition.
Brighton West Pier Prints
One of my recurrent subject is the West Pier. The West Pier stands with its bend wrought iron beams and posts resembling a natural contemporary sculpture along the shore. It mesmerises and saddens at the same time as the echo of its heyday somehow can be still be felt when you pass by.
Brighton Print Shop
Please find below a selection of my favourite and best sellers Brighton prints. If you would like to discuss a purchase or know more about this print please do not hesitate to contact me by email aljguez@gmail.com, mobile 079463811116 or in person by visiting my studio in Brighton.
Thank you for your visit