Chinoiseriez
'Chinoiseriez' is a word that combines the word chinoiserie and the ending of my two surnames Martinez Rodriguez. It coins my interpretation of this historic occidental art style and my admiration of South Asian classic art, in particular by artist Cheng Rong.
In 2013 I was fortunate to visit the iconic exhibition at the V&A in Londond 'Masterpieces of Chinese Paintings 700-1900' that had some of the most remarkable examples of Chinese painting from 1200 years of tradition.
There was a work that struck me very deeply called 'Nine Dragons', by artist Chen Rong, 1244, that was for this exhibition lent by the Museum of Fine Arts, Boston.
'Nine Dragons' is considered to be the oldest and finest dragon scroll, in which each of the mythical creatures are expressed in different positions amidst clouds, water and mountains. It represents the dynamic forces of nature in Daoism.
Calligraphic art
My training and work experience as an architect has influenced my expression and medium in my art. Ink as a medium to produce architectural drawing lead to calligraphic art. The line in architecture often has a constant thickness, The use of special brushes, pens and calligraphy nibs opens the World to a dimension were lines by rotation, pressure and movement vary in thickness and the angularity moves into sinuosity. There is no freedom though as a new and strict technic is demanded to fulfil the potential of expression. Below you can explore my process of creation from an initial drawing full of movement, to a second consolidated simple drawing to a final detailed structured image.
The seaside Regency architecture of the Brighton Royal Pavilion
The Royal Pavilion, also known as the Brighton Pavilion, is a Grade I listed former royal residence located in Brighton, England. Beginning in 1787, it was built in three stages as a seaside retreat for George, Prince of Wales, who became the Prince Regent in 1811, and King George IV in 1820.
The architectural complexity of the this building can easily be asses by reading the below extract from Historic England describing the East Facade: ' EXTERIOR: East Front: composed of 5 distinct parts, symmetrically arranged around the 7-bay colonnade of the rotunda; 3 French doors, each with pointed, trilobed heads and glazing bars of original design, open into the saloon; these window heads, inspired by Mughal architecture, are repeated throughout the fabric; columns in Bath stone have an octagonal socle, leafy base, octagonal shaft, and flaring, leaf capitals which terminate above the diamond crenellated parapet in octagonal pinnacles. The design of these columns repeated throughout the fabric, applied in many instances to pilasters. Between the tops of each pair of the rotunda columns is a screen of pierced quatrefoils arranged in intersecting S-curves which are formed from the lines of the horseshoe arches; above the centre bay of the colonnade in the parapet are the arms of the King and an inscription: "HRH George IV MDCCLXXXIV". '
Classic XIII century Southern Chinese dragons
Dragons in Asian culture means prosperity. They are the ultimate benefactors. They are portrayed in the most intricate and elevated form or arts. Below you can see from The Sir Joseph Hotung Gallery of China and South Asia a set of magnificent Ming dynasty dragon tiles is the first object that you see. These beautiful, large, high-relief tiles were made in sets to form a series of friezes showing blue-and-yellow dragons among lotuses.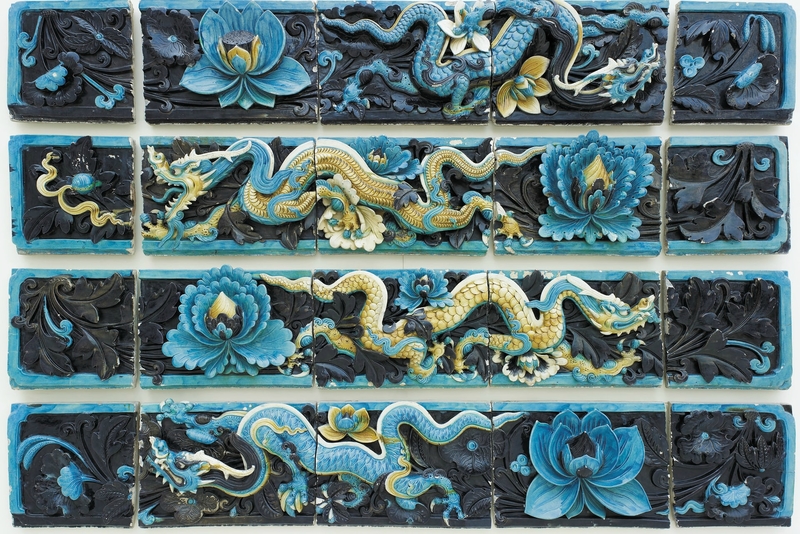 Chinoiserie architectural Victorian ornamentation
Further research into occidental representation of Asian art and motifs led me to the creation of a triptych under the name 'Chinoiseriez Life triptych' These three prints that have taken me more than a year to complete form a celebration of joy and colour that travels through calligraphic art, the seaside Regency architecture of the Brighton Royal Pavilion, Chinoiserie architectural Victorian ornamentation and classic XIII century Southern Chinese dragons.
'Chinoiseriez Life Enchantment.' Twins dragons and a festive Pavilion dressed for the occasions with golden draperies.
'Chinoiseriez Life Joy.' The wise and mischievous bearded dragon that pinches the minaret golden finial.
'Chinoiseriez Life Delight.' The Prince of Wales feathered dragon, royal attendance.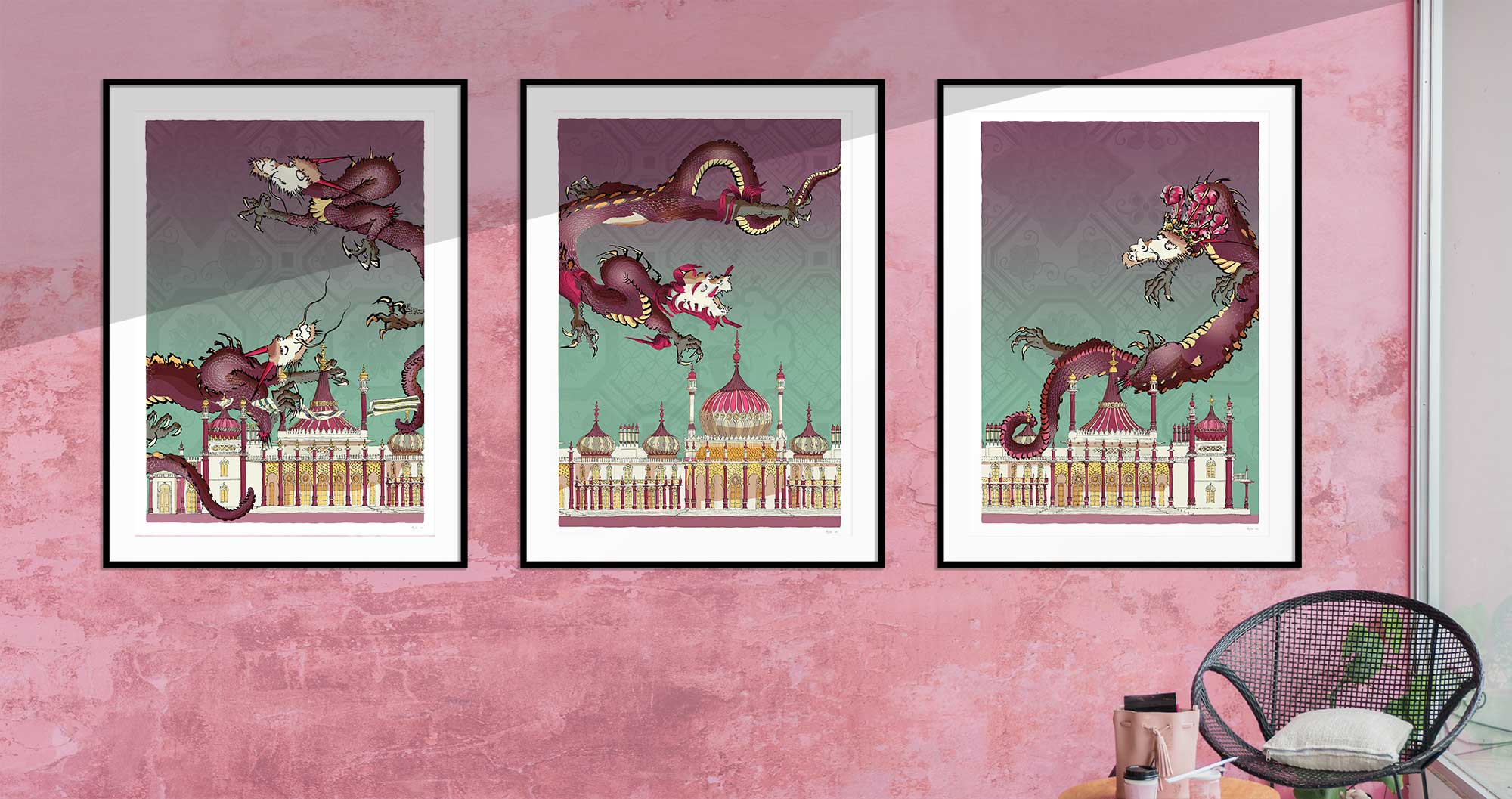 Brighton Royal Pavilion Chinoiseriez Arco
A royal green and gold hues this print plays with the notions of Regency architecture of Indo-Saracenic style and Chinoiserie interiors, classic calligraphic South Asian art and early 20c. Asian inspired decorative arts.
In 2012 I completed my print 'Chinoiseriez' and presented it for the first time at the Brighton May Open House Festival. It became a contagious exhibition that extended to old a new friends. As a fun piece I created a range of clothes with the theme.
Chinoiseriez Print Shop
Please find below a selection of my favourite and best sellers 'Chinoiseriez' prints. If you would like to discuss a purchase or know more about this print please do not hesitate to contact me by email aljguez@gmail.com, mobile 079463811116 or in person by visiting my studio in Brighton.