Bee Art. Bees, Hollyhocks and Acanthus by the Dome
£40.00 – £310.00
Description
'Bee Art. Bees, Hollyhocks and Acanthus by the Dome.'
Print description
This Bee Art print shows the Brighton Royal Pavilion Gardens in all its summer glory with bumble bees dancing around hollyhocks and acanthus flowers with the view of the Brighton Dome in the distance.
Print details
I created this print from my original ink drawings to which I apply colour digitally. Printed on fine art paper using archival inks. I issue the formats A0, A1 & A2,A3 and A4 as limited editions of 100 where I individually sign and number each print.
Bee art. The printmaking process
At the peak of last summer I visited Pavilion Gardens with my photographic camera. The historic Hollyhocks were in full bloom and were teeming with bees.

From my photographs I recreated different compositions using collage technique. And once settled upon a design, I proceeded drawing in ink of the base drawings.I drew each element separately: Brighton Dome , acanthus and hollyhocks flowers and bumblebees.I drew them with a lithographic mind, creating layers that later on will either form the outlines, or will have its own colour and transparency or will act as a texture to a surface. The next step involves scanning the drawings and carefully adding colour digitally. This is also a long process where I apply painterly techniques: adding the base colour, highlights and shadows. To strengthen the connection with my art print 'Heron Print Royal Pavilion Orient Nights' I added an architectural geometrical design in the sky which I took from my archive of photos of geometric tiles of the Alcazar de Sevilla.

The final art print is again recreated as a collage. I balance the composition in terms of form, colour, structure, movement. If at the end I feel it touches my soul, I feel the job is done. But maybe it is just me and that I am a sentimental person.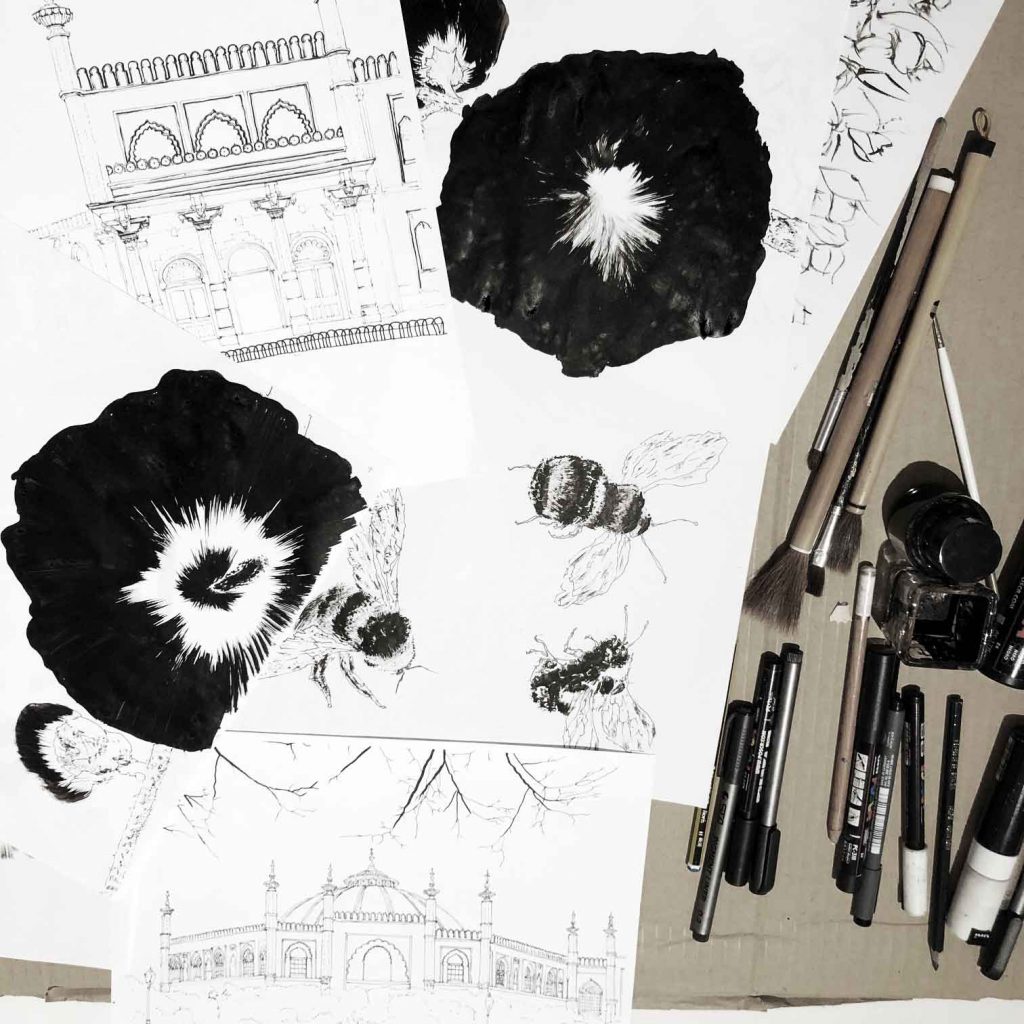 Pavilion Gardens
A few years ago the Royal Pavilion Garden had a mayor transformation. I remember asking one of the gardeners that told me that it was being fully restored as a regency gardens.
So if you pay a vist, please note the remarkable appearance of this garden that Brighton has restored to follow John Nash's 1820s plans and conforms as closely as possible to the original lists of plants supplied to George IV.
About Bees
This print looks at the relationship that we have with the natural world and in particular the humble bees. Knowing how important are bees for the ecosystems, it is unfortunate how often the news tell us about the decline of this insects. In Brighton and all over Sussex there are numerous organizations such as that look after many aspect of the conservation of this wonderful creatures. If you would like to know more you can do so by
The Bumblebee Conservation Trust
'Bumblebees buzzing upon Hollyhocks and Acanthus at Pavilion Gardens'
Additional information
| | |
| --- | --- |
| Dimensions | N/A |
| Print sizes: standard portrait and square | A0 print size, portrait, A1 print size, portrait, A2 print size, portrait, A3 print size, portrait, A4 print size, portrait |