Swan Art Eventide. The flight over Litlington White Horse
£40.00 – £310.00
Description
'Swan Art Eventide. The flight over Litlington White Horse'
Print description
This Swan art print depicts the view from the river Cuckmere of two swans flying over the Litlington White Horse, a chalk hill figure on Hindover Hill in the South Downs.
Print details
Digital pigment print from original ink drawings. Printed on fine art paper using archival inks. Available in sizes A0,A1, A2, A3 or A4 as limited editions of 100. Each print is individually signed and numbered.
Botanical, ornithological and landscape art. John James Audubon and the swans
In January 2021, I found in a second-hand bookshop the second volume of a lavish 1966 publication that reproduced the famous original watercolour paintings by John James Audubon for 'Birds of America'. With a curious mind I realised that often one of his images would take years to create and various artists would be involved. Often James would create the main image and other artists would do the plants and another would add the landscape. Initially when you look at them you instantly think erroneously that it was a design conceived in one, but no. With this in mind I have created three new prints that follow this system and create a scene that collages a landscape with a habitat with its characteristic plants and birds. The result is a print that mimics a theatre stage design where each subject is depicted in its best light.
The South Downs
The South Downs is a range of chalk hills that extends across the south-eastern coastal counties of England from the Itchen valley of Hampshire in the west to Beachy Head, in the Eastbourne Downland Estate in the east.
Sussex walk
The South Downs Way as the name implies, is a long-distance footpath and bridleway. The trail runs for 160 km from Winchester in Hampshire to Eastbourne in East Sussex, with about 4,150 m of ascent and descent.
Litlington White Horse
The Litlington White Horse is a chalk hill figure of the outline of a horse. It is situated on Hindover Hill in the South Downs and looks over the river Cuckmere to the west of the village of Litlington and north of East Blatchington in East Sussex.
The figure was formerly thought to have originated from the Iron Age or even claimed its roots go back as far as the Neolithic period, which began around 12,000 years ago. In 2003, however, an archaeological investigation revealed that the Long Man may, in fact, have his roots in the Early Modern era when people in the 16th or 17th century carved out the figure in chalk, making it just hundreds of years old as opposed to thousands of years.
Swan art
In the early spring of 2021, I went for a walk along the banks of Cuckmere with my friends Sarah and Matthew. I have been on other occasions even kayaking with them along this river. On that day we saw very far away two beautiful swans swimming along the river, the word often used to describe them is majestic. But later in the art studio I decided to put them centre stage in glorious flight and of course give them names, so one is called Sarah and the other is Matthew. This print is a metaphor of friendship and gratefulness.
Sussex art
If you like this print, please follow this link where you can see my collection of prints: Sussex Art the Countryside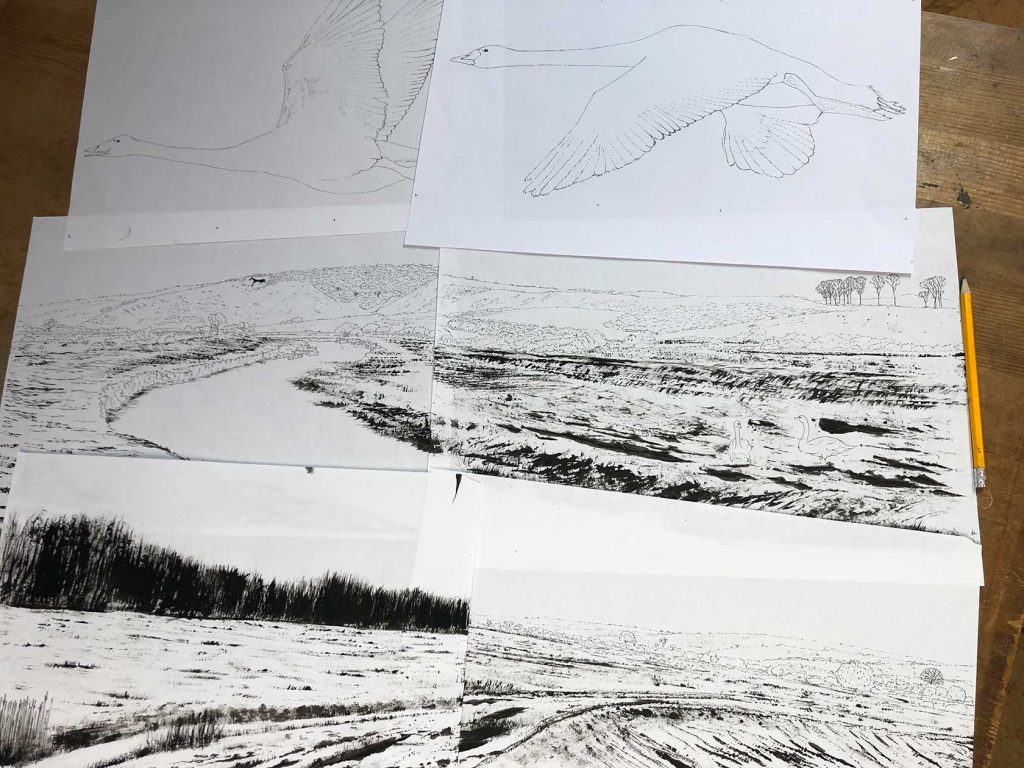 Additional information
| | |
| --- | --- |
| Dimensions | N/A |
| Print sizes: standard landscape | Art print A0 size landscape, Art print A1 size landscape, Art print A2 size landscape, Art print A3 size landscape, Art print A4 size landscape |
Only logged in customers who have purchased this product may leave a review.