De La Warr Pavilion Bexhil on Sea Pebble Bleach
£180.00
Description
'De la Warr Pavilion Bexhill on Sea Pebble Beach.'
Panoramic Print. Paper size 124 x 30.5 cm approx. Signed print from a limited edition of 100. From original ink drawing with colour added digitally. Printed on art paper using archival inks.
De la Warr Pavilion is known as the first modernist building in Britain, it was designed by the architects Erich Mendelsohn and Serge Chermayeff.  In homage  I have portrayed these two architects in this print. The Pavilion was opened to the public on the 12th of December in 1935.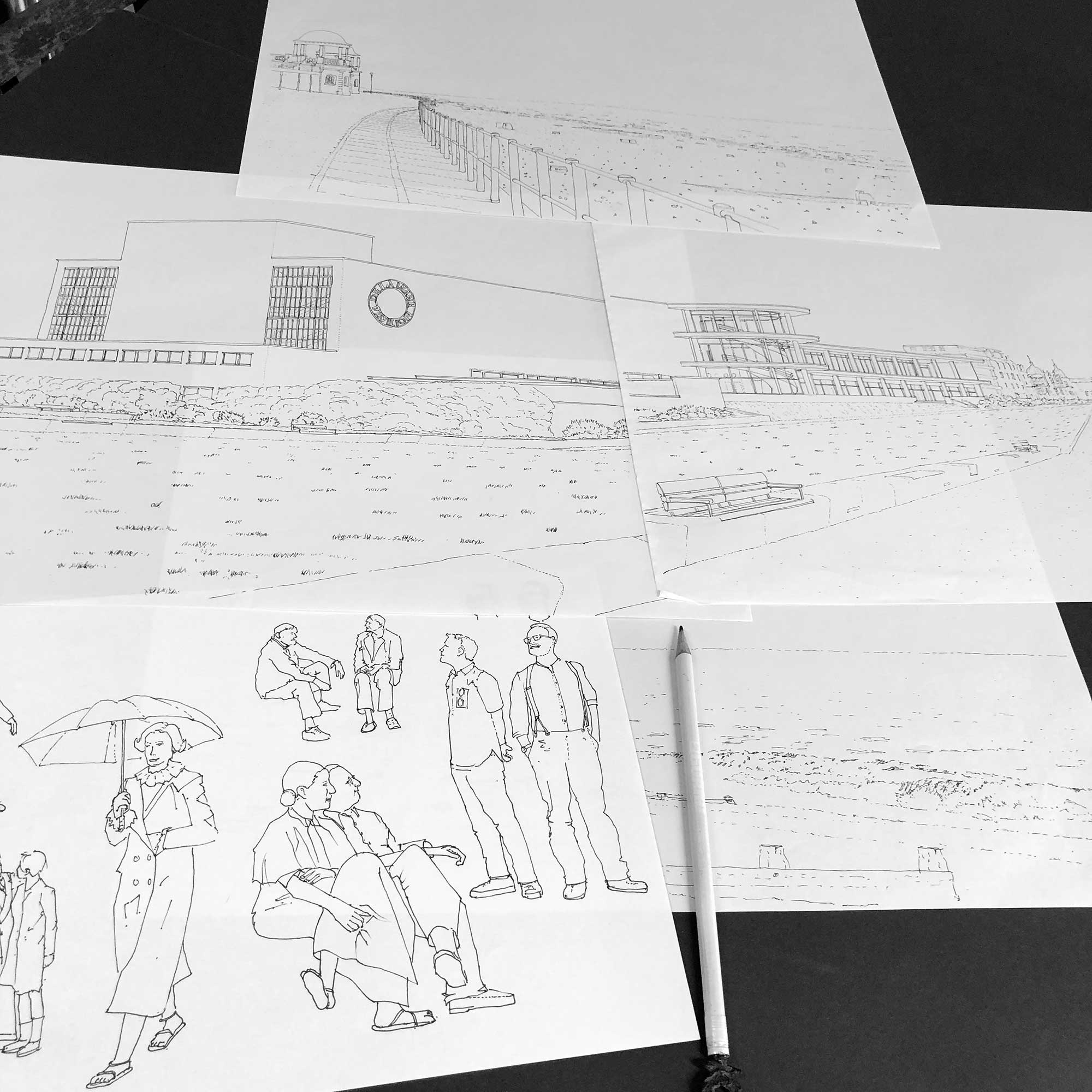 The arrangement and composition of the figures in this print has been carefully thought of.  For research and reference I have  looked at work from other artists that show pieces that depicts groups of people interacting with each other in a specific surround. Artist such as Murillo that in his painting 'Moisés haciendo brotar el agua de la roca de Horeb' all the figures near and far look side ways or directly each other.  Another artist Arthus Devis in know as the master of conversation pieces, for this work I looked at  'Arthur Holdsworth Conversing with Thomas Taylor and Captain Stancombe by the River Dart'. Another artist I have looked at is Barnett Freedman, his piece 'Street Scene' shows a London scene full of people parading. 
I run a life drawing class and for this reason I am used to drawing nude figures. The addition of clothed figures can easily date a scene; if the building shown is from a different period, clothes and people would have looked different when the building was first built. My aim is to create a contemporary, here and now piece without nostalgic connotations.
It was only when I researched into the architects of this bundling that I found images of people that I thought would suit my print. These images are of the architect Erich Mendelsohn and his wife Louise Mendelsohn, sitting on a bench and the architect Serge Chermayeff relaxing with Marcel Breue seating in the stepped amphitheatre.
In the summer of 2019 I visited the Bauhaus in Dessau for which I adopted a 'modernist look' comprising a half button short sleeve shirt and a pair of round framed glasses. This glasses are the trade mark of Walter Gropius, who was the founder architect of the Bauhaus in 1919. Modernist glasses for a modernist building!
This print belongs to a tonal collection that I have named 'Pebble Beach'. The palette for this collection reflects the variation of colours and tones in the beach pebbles that can be found along the East Sussex Coast. The pebbles are flint, a hard grey rock that was deposited in the chalk cliffs; through natural erosion the flints are released from the cliffs and slowly make their way through a natural process to form the pebble beaches.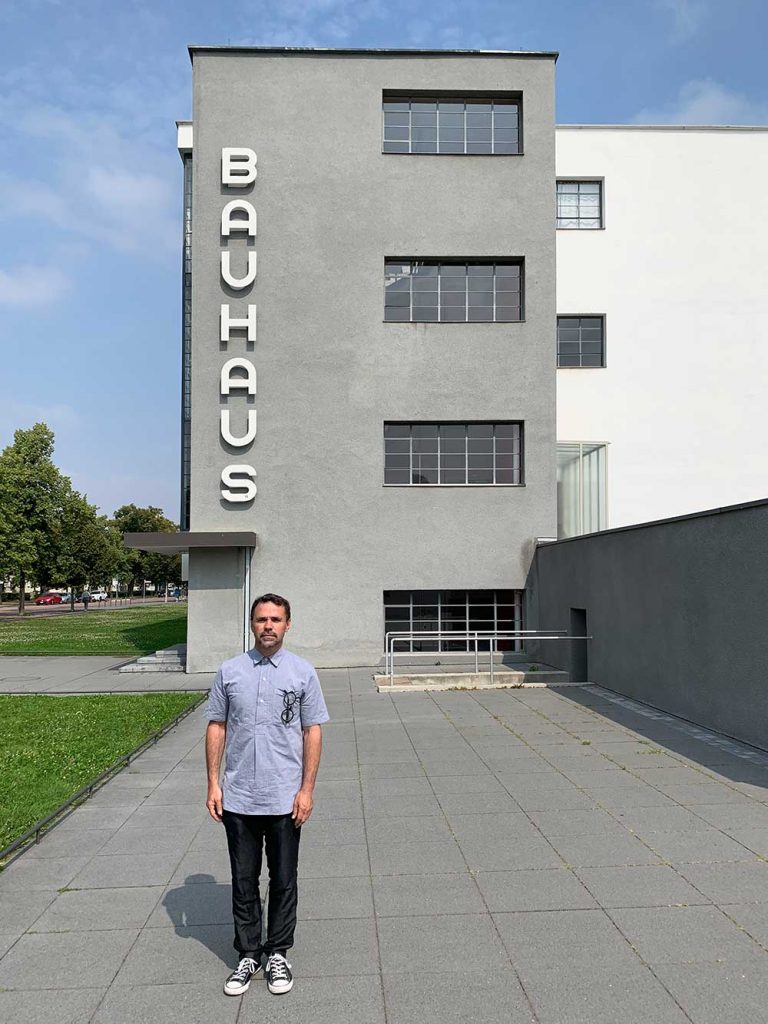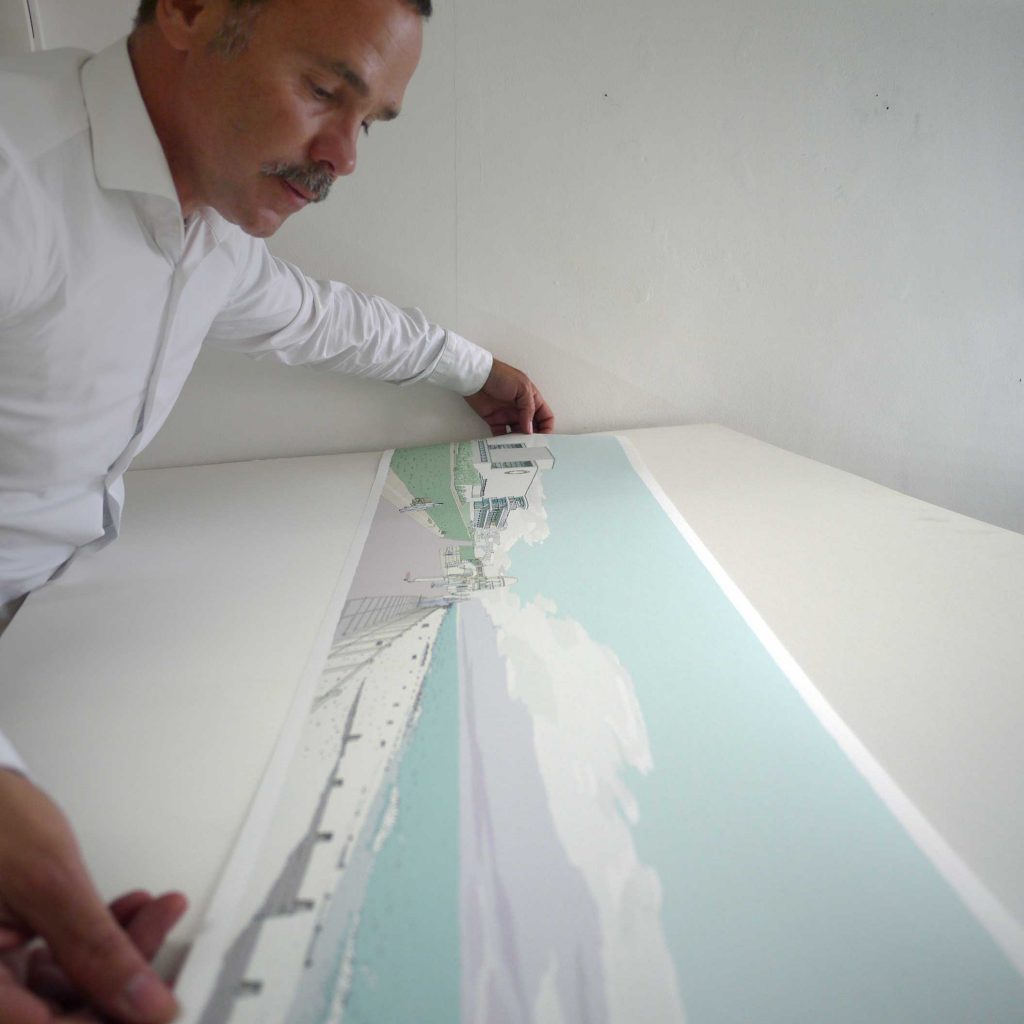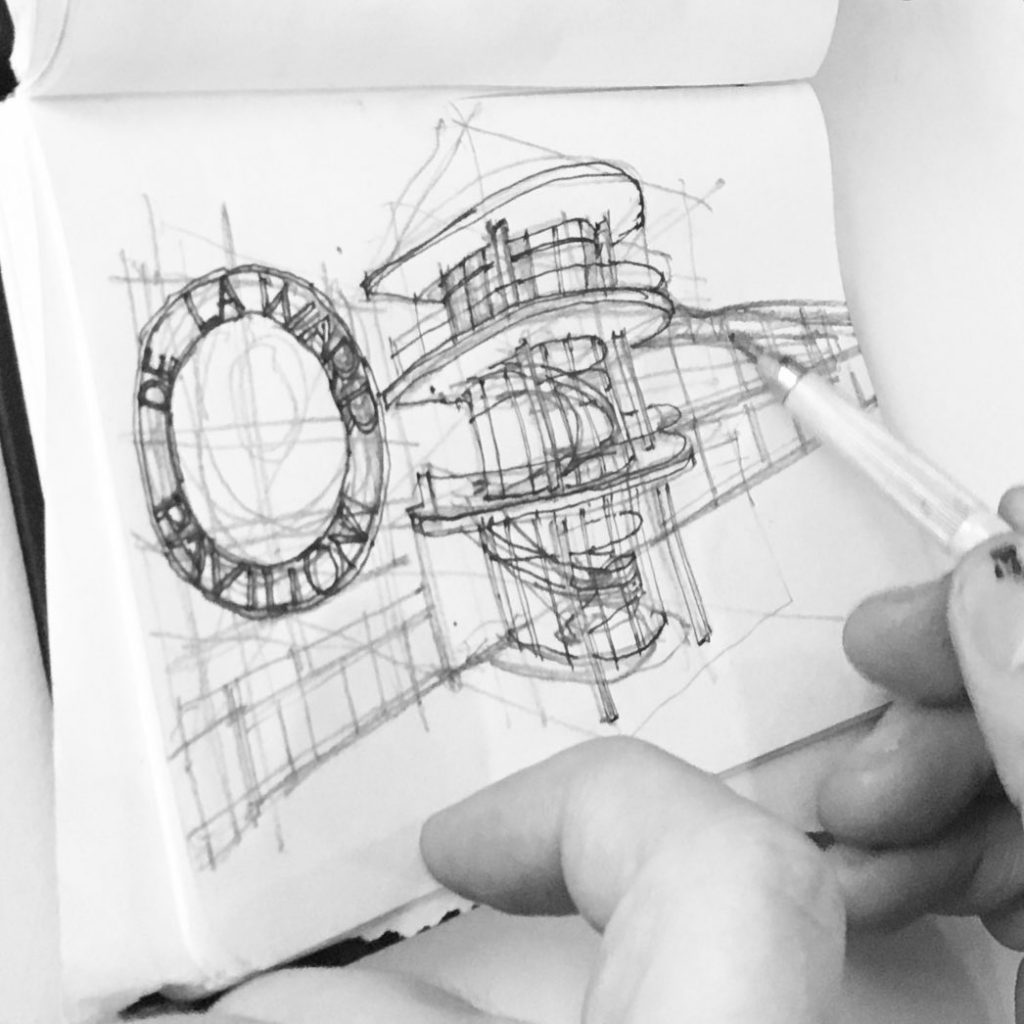 Preparatory sketch made on site for my print 'De la Warr Pavilion Bexhil on Sea'. I drew this quick sketch on the first floor cafe of this building in December 2019. It shows the beautiful spiral staircase inside the cylindrical glass enclosure. This mesmerising building has inspired many artists. My print focuses on the relationship between the building and the sea. Once that relationship is understood the use of extensive glass to provide uninterrupted views of the Channel makes perfect sense. It is indeed a quintessential feature in modernist buildings.
If you would like to discuss a purchase, enquire about framing options, or know more about this print please do not hesitate to contact me by email aljguez@gmail.com , mobile 079463811116 or in person by visiting my studio in Brighton.