Stratus Over Dungeness Derek Jarman Prospect Cottage
£180.00
Description
'Stratus Over Dungeness Derek Jarman Prospect Cottage.'
Panoramic Print. Paper size 124 x 30.5 cm approx. Signed print from a limited edition of 100. From original ink drawing with colour added digitally. Printed on art paper using archival inks.
'In the afternoon, the wind got up and the sun came out, the bees took off uncertainty, the flowers danced.'(Wednesday 19 Derek Jarman's diary.)
I first visited Dungeness in 2012, I felt captivated by the expressive landscape of solemnity and dignity. There, you feel you are under a perfect spherical sky.
I am most interested in showing how architecture appears in a landscape as part of a holistic experience. At Dungeness the modest Derek Jarman's fisherman's cottage sits surrounded by his garden harmoniously on a sea of shingles under a vast sky. The scarcity of services relates with being self sufficient and what is more important with the use of less resources whilst leading a fulfilling life. The straight (curved) line that forms the horizon in Dungeness is perfectly pleasing to the architect's eye. 
I find at the same time fascinating and frustrating learning about Derek Jarman and his work. Having read a few of his books and visited his house in Dungeness has only given me a glimpse of his humanity and work. His book 'At your onw risk' is a vital fundamental description of his journey of being gay and the AIDS crisis. 'Derek Jarman's Garden' describes his man made paradise in the arid landscape of Dungeness when living on borrowed time with positive HIV status when the treatment was experimental and often not adequate in the early days of the global epidemic. The thought of having the end of life near it is a trigger in some of us for despair, but for others is a trigger to enjoy life at its maximum and question it in order to find meaning and justice. Derek was never short to denounce injustice and in his books finds pleasure in the smallest flower that with a struggle grows in the shingle. His garden is an experiment of life and art, of creation and survival where native and foreign plants grow together, possibly mimicking the creative society he often surrounded himself with. Local sea kale, Iberian gorse, Californian poppies, valerian, lichen, that is a composite organism. Derek finds beauty in decay, beachcombing to gather old rusted irons and half rotten timbers.
This print belongs tonal collection that I have named 'Pebble Beach'. The palette for this collection reflects the variation of colours and tones in the beach pebbles that can be found along the of East Sussex Coast. The pebbles are flint, a hard grey rock that was deposited in the chalk cliffs; through natural erosion the flints are released from the cliffs and slowly make their way through a natural process to form the pebble beaches.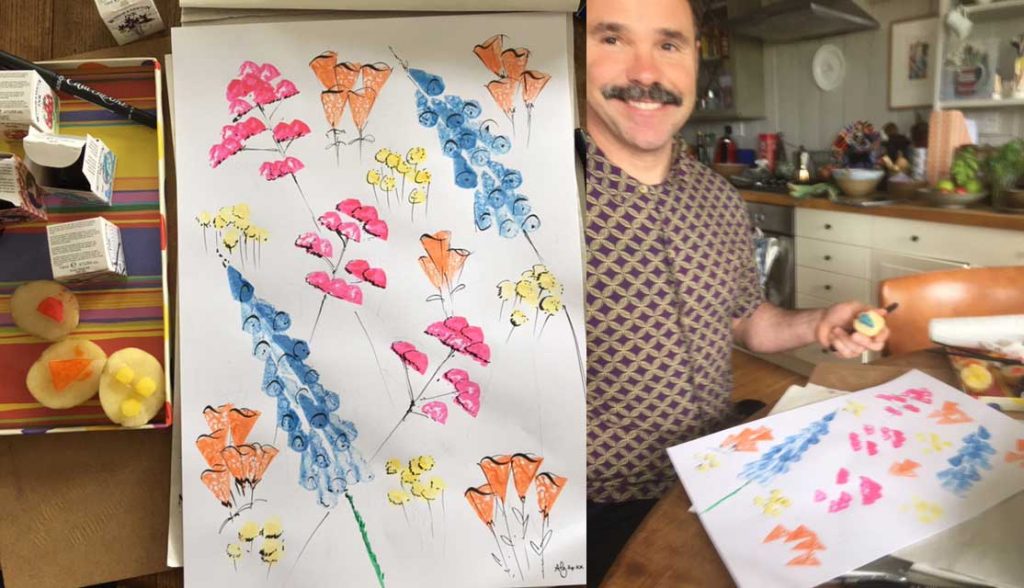 If you would like to discuss a purchase, enquire about framing options, or know more about this print please do not hesitate to contact me by email aljguez@gmail.com, mobile 079463811116 or in person by visiting my studio in Brighton.