'Everyone delights to spend their summer's holiday
down beside the side of the silvery sea.
I'm no exception to the rule, in fact, if I'd my way,
I'd reside by the side of the silvery sea.'
From the song 'I Do Like to Be Beside the Seaside.'
Did you know this was a famous song written in 1907 by John Glover-Kind?
.
Seaside Art
Brighton is the city where I live, a city by the sea in the South East of England.
When I am out and about I often see people enjoying the beach and the sea in many different ways. From the orderly Sunday walks along the promenade on Sunday afternoons, to the vertiginously fast windsurfers, paddleboarders, that look as if they are walking on water, the odd tight-rope walker with a shimmering sea under bright sunny skies, daring winter swimmers and bathers.
I love swimming, though I define myself as a seasonal swimmer, from the end of May until possibly end of October.
Sea Print
I find a lot of joy in observing the different characters and the multiple activities that happen at the beach, and to share this joy I have created this collection of fun sea prints that focuses on activities we like to do whilst we are at the beach.
For some time I had been admiring the work of artist such as Robert Tavener and the New Romantic British artists John Minton and Keith Vaughan. My designs echoes their work, but I also bring my experiences with printmaking and the mark making of the linocuts, collagraphs and lithography.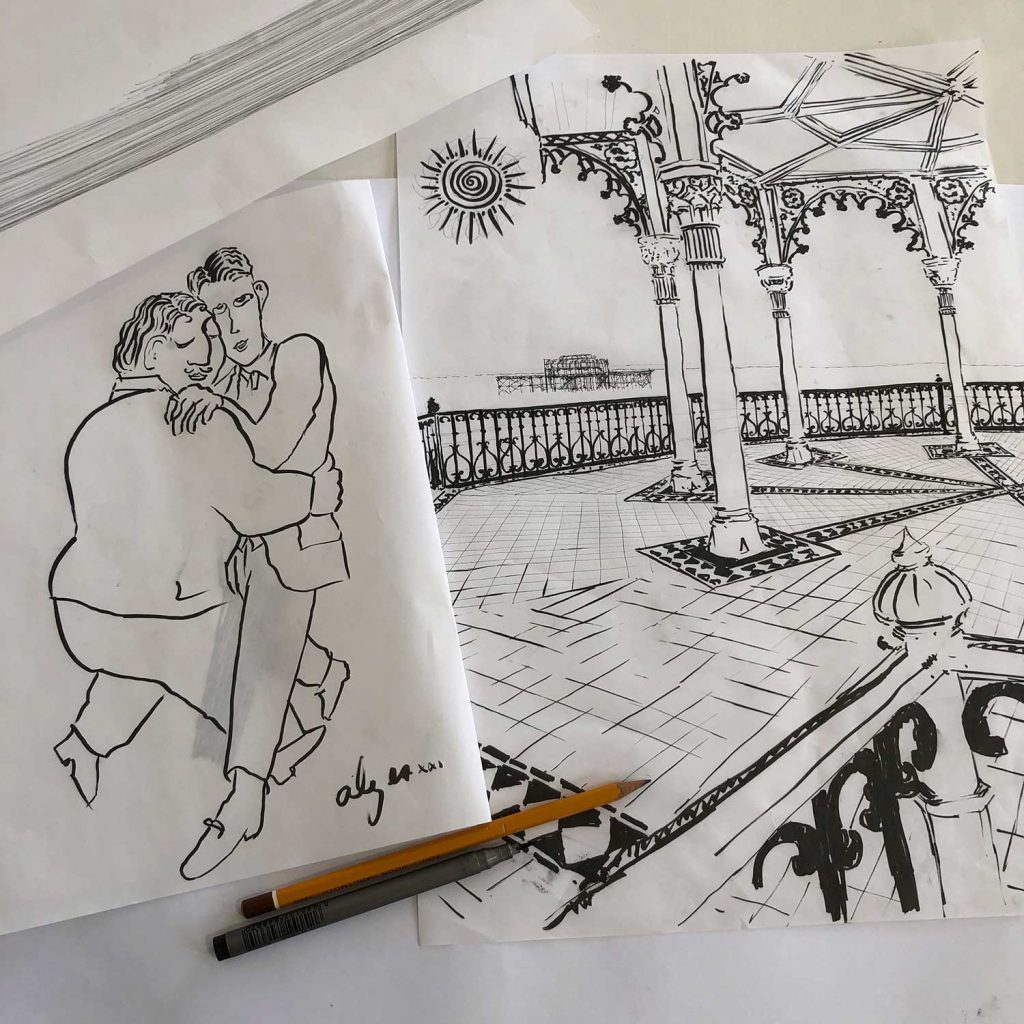 Printmaking process
The create one of this print I start by making ink drawings on maker paper. I use calligraphic pens, sand paper, feathers and fine liner pens to create expressive line work and monochrome textures. I often draw many elements in different sheets of paper. I then proceed to scan these to add colour digitally. This way I can apply lavish and vibrant colour palettes and retain the hand made quality of the artwork
Beach Art Print Collection