Welcome
The creation of art prints is my passion. The art process starts with original ink drawings to which I apply colour digitally. With the use of art paper and archival inks for best quality I issue the large formats as limited editions whilst smaller works form open editions.
Three new prints: From The Seven Sisters to Seaford and Newhaven
The observation and study of the outstanding beauty of the Sussex coastline, and the legacy of artists Eric Slater and Arthur Ridgen Read have inspired me to create these three prints.
John Masefield describes this feeling perfectly in is famous poem 'Sea Fever'
'And all I ask is a windy day with the white clouds flying,
And the flung spray and the blown spume, and the sea-gulls crying.'
'Shell Grotto Blue and Gold.'
Shell Grotto flight of fancy. Martlets, mythological dolphins, auger-shells, egg cases of skate, the common scallops, periwinkles and limpets. In gold and a backdrop of Prussian blue.
'Red Roofed Hut Rye Harbour Camber Sands.' New panoramic print.
The small but perfectly formed famous Red Roofed Hut in Rye Harbour . And surrounding this picturesque you can find depicted in this print: the salt marshes of the Ray Harbour Natural Reserve, the outline of the picturesque town of Rye; Rye Harbour is along the River Rother, and at the mouth of the river the popular Camber Sands Beach, and  the contemporary buildings and structures to this print, which are the Little Cheyne Court Wind Farm and Ray Harbour Discovery Centre. From £180 (£295 framed).
 'Bosham Harbour Chichester West Sussex'. New panoramic print.
Bosham is a coastal village and civil parish near Chichester with a beautiful Quay.  Through the trees you can see the bell tower of the Holy Trinity Church. This print looks from the Chidham Bank onto the Bosham Channel and the countryside. In the distant hills this view reaches as far as Kingley Vale. From £180 (£295 framed).
Art Exhibition at Gallery 94 in Glyndebourne.
Gallery 94 at Glyndebourne has hosted an online exhibition from the 1st of November until the 8th of January. Four works from my panoramic print collection were selected for this exhibition.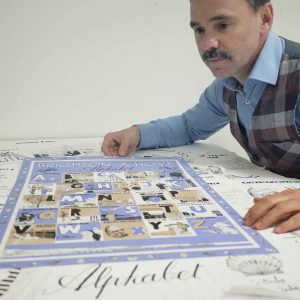 'Brighton and Hove Alphabet' New print
This print is my declaration of love for the City of Brighton and Hove. It is a new print that has taken the shape of an illustrated alphabet. An A to Z of Brighton and Hove.
Early this summer I completed a new panoramic print that showcases Derek Jarman's house, Prospect Cottage in Dungeness.
Dragons and The Brighton Royal Pavilion. Three new prints
In 2012 I started my print collection of dragons under the name Chinoiseriez.  This collection combines my love for classic Asian calligraphic art and regency architecture. In January this year I had a commission from Art 5 Gallery in Brighton to revisit these prints. The outcome was these tree prints that form a new series under the name combined word of 'Life!': 'Chinoiseriez Life Enchantment.' 'Chinoiseriez Life Joy.' 'Chinoiseriez Life Delight.'  From £180 A1 size (£295 framed) to £40 A4 size.
Remodeling of Room at Baked Cafe in Hove.
In autumn 2020, This cosy room  of  Baked Cafe in Hove was decorated with my new print series called 'Chinoiseriez Life' three prints with joyful dragons and the Brighton Royal Pavilion in green arsenic and pink hues set in gold frames. They were printed at the super large size A0.
Three British Modernist buildings by de sea. Three panoramic prints.
This spring I completed a three panoramic print set of three pieces that I call 'British Modernist Buildings by the Sea: Embassy Court, Saltdean Lido and the De la Warr Pavilion' These three wonderful buildings are often portrayed in architectural prints. However my approach to portray them is unique and original as I show them in relation with their settings in the city or the countryside, all by the sea and the promenades. £180 (£295 framed).
Testimonials
Magazines and galleries
'It's a bit of shame to confine the work of Alej ez to our A5 cover. His panoramic drawings which capture local landscapes with the kind of confident, sparing line you might expect of an architect, often extend over several meters.' Viva Magazine April 2019 Brighton.
'Architect turn artist Alej ez uses his skills as a draftsman to create complex and beautiful panoramic line images of Brighton and Sussex buildings and landscapes.' Melita Dennett Sep 2019 Reverb Radio.
'The West Pier is particularly beautiful when we look at the work of Alej ez.' Yael October 2019 Latest TV interview.
'Ez's architectural training is clear in his prints – the delicate use of line, the precision of structures and forms, the scale and sense of space conveyed in colour and tone. But these are more than just aerial views of much loved places. Ez's meticulous colour blocking and rhythmic use of line command an emotional response, a delight in a treasured memory, of making space and sense in the world.' N Tyssom from Gallery 94 Fair Ground Exhibition Glyndebourne
Individual reviews
'Looking at your beautiful prints will keep me going, thinking of the sea and Sussex coastline, till I'm home again.' O. May 2020 London.
'My print arrived this morning and it is beautiful. Thank you so much!' D.  April 2020 Norwich.
'All his works depicting Brighton, Hove, London as well as coastal and countryside scenes are freehand sketches that are finished digitally. Years of architectural training and practice translate to an impressive interpretation of memorable vistas with crisp intricate lines, vivid colours and bold tones.'  Jason April 2020 Brighton.
'Perfection in all things and you have style.' Sharon March 2020 Kent.
'Your artwork brings pleasure to all those lucky enough to have seen, or even own… A delight xxx.' Adrienne Jan 2014 London.
'Stunning , such wonderful attention to detail.'  Edmund April 2020 London.
'So Beautiful and full of care.' Holly Jan 2020 Brighton.
'We cannot wait to put this up to join our other two glorious paintings of yours. Thank you for giving us so much joy, your work is stunning.' O. April 2020 Brighton.
'Beautifully detailed Brighton scenes.' Art5 Gallery Brighton.
'He has always had a passion for drawing and in parallel with his architectural training he nurtured his particular interest in pen and ink drawings with graphic design.' Leo Frames July 2019 Brighton.
Reviews from overseas
'In a time when darkness seems to envelop all of us, every ray of light must be kept as a precious gift.
Alejandro's work, with its delicate details, shines warmly and illuminates the uncertain path we must walk these days. Thank you for your Art and for enabling us to have a small piece of Brighton at home!'  L. Eced November 2020 Valencia.
'Hello from Sydney! I arrived Sat with your wonderful print in my hand luggage. My daughter is completely thrilled with it & full of admiration for your work. It was definitely a hit as a Christmas present!' H. January 2020 Sydney
Thank you for your visit. Please get in touch if you have an enquiry or would like to know more.
e.aljguez@gmail.com t.+44(0)7946 381116 or by appointment at my studio.