NEW PANORAMIC PRINTS

Blue Dungeness Derek Jarman Prospect Cottage
New panoramic print. £180 (£295 framed).
'Stratus Over Dungeness Derek Jarman Prospect Cottage'
 New panoramic print. £180 (£295 framed).
Morning Swim Saltdean Lido by the Sea
New panoramic print. £180 (£295 framed).
Morning Walk Sea Promenade Brighton and Hove Pebble Beach
New panoramic print. £180 (£295 framed).
De la Warr Pavilion Bexhill on Ocean Blue.
 New panoramic print. £180 (£295 framed).
De la Warr Pavilion Bexhill on Sea Pebble Beach.
 New panoramic print. £180 (£295 framed).
NEWS
'West Pier Rainbow. 2020 Rainbow Fund Edition Print.'
From a limited edition of 250, the print is signed and numbered.
With every sale of the print I will donate £5 to the Rainbow Fund.
Brighton Gin Limited Edition Pride 2020
Bespoke portraits and panoramas
You can now commission a portrait of you to be featured in one of my panoramas.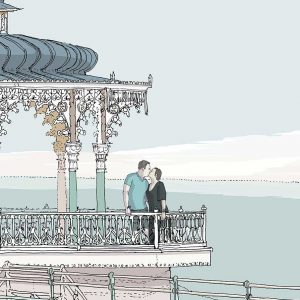 Hove and Brighton alej ez Fabric Design
A kaleidoscope of Brighton and Hove.

Greeting cards
New designs added.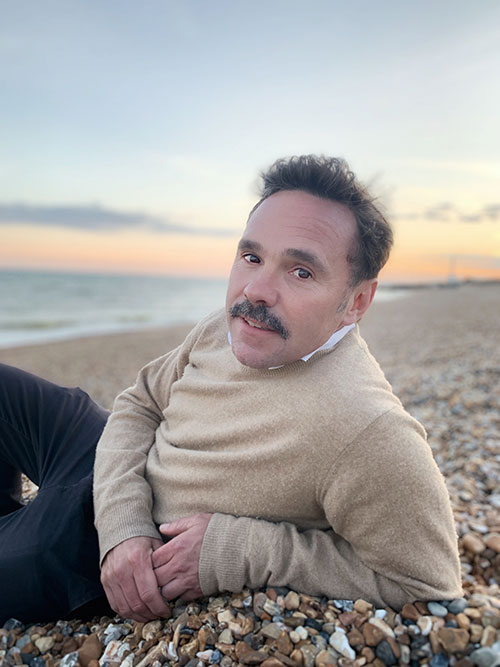 My name is Alej ez (Alejandro Martinez). I am an architect and printmaker based in Brighton. I create panoramic prints of landscapes of Sussex and London. The subjects of my prints are cityscapes,  the countryside and coast. I work from my own black ink drawings and colour is meticulously added digitally. 
FEATURED PRINTS
Birling Gap Starling Murmuration.
Panoramic print £180 (£295 framed).
London River Thames by Westminster Bridge Ocean Blue
Panoramic print £180 (£295 framed).
Testimonials
'It's a bit of shame to confine the work of Alej ez to our A5 cover. His panoramic drawings which capture local landscapes with the kind of confident, sparing line you might expect of an architect, often extend over several meters.' Viva Magazine April 2019 Brighton.
'Architect turn artist Alej ez uses his skills as a draftsman to create complex and beautiful panoramic line images of Brighton and Sussex buildings and landscapes.' Melita Dennett Sep 2019 Reverb Radio.
'The West Pier is particularly beautiful when we look at the work of Alej ez.' Yael October 2019 Latest TV interview.
'Looking at your beautiful prints will keep me going, thinking of the sea and Sussex coastline, till I'm home again.' O. May 2020 London.
'My print arrived this morning and it is beautiful. Thank you so much!' D.  April 2020 Norwich.
'All his works depicting Brighton, Hove, London as well as coastal and countryside scenes are freehand sketches that are finished digitally. Years of architectural training and practice translate to an impressive interpretation of memorable vistas with crisp intricate lines, vivid colours and bold tones.'  Jason April 2020 Brighton.
'Perfection in all things and you have style.' Sharon March 2020 Kent.
'Your artwork brings pleasure to all those lucky enough to have seen, or even own… A delight xxx.' Adrienne Jan 2014 London.
'Stunning , such wonderful attention to detail.'  Edmund April 2020 London.
'So Beautiful and full of care.' Holly Jan 2020 Brighton.
'We cannot wait to put this up to join our other two glorious paintings of yours. Thank you for giving us so much joy, your work is stunning.' O. April 2020 Brighton.
'Beautifully detailed Brighton scenes.' Art5 Gallery Brighton.
'He has always had a passion for drawing and in parallel with his architectural training he nurtured his particular interest in pen and ink drawings with graphic design.' Leo Frames July 2019 Brighton.
'Hello from Sydney! I arrived Sat with your wonderful print in my hand luggage. My daughter is completely thrilled with it & full of admiration for your work. It was definitely a hit as a Christmas present!' H. January 2020 Sydney
Thank you for your visit. Please get in touch if you have an enquiry or would like to know more. e. aljguez@gmail.com t.+44(0)7946 381116 or by appointment at my studio.