The Bather by the West Pier
£40.00 – £52.00
Description
'The Bather by the West Pier.'
Print description
This print shows a bather striping of his shirt in preparation for a sea swim. This design talks about the enjoyment of the small domestic rituals that comprises the act of sea swimming. I am a passionate sea swimmer, one of the aspects I love about it is that the bare minimum equipment is required to do it. I live by the sea and, in the summer, I often carry with me a small bag with swimming shorts, goggles and a small towel. The structure that appears on the horizon are the remains of the West Pier. The West Pier was a Victorian leisure pier built in 1866 and today only its metal structure remains.
Print details
I created this print from my original ink drawings to which I apply colour digitally and then I print using fine art paper and archival inks. From a limited edition of 100. I individually sign and number each print. This print is available in the following formats:
A3 size portrait 29.7 x 42 cm (11.7 x 16.5 in)
A4 size portrait 21 x 29.7 cm (8.3 x 11.7 in)
Beach Art
This print belongs to the series of prints I have created under the name 'Beach Art'. This series celebrates people happily spending their leisure time at the beach. Swimmers, divers, paddleboarders and the occasional  tight-rope walker. Shimmering seas and bright sunny skies bathe with light these characters.
With a hint of nostalgia, these designs have my distinctive style and pay homage to the works of artists such as Robert Tavener and the New Romantic British artists John Minton and Keith Vaughan.
The West Pier appears in all the prints in the series. I created this series in April 2021 to mark the start of my art residency with the West Pier Trust.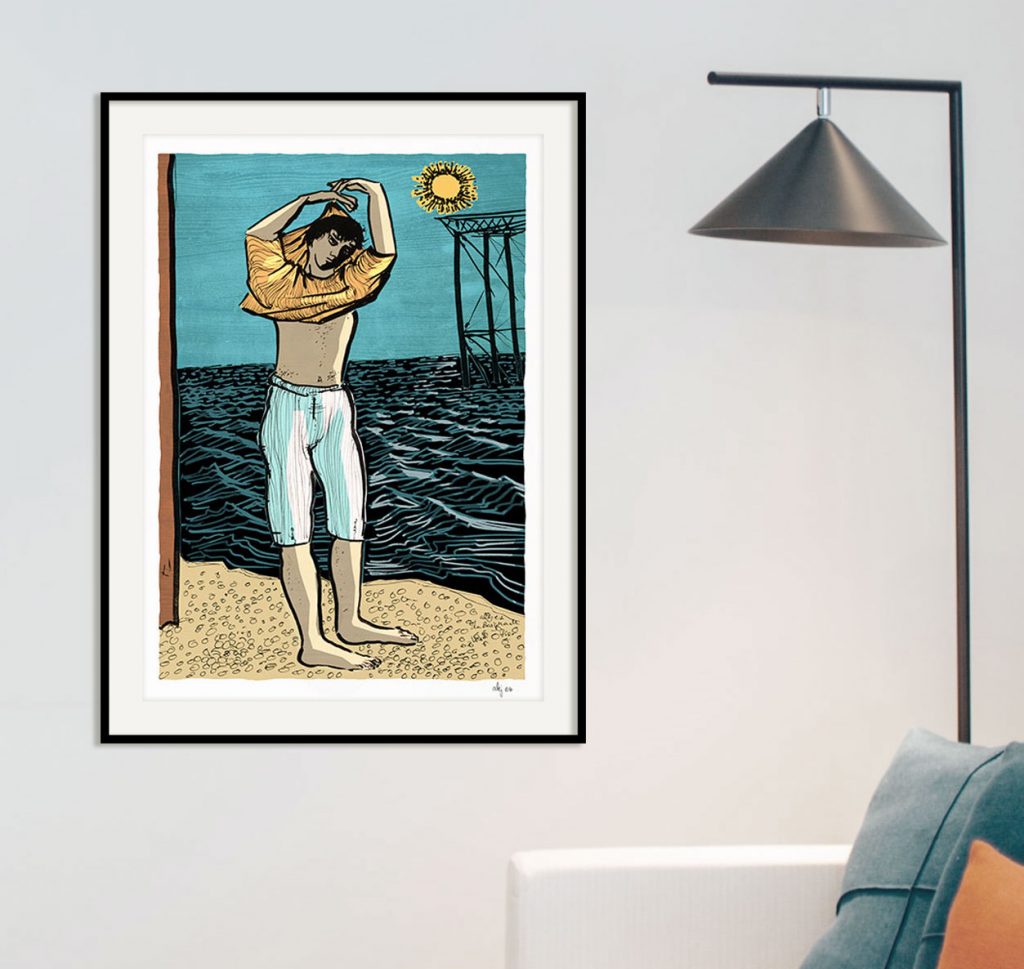 Additional information
| | |
| --- | --- |
| Dimensions | N/A |
| Print sizes: standard portrait and square | A1 print size, portrait, A3 print size, portrait, A4 print size, portrait |