Alej ez
My name is Alejandro Martínez Rodríguez though I sign my work as alej ez.
I am an architect and artist born in Granada, Spain. I moved to the UK in 2000. Since 2007 I have lived and worked in Brighton, a city by the sea in the South East of England.
I was born in 1973 in the historic city of Granada, Spain. I studied architecture at Seville University. In August 2000 I moved to London. I landed with a job for the Park Lane Hotel in Mayfair as a porter first and then in the position of income audits. Soon after I found my first job as an architect at Rick Mather's Architects.
In 2011, I moved to Brighton where I worked for several architectural practices. In 2019 when I decided to pursue my career as an artist and a sole practitioner architect. I am currently a member of Studio Green House which is a cooperative for creative people.

---
The art process
I am passionate about drawing and printmaking. In particular I am drawn to line drawing and the use of ink on paper above other art forms.
The process to create one of my prints starts with the selection of the subject, the assessment of this choice for different reasons and the designation of a particular view. The subject is partly drawn from my experience of my immediate World and experience: where I live, trips to nature, people I know, buildings I admire. I often take my camera with me around town and on days out.
References
The selection of a subject and view is not only determined by my experiences. I am aware of artwork by other artists, they form what I call my inner experience. I often combine both and in my walks I visit the locations from where other artists have created their paintings and drawings. From Samuel Palmer, William Blake, John Piper, Eric Ravilious, John Minton, Paul Nash, David Hockney, Constable, Turner and more.
Printmaking projects
I plan the creation of my prints as projects, with similar processes and stages that an architectural project has.Research, visits to locations, brief creation, development of ideas, schedule photographic work, creation of base work for the prints, and color rendering using digital tools.
It takes me a considerable time to complete one of my panoramic prints. There is a lot of craftsmanship to do so I am often early at my art studio.The process is rather meditative, there is a lot of necessary and important repetition, mark making has to be constant in form to attain a coherent outcome.
My practice is threefold. Firstly, I draw or take photographs of coastal views, landscapes and cityscapes, then I translate these into delicate line ink drawings in my studio before scanning and adding colour digitally. A limited edition run of each print is then produced.
My architectural training is clear in my prints: the delicate use of line, the precision of structures and forms, the scale and sense of space conveyed in colour and tone. By creating views of much loved places, I aim to convey an emotional response with a thoughtful application of colour and rhythmic use of line, and furthermore through art, to make sense of the world.
---
Brighton Journal interview. Artist of the Week: Alej ez
In April 2021 I was approached by Brighton Journal to do an short interview, This is somehow the best way I have found how to describe myself and my work.
By Elizabeth Richardson -15th May 2021
This week Brighton Journal spoke to local artist and architect, Alej ez. Alej predominantly creates panoramic prints of Brighton & Hove, Sussex coastal scenes and the surrounding countryside. He is currently the artist-in-residence at the West Pier Trust, where he is creating new work inspired by the sea and the West Pier. His work is being exhibited every Thursday, Saturday and Sunday at the West Pier Centre throughout the residency. We discussed Alej's inspirations, upcoming projects and recent exhibitions. Keep reading to find out more about Alej and his wonderful work.
What are you doing today?
Today I am putting together a collection of prints that will be exhibited at the West Pier Centre. Some of the prints are rather large, A1 size, and my panoramic prints are 1.2 metres long. I have to be very careful, cutting them to the exact size is tricky. In April I started an art residency with the West Pier Trust. Every Thursday from 11am to 5pm I open their Centre to greet visitors and work in their space creating new art. The West Pier Centre is located on the West Pier Piazza, east of BA i360.
Describe where you do most of your creative work.
I belong to Studio Greenhouse, we are based at Bond Street in the North Laine, right in the centre of Brighton. We are on the top floor and our windows look out to the roofs of the Dome and the Brighton Pavilion. There are lots of seagulls around. The folks at Studio Greenhouse are artists and creative people with a true spirit of supportive camaraderie. I joined the cooperative in 2013. I have a desk, an old adjustable drawing table that belonged to an architect friend and some shelves full of antique books with prints and poetry.

What's the most exciting thing you've worked on?
As a creative type, the most exciting work is often the one I am working on. Throughout last November, I exhibited my prints at Gallery 92 in Glyndebourne as part of a group exhibition. This gave me recognition as an artist and has without doubt excited my artistic guts to work harder and create more art. Exhibiting is always exciting: having an opening day, inviting collectors, friends and press. My best memories are from exhibiting at the Regency Town House and most years in May for the Artists Open Houses.
What made you decide to become an artist?
I am a trained architect. I worked as such for more than twenty years and loved it. But somehow maybe seven years ago started a path that directed me towards pure creativity. There is something magical about sharing with others your own expression of the World as it is today. This is us now.
What are you currently working on
Two years ago I visited Dartington School and in the grounds there was a sculpture by Henry Moore. I have not been able to shake it out of my system. Then at Glyndebourne grounds I saw another sculpture by him, and finally at Pallant House Gallery I saw a show with some of his drawings of people in the underground shelters in London. So my next art piece will deal with this enigmatic obsession. It is a large conceptual print with the West Pier, starlings and a figure. It sounds cliche, but it will be very different.
Also I am completing a series of large and complex architectural prints of historic buildings in Brighton and Hove with the background of the sea. These are large prints that take nearly a month each to complete so sometimes I like working on smaller fun prints, so at the same time I am creating a collection of small prints with people and activities that take place at the beach, these are inspired by the work of John Minton and Keith Vaughn.
What are the key themes in your work?
Panoramic views: the city, coastal scenes and the countryside. Brighton, Sussex, the South Downs, the white cliffs. Though lately I am also creating prints with people and the sea.
What would you like people to notice about your work?
I would like people to connect intimately with my landscapes; with the movements and musicality of my compositions. Landscapes have their vanishing points, but also proportions, line of directions, densities. Rather than just recreating a view, I aim to create a sight that connects with the viewers' sense of memory and familiarity. I want to create a sense of déjà vu: "Have I seen you before? Have I been here before?"
What attracts you to the medium you work in?
Line drawing is the medium I prefer. You would be amazed how I can draw a perfectly straight line without a ruler. It is the most basic form of expression from prehistoric times. I am mesmerised by how the brain interprets a line drawing as a reality. Also, I love the personal calligraphic quality of it. It is like handwriting, line drawings are very personal and often recognisable. I love the line work of Jean Cocteau and Picasso. Colour is then another world. I see colour as an expression of emotion and feeling. Often my panoramic prints have large expanses of a sky that is just a constant colour with no clouds or birds, but they are full of emotion.
What equipment could you not do without?
I love ink in every shape and form: extra fine liners, calligraphic pens, Asian brushes, thick graphic markers. My practice mixes new and old techniques. To complete one of my prints I need a camera, ink and paper, and my laptop.
Who or what inspires you?
Poetry, old books, landscapes and other artists. I am a 'responsive sponge', this means that when I learn or see something that inspires me, I cement this knowledge by trying to incorporate it in my work. This year I have been inspired by the work of Constable, Turner, Eric Slater, John Minton, Keith Vaughan, Henry Moore and other less known Brighton artists such Stella Langdale and Donald Maxwell. I also keep my eyes open when I am out and about in Brighton and in the countryside looking for possible subjects for my next print. My panoramic prints invite you to stand and stare, to take a big breath and lose yourself in the landscape.
How is your work affected by living in this area?
Brighton has a multicultural open-minded mentality and is also very much supportive of the arts. I became an artist because I live in this city.
What's your favourite thing to do locally?
Sea swimming is my passion. In Brighton there are always a couple of weeks with clear transparent waters, the rest of the year the sea is a bit murky, but I don't mind.
What's your favourite gallery (or place to see/experience art)?
In Chichester there is a fantastic museum of Modern British art. It is called Pallant House Gallery. I am a friend and go to most exhibitions there. It is housed in a beautiful Queen Anne House with a super sleek modern extension. The restaurant is also great.
If you could collaborate with one artist, from any time, who would it be and why?
At Christmas I got a book about Constable in Brighton. I have been following his steps around this city admiring his compositions and use of colour.
What's your favourite colour?
Steel blue.
---
Testimonials
Magazines and galleries
'It's a bit of shame to confine the work of Alej ez to our A5 cover. His panoramic drawings which capture local landscapes with the kind of confident, sparing line you might expect of an architect, often extend over several meters.' Viva Magazine April 2019 Brighton.
'Architect turn artist Alej ez uses his skills as a draftsman to create complex and beautiful panoramic line images of Brighton and Sussex buildings and landscapes.' Melita Dennett Sep 2019 Reverb Radio.
'The West Pier is particularly beautiful when we look at the work of Alej ez.' Yael October 2019 Latest TV interview.
'Ez's architectural training is clear in his prints – the delicate use of line, the precision of structures and forms, the scale and sense of space conveyed in colour and tone. But these are more than just aerial views of much loved places. Ez's meticulous colour blocking and rhythmic use of line command an emotional response, a delight in a treasured memory, of making space and sense in the world.' N Tyssom from Gallery 94 Fair Ground Exhibition Glyndebourne
Individual reviews
'Looking at your beautiful prints will keep me going, thinking of the sea and Sussex coastline, till I'm home again.' O. May 2020 London.
'My print arrived this morning and it is beautiful. Thank you so much!' D. April 2020 Norwich.
'All his works depicting Brighton, Hove, London as well as coastal and countryside scenes are freehand sketches that are finished digitally. Years of architectural training and practice translate to an impressive interpretation of memorable vistas with crisp intricate lines, vivid colours and bold tones.' Jason April 2020 Brighton.
'Perfection in all things and you have style.' Sharon March 2020 Kent.
'Your artwork brings pleasure to all those lucky enough to have seen, or even own… A delight xxx.' Adrienne Jan 2014 London.
'Stunning , such wonderful attention to detail.' Edmund April 2020 London.
'So Beautiful and full of care.' Holly Jan 2020 Brighton.
'We cannot wait to put this up to join our other two glorious paintings of yours. Thank you for giving us so much joy, your work is stunning.' O. April 2020 Brighton.
'Beautifully detailed Brighton scenes.' Art5 Gallery Brighton.
'He has always had a passion for drawing and in parallel with his architectural training he nurtured his particular interest in pen and ink drawings with graphic design.' Leo Frames July 2019 Brighton.
Reviews from overseas
'In a time when darkness seems to envelop all of us, every ray of light must be kept as a precious gift.
Alejandro's work, with its delicate details, shines warmly and illuminates the uncertain path we must walk these days. Thank you for your Art and for enabling us to have a small piece of Brighton at home!' L. Eced November 2020 Valencia.
'Hello from Sydney! I arrived Sat with your wonderful print in my hand luggage. My daughter is completely thrilled with it & full of admiration for your work. It was definitely a hit as a Christmas present!' H. January 2020 Sydney
---
Links and news
'Looking Good Dead' alej ez art in the movies.
Artist Open Houses put forward my artwork to be used in the film 'Looking Good Dead' read more about it in this link :
AOH artists' work on ITV crime drama!
Excerpt from the article:
'We asked artist and set designer, Anna Deamer, and AOH artists Kate Scott and Hannah Forward to tell us how their work appeared in the ITV crime drama 'Grace'.
I contacted Judy at AOH and asked if she could recommend other artists who might fit specific sets and she introduced me to Hannah Forward and Alejandro Martinez – whose work appears in the next film, 'Looking Good Dead'. We also used a print of Saltdean Lido by Fred Pipes in the kitchen of Grace's house – although this didn't appear in Film 1, I'm hoping we'll see it in one of the next three films – if we're back in this location. If there are any other artists who would like to be considered for the next three films, I'd love to hear from them…'
Alej ez Artist Residence at the Independent
The best Airbnbs in Brighton for all tastes and budgets
Excerpt from the article:
'The Regency era was a fruitful one for Brighton: it's when the unmistakable Royal Pavilion was designed by John Nash and the city's swathes of vanilla-hued seafront mansions were constructed. So if you stay in Brunswick Square, you'll be staying in a part of its history – plus there's the double-height ceilings and sash windows for added opulence. This smartly designed one-bed flat on the square has a compact kitchen and shower room, and is decorated with art by the owner that's available to buy. The location is second to none: it's right by the seafront with Brighton on its east side and the gentrified area of Hove on its west.'
---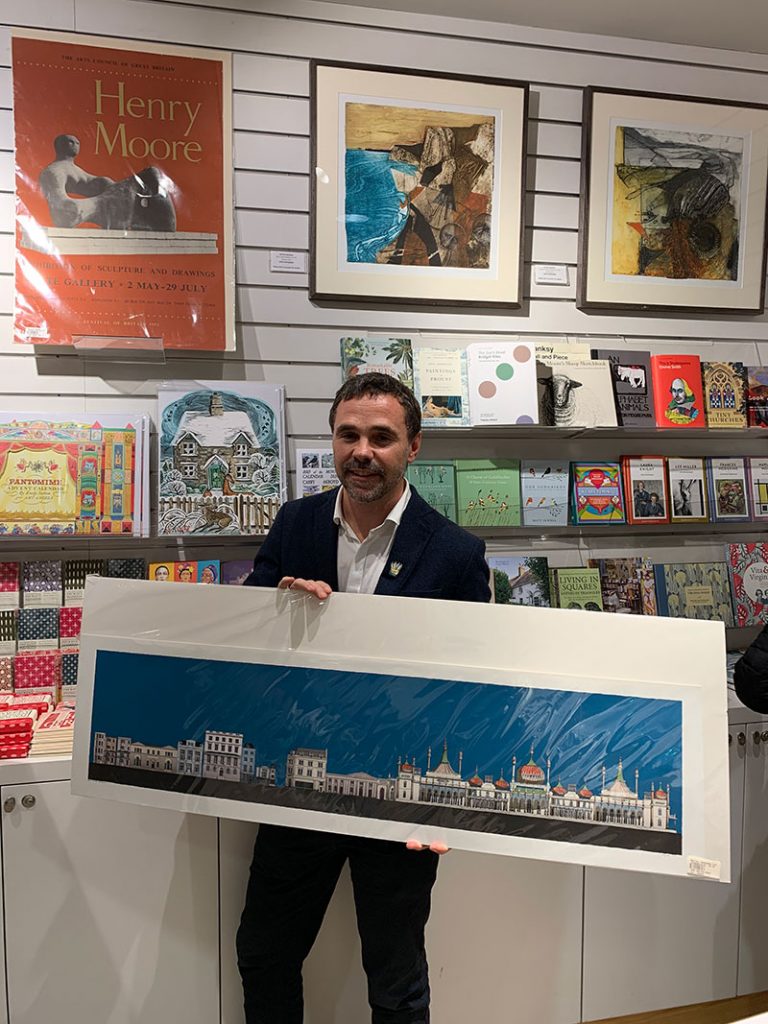 Exhibiting galleries
My art prints are for sale in the following galleries. I am looking for more interesting and exciting venues so if you think we can collaborate please get in touch.
Chichester
Lewes
Glyndebourne Shop and Gallery 94
Rye
Eastbourne
Brighton
Worthing and Kemptown (Brighton)
Hove