Alej ez
Alej ez is my full name Alejandro Martínez Rodríguez shortened. This new name is practically unique, which is very useful, and the use of the consonants 'j and 'z' retains and shows my Spanish roots.  I am an architect and artist and have lived and worked in Brighton since 2007.
The creation of art prints is my passion. The art process starts with my original ink drawings to which I apply colour digitally. With the use of art paper and archival inks for best quality I issue the large formats as limited editions whilst smaller works form open editions.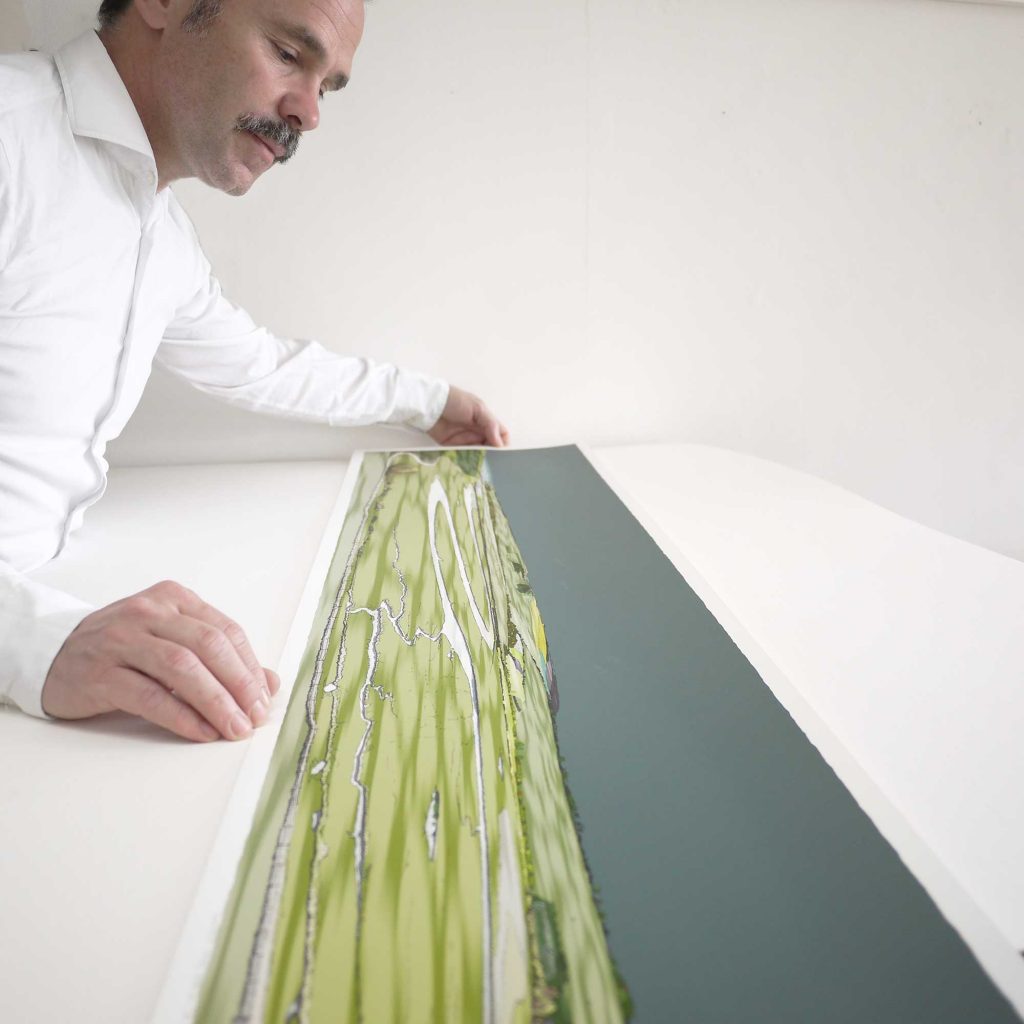 Bio
I was born in 1973 in the historic city of Granada, Spain. I studied architecture at Seville University. In August 2000 I moved to London where I landed with a job as a porter first and then the position of income audits for the Parklane Hotel in  Mayfair, London. Soon after I found my first job as an architect at Rick Mather's Architects. In 2011, I moved to Brighton where I worked for several architectural practices until In 2019 when I decided to pursue my career as sole practitioner architect and artist. I am currently a member of Studio Green House which is a cooperative for creative people.

The art process
My practice is threefold. Firstly, I draws or take photographs of coastal views, landscapes and cityscapes, then I translate these into delicate line ink drawings in his studio before scanning and adding colour digitally. A limited edition run of each print is then produced. My architectural training is clear in my prints – the delicate use of line, the precision of structures and forms, the scale and sense of space conveyed in colour and tone. But my aim is above than just create aerial views of much loved places. I aim to command an emotional response with a meticulous colour blocking and rhythmic use of line. And ultimately make space and sense in the world.
The completion of one of my panoramic prints is large process. I apply my architectural training to treat the creation of each print as a project where I carry out the stages of research, visits to locations, brief creation, development of  ideas, schedule the photographic, line base drawings and digital work required, and more. Artwork from other artists is always present from inception for my pieces, even when I go for walk I try to find the exact location for other artists; paintings and drawings. From Samuel Palmer, William Blake, John Piper, Eric Ravilious, John Minton, Paul Nash, David Hockney.