Brighton Pavilion Domes Ocean Blue
£40.00
Description
'Brighton Pavilion Domes Ocean Blue'
Print Description
This art print depicts a view of the onion domes, and finials of the Brighton Royal Pavilion. This was the first design I created after I an exhibition I saw of black and white photographs at RIBA in london of the rooftops of the Brighton Royal Pavilion.
Print details
I created this print from my original ink drawings to which I apply colour digitally. Printed on fine art paper using archival inks. I issue the formats A3 and A4 as limited editions of 100 where I individually sign and number each print.
Regency architecture. Brighton Royal Pavilion.
John Nash remodelled The Brighton Royal Pavilion into what we can see today in glorious Indo-Saracenic style. The works of the Marine Pavilion began in 1815 and took seven years to complete. George chose architect John Nash who proposed an Indian style in response to the design of the new stable block. Nash was also inspired by landscape gardener Humphrey Repton (who had published designs for a new palace based on Indian architectural forms) and based many of his ideas on a publication called Oriental Scenery by Thomas and William Daniell (1795-1808).
The complex composition of domes, towers and minarets created a romantic exterior. Either side of the central large dome are two towers that serviced the interior rooms over the Saloon, one with a staircase, the other with a hoist. To achieve a picturesque effect the rendered surfaces of the Royal Pavilion were painted to create a unified vision of a building made of Bath stone.
This print belongs to a tonal collection named 'Ocean Blue'. It reflects the aquamarine colours of the sea I encountered one summer day walking on the Palace Pier in Brighton with the 'Big Blue' underneath my feet glistening through the cracks between the planks of the wooden deck. And later lounging on a deck chair watching the English Channel framed in the horizon by the white lattice of Victorian wrought iron railings.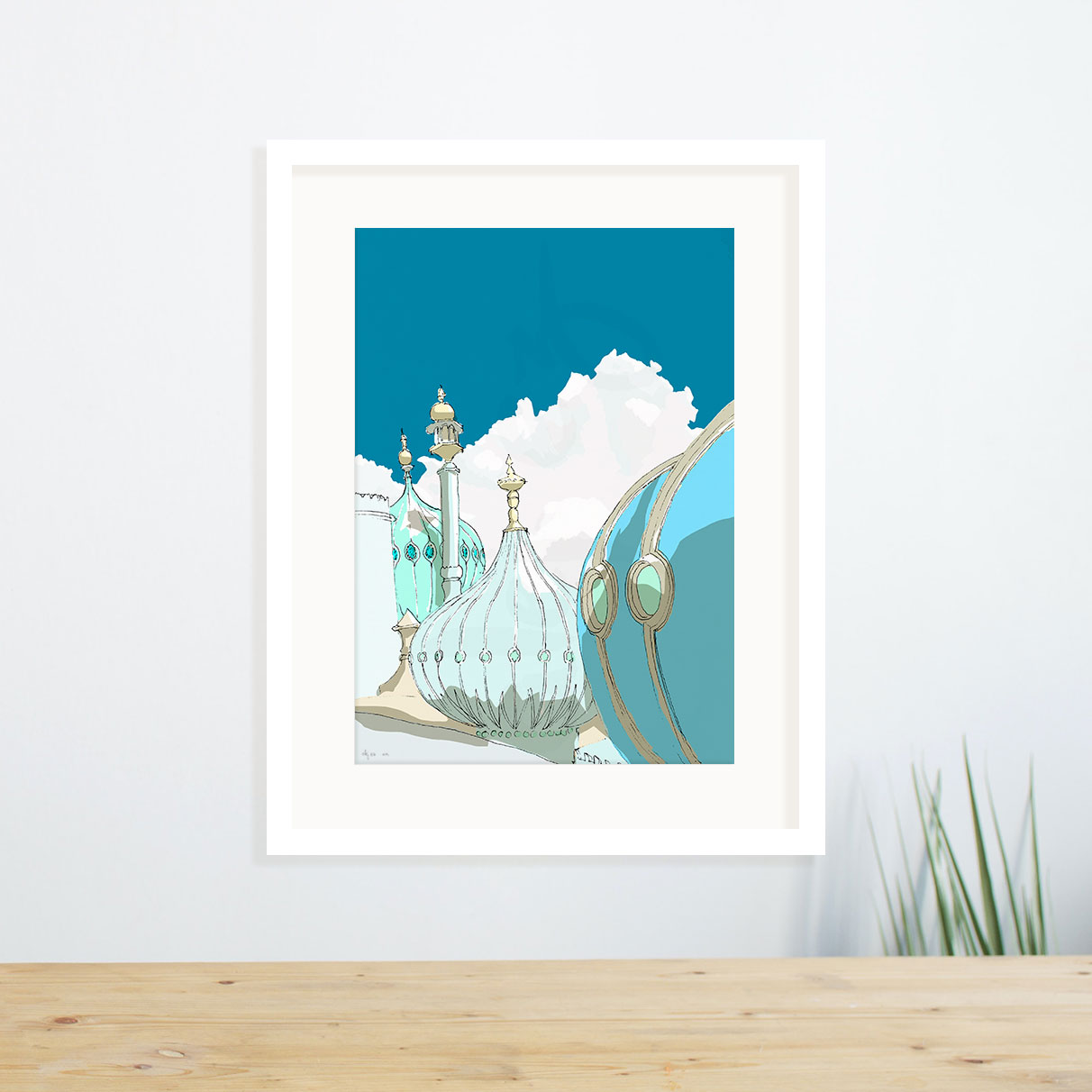 Only logged in customers who have purchased this product may leave a review.