Dragons Art Brighton Pavilion Crystal Blue
£40.00 – £310.00
Description
'Dragons Art Brighton Pavilion Crystal Blue'
Print description
Dragon art. Lose yourself in a dream of deep blue where entwined pairs of Asian dragons and mythological dolphins populate this architectural art print of the West elevation of the Brighton Royal pavilion. The colour palette 'Crystal Blue' uses sapphire, teal and navy blues. Reminiscent of distant exotic shores with blue lagoons and white sandy beaches. East Asian-Victorian motifs of chrysanthemum and lotus flowers makes a dazzling background which echoes the Chinoiserie interior style and decorations of the Royal Pavilion.
Print details
I created this print from my original ink drawings to which I apply colour digitally. Printed on fine art paper using archival inks, the prints are available in sizes A0,A1, A2, A3 or A4 as limited editions of 100 and each print is individually signed and numbered.
The Brighton Royal Pavilion
John Nash remodelled The Brighton Royal Pavilion into what we can see today in glorious Indo-Saracenic style. The works of the Marine Pavilion began in 1815 and took seven years to complete. George chose architect John Nash who proposed an Indian style in response to the design of the new stable block. Nash was also inspired by landscape gardener Humphrey Repton (who had published designs for a new palace based on Indian architectural forms) and based many of his ideas on a publication called Oriental Scenery by Thomas and William Daniell (1795-1808).
The complex composition of domes, towers and minarets created a romantic exterior. Either side of the central large dome are two towers that serviced the interior rooms over the Saloon, one with a staircase, the other with a hoist. To achieve a picturesque effect the rendered surfaces of the Royal Pavilion were painted to create a unified vision of a building made of Bath stone.
This print is also available as a simple design just with the Brighton Pavilion. You can see it here by following this link: 'Brighton Royal Pavilion Crystal Blue,'
Dragons Art
To draw my dragons I have looked at the Masterpieces of Chinese Paintings.
In 2013 I was fortunate to visit the iconic exhibition at the V&A in London 'Masterpieces of Chinese Paintings 700-1900.' This exhibition had some of the most remarkable examples of Chinese painting from 1200 years of tradition.
At this exhibition, the artwork 'Nine Dragons' struck me as an absolute wonder. It is a paper roll nearly nine metres long of beautiful ink drawings of dragons created by an artist called Chen Rong in around 1244. It was lent to the V&A Museum by the Museum of Fine Arts in Boston.
'Nine Dragons' is considered the oldest and finest dragon scroll in South Asian Art. The design expresses these mythical creatures in different conjectures and attitudes amidst clouds, water and mountains and represents the dynamic forces of nature in Daoism.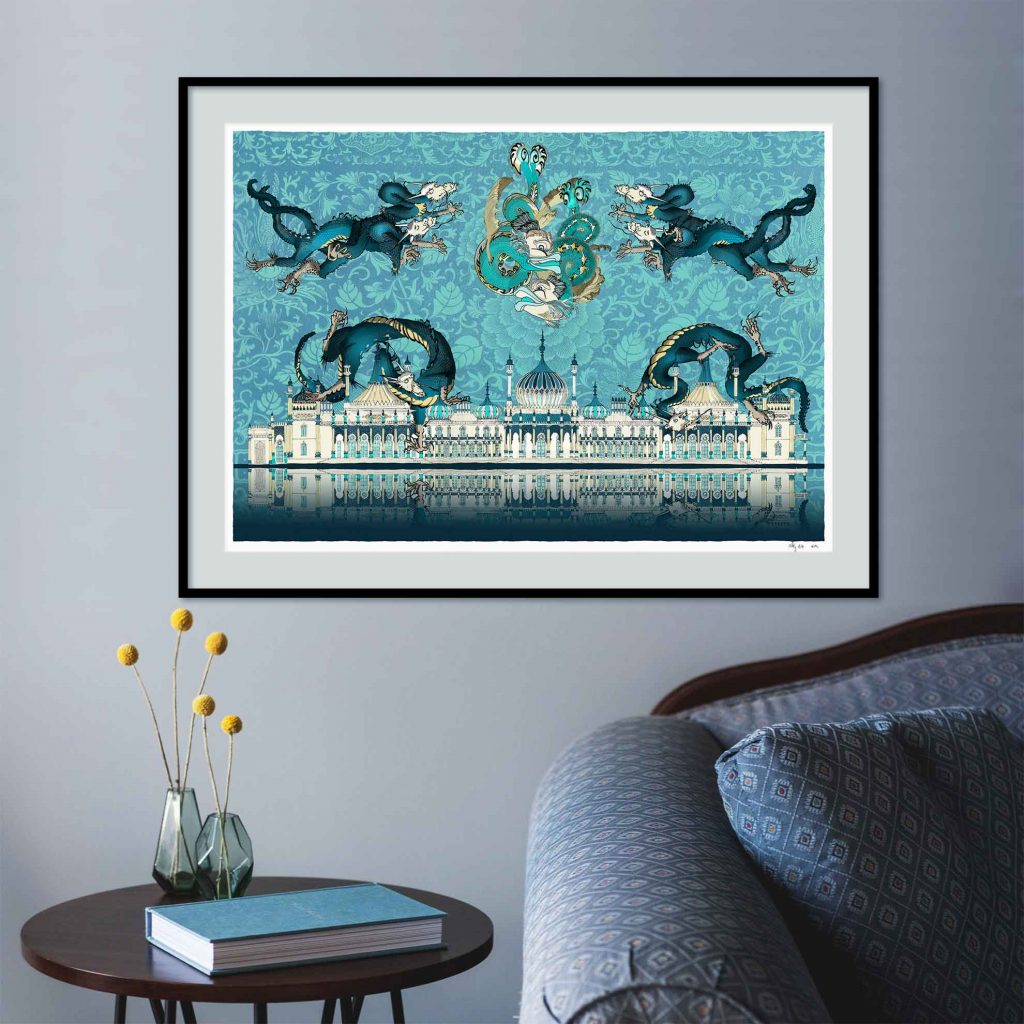 Additional information
| | |
| --- | --- |
| Dimensions | N/A |
| Print sizes: standard landscape | Art print A0 size landscape, Art print A1 size landscape, Art print A2 size landscape, Art print A3 size landscape, Art print A4 size landscape |
Only logged in customers who have purchased this product may leave a review.