Brighton Royal Pavilion Crystal Blue
£40.00 – £310.00
Description
'Brighton Royal Pavilion Crystal Blue'.
Print description
Shining like a crystal blue diamond, this architectural art print transform Brighton Royal Pavilion into a magical jewel. The colour palette 'Crystal Blue' uses sapphire, teal and navy blues. These colours are reminiscent of distant exotic shores with blue lagoons and white sandy beaches.  East Asian-Victorian motifs of chrysanthemum and lotus flowers makes a dazzling background which echoes the Chinoiserie interior style and decorations of the Royal Pavilion.
Print details
I created this print from my original ink drawings to which I apply colour digitally. Printed on fine art paper using archival inks, the prints are available in sizes A0,A1, A2, A3 or A4 as limited editions of 100 and each print is individually signed and numbered.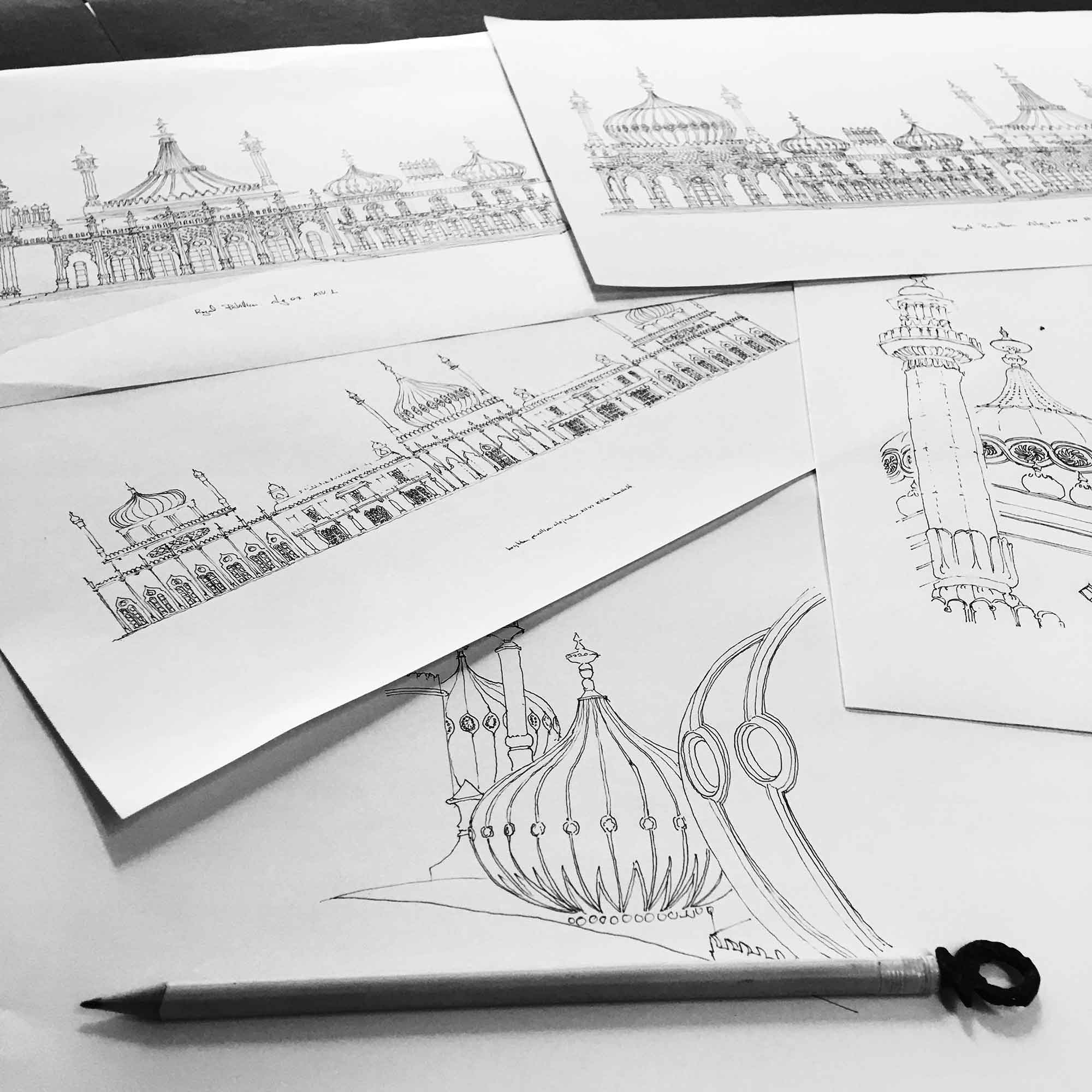 The Brighton Royal Pavilion
John Nash remodelled The Brighton Royal Pavilion into what we can see today in glorious Indo-Saracenic style. The works of the Marine Pavilion began in 1815 and took seven years to complete. George chose architect John Nash who proposed an Indian style in response to the design of the new stable block. Nash was also inspired by landscape gardener Humphrey Repton (who had published designs for a new palace based on Indian architectural forms) and based many of his ideas on a publication called Oriental Scenery by Thomas and William Daniell (1795-1808).
The complex composition of domes, towers and minarets created a romantic exterior. Either side of the central large dome are two towers that serviced the interior rooms over the Saloon, one with a staircase, the other with a hoist. To achieve a picturesque effect the rendered surfaces of the Royal Pavilion were painted to create a unified vision of a building made of Bath stone.
Chrysanthemum and Lotus Crystal Blue
In Asian and Chinese culture the Chrysanthemum and the Lotus are used widely and have complex meanings:
Taoism is the second major religion practiced in China where the Chinese lotus flower has significance. Believers of this religion accept that the earth is reigned over by eight immortals. One of these immortals is Ho Hsien Ku. The symbol for this immortal being is an open lotus flower which symbolizes wisdom and openness. In Taoism, the lotus is used on artwork throughout the religion to symbolize beauty, life, and light.
In Chinese culture, the chrysanthemum is a symbol of autumn and the flower of the ninth moon. People even drank chrysanthemum wine on the ninth day of the ninth lunar month to prolong their lives during the Han dynasty. It is a symbol of longevity because of its health-giving properties.
Additional information
| | |
| --- | --- |
| Dimensions | N/A |
| Print sizes: standard landscape | Art print A0 size landscape, Art print A1 size landscape, Art print A2 size landscape, Art print A3 size landscape, Art print A4 size landscape |