Brighton Pavilion Steine Gardens Scene Ocean Blue
£40.00 – £54.00
Description
'Brighton Pavilion Steine Gardens Scene Ocean Blue'
Print Description
The prints collates the facades of the buildings in Steine Gardens in Brighton. It focusses on the residences of  George IV's Brighton Royal Pavilion and his life companion and later wife Maria Fitzherbert's Steine House.
Print details
I created this print from my original ink drawings to which I apply colour digitally. Printed on fine art paper using archival inks. I issue the formats A3 and A4 as limited editions of 100 where I individually sign and number each print.
The Brighton Royal Pavilion
The Royal Pavilion is own by the City of Brighton and Hove. Today it is a wonderful museum and art venue. You can get married and have your photograph of your weeding taken in the music room. The best kept secret: did you know you can have you Christmas diner in the Banquet room?
The architectural style. Indo Sara-Saracenic
Architect John Nash changed the external appearance and remodelled The Brighton Royal Pavilion in Indo-Saracenic style. The works of the Marine Pavilion began in 1815 and took seven years to complete. George chose John who proposed an Indian style in response to the design of the new stable block; today's Corn Exchange and Dome Theatre.
Architectural references
Published designs for a new palace based on Indian architectural forms by landscape gardener Humphrey Repton and 'Oriental Scenery' by Thomas and William Daniell inspired Nash to create this 'fairy tale' style design
Description of the external appearance. Historic England
Historic England has a very academic entry that describes the complexity of the Royal Pavilion. As a curiosity I have picked the following architectural style terms from their description: trilobed heads, octagonal socle, leafy base, octagonal shaft, and flaring, leaf capitals which terminate above the diamond crenellated parapet in octagonal pinnacles, pierced quatrefoils, intersecting S-curves, horseshoe arches; convex, feathered ring, topped by a fluted ring; Gothic quatrefoil panels. Lotus-leaf parapet continuous across the elevation; onion domes and all that Jazz!
Steine house
In 1785 George fell in love with Maria Fitzherbert, a widowed Roman Catholic. They married illegally in December 1785. She first visited Brighton the following year. The royal couple sought a site for a permanent home for Mrs Fitzherbert, and in 1804 she commissioned the Prince's favoured architect William Porden to design and build a house on the west side of Old Steine.
The building is now owned and used by Brighton YMCA. The work done to Steine House in 1927 changed its original appearance. It now presents a façade of white-painted brick with some stucco work.
Marlborough House
Marlborough House is a mansion at 54, Old Steine. It is a Grade I listed building. Built for Samuel Shergold in the 1760s. The Duke of Marlborough was its third owner and in 1786 William Gerard Hamilton bought it and altered to a neoclassical design by Robert Adam. It came to the hands of a Brighton School Board and Brighton and Hove City Council who consequently sold it to a local businessman in 1999.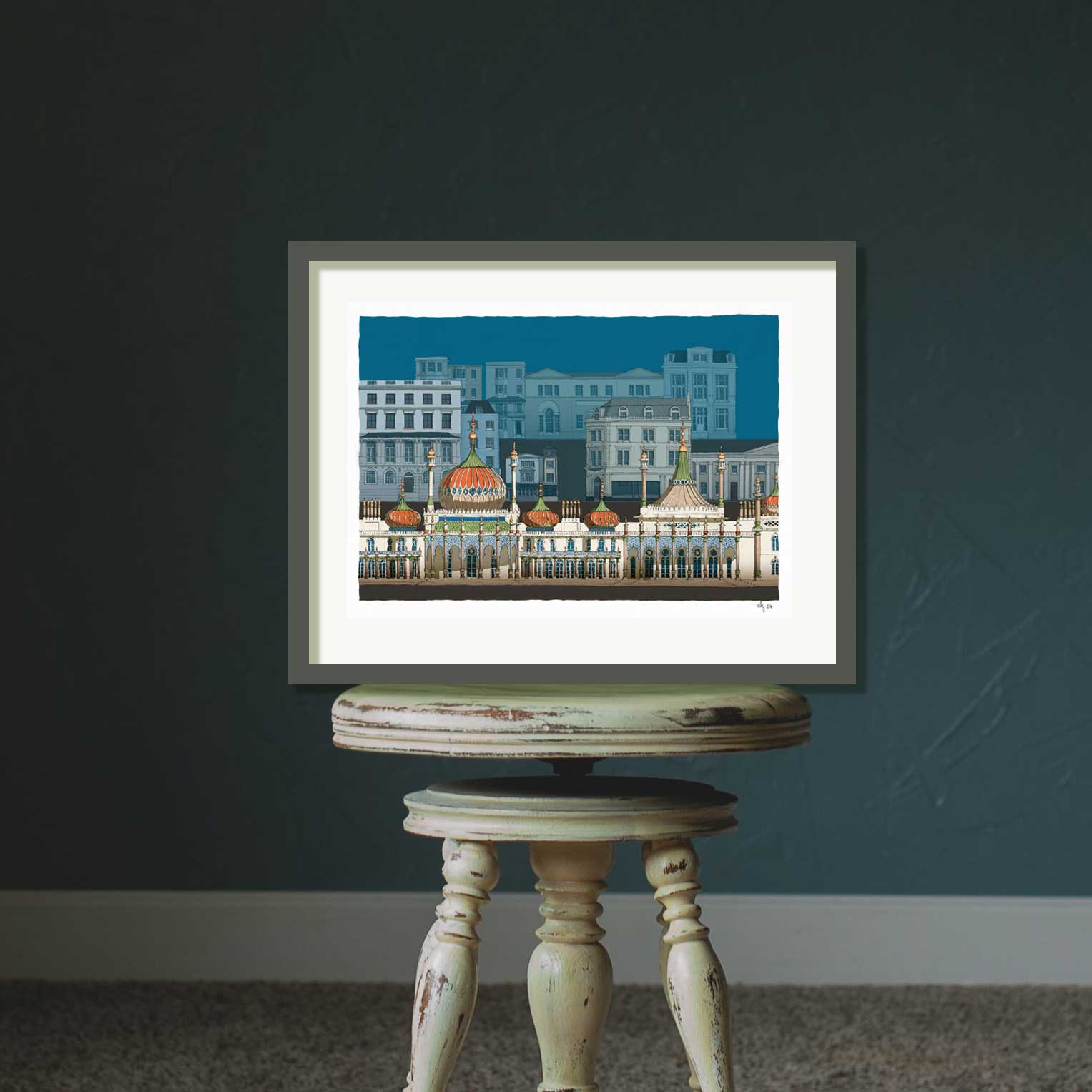 Additional information
| | |
| --- | --- |
| Dimensions | N/A |
| Print sizes: standard landscape | Art print A3 size landscape, Art print A4 size landscape |
Only logged in customers who have purchased this product may leave a review.