Adelaide, Beach Huts, Brunswick and the Two Piers Ocean Blue
£192.00
Description
'Adelaide, Beach Huts, Brunswick and the Two Piers Ocean Blue'.
Print description
View from the promenade of the beach huts with the backdrop of the Georgian and Victorian terraces, crescents and squares all facing the sea with the backdrop of the Palace Pier and the remains of the West Pier.
Print details
Panoramic format. Print size 124 x 30.5 cm approx. Signed print from a limited edition of 100. From original ink drawing to which I apply colour digitally. Printed on fine art paper using archival inks.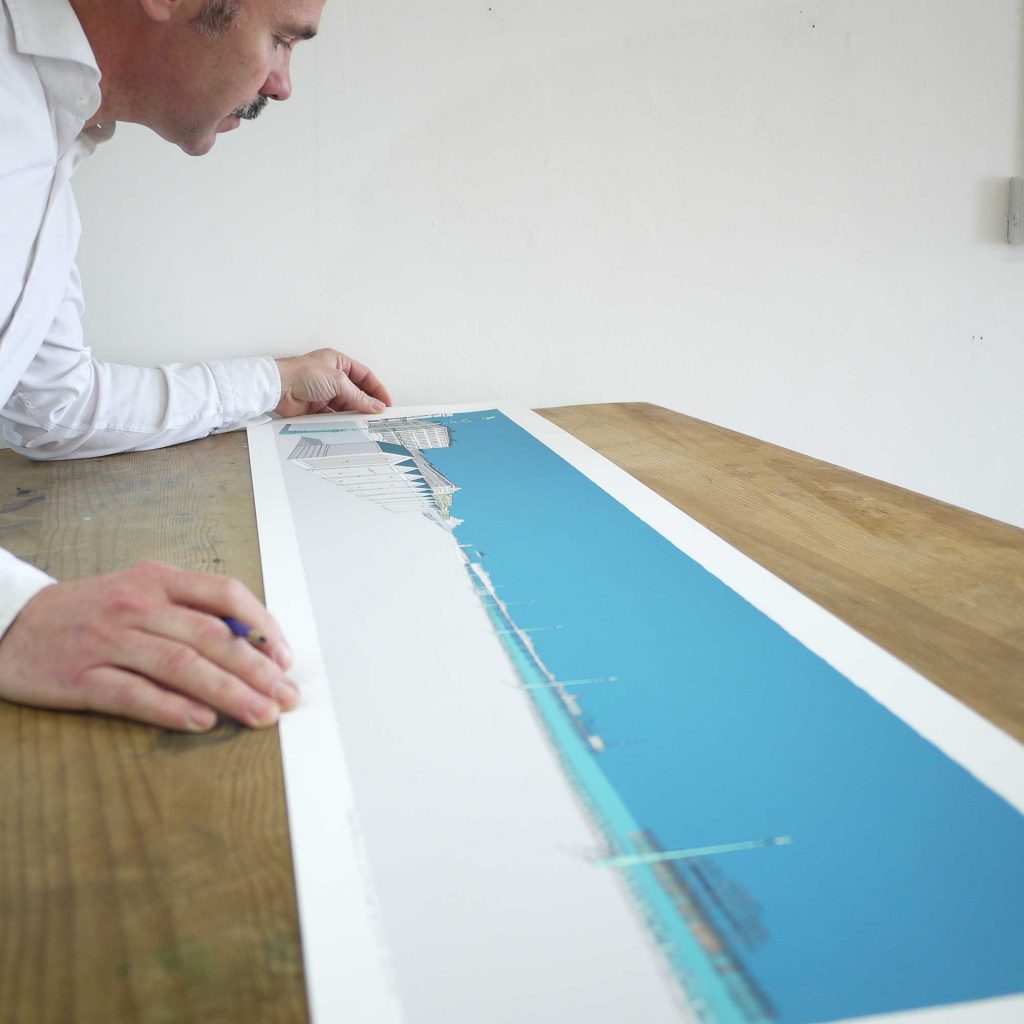 More about this print. Iconic landmarks of Brighton and Hove. The historic Leisure seaside resort. 
Somehow the view of these beach huts in this location in the middle of the town always surprises me. Usually we are more likely to see them in less developed places. Instead they stand in front of the Grade II listed Adelaide Crescent. It is a reminder that this town grew from a small fishing village to the large seaside resort that is today.
Past Adelaide you can see Brunswick Terrace and Square painted in its distinctive colour named 'Brunswick Yellow'.
Further along stand the Peace Statue,  The I360 Tower, The Music Bandstand.
Another wonderful feature in the promenade is the green painted wrought iron works of railings and Chinoiserie street lights.
Finally the Brighton Palace Pier and the West Pier Remains project out to sea. The remains of the West Pier stand above the sea like a contemporary art installation. In 2019 I held an exhibition at the West Pier Centre where I showed my work as a matter of fact the West Pier features in numerous prints of mine.
Print collection Ocean Blue
This print belongs to a tonal collection named 'Ocean Blue'.  Namely this tonal collection reflects on the aquamarine colours of the sea. Imagine yourself on a summer's day walking on the Palace Pier in Brighton. Look down through the gaps of the wooden deck to see the sea glistening like jewels in the sun. Then later lounge on a deck chair and watch the English Channel in Ocean Blue.
Beach huts in seaside towns.  Brighton and Eastbourne panoramic prints
There is no doubt that beach huts hold a special interest as they are associated with the idea of holidays and days in the sun with friends. It is so that I have often portrayed them in my prints. The other typical location where the beach huts are also in the centre of the town in Eastbourne. Please follow this link where you can see my print 'Eastbourne Pier and Huts Pebble Beach'.
Only logged in customers who have purchased this product may leave a review.