Brighton West Pier and Rampion Wind Farm Antique Ochre and Blue
£192.00
Description
'Brighton West Pier and Rampion Wind Farm Antique Ochre and Blue.'
Print description
This art print depicts the remains of Brighton West pier and on the horizon the Rampion Wind Farm.
Print details
Panoramic format. Print size 124 x 30.5 cm approx. Signed print from a limited edition of 100. From original ink drawing to which I apply colour digitally. Printed on fine art paper using archival inks.
Brighton West Pier Remains
The industrial revolution brought social and technological advances. Among these, the Victorian championed the promotion of wellbeing. For this reason, many seaside towns build leisure piers across the United Kingdom inviting all segments of society to enjoy the benefits of clean air and gentle exercise. The West Pier, possibly the most beautiful in Britain, stands today, sadly, as a bare and weathered wrought iron structure.
In 2019 I held an exhibition at the West Pier Centre where I showed my work. My interest in this charismatic structure is well documented in numerous prints where I have featured the remains of the West Pier.
The Rampion Wind Farm
To put a positive note, I have added to my print in the distance the Rampion Wind Farm.
In April 2018 EON developed this offshore wind farm off the Sussex coast with a capacity of 400 MW. In a competition, local schools voted the name 'Rampion' suggested by a pupil as the chosen name for the wind farm. Significantly this name relates to the plant named round-headed rampion (Phyteuma orbiculare), also known as the Pride of Sussex, the county flower of Sussex. Ultimately, I found this piece of information so moving that I created a panoramic print with the subject of these flowers in the South Downs landscape. 'Devils Dike Round Headed Rampion, Pride of Sussex'
Finally, I hope that the wind farm, like the West Pier at the time, will become our legacy for the future. So, I hope it will be remembered as a technological advance of our times in regard to the production of energy with renewable natural sources.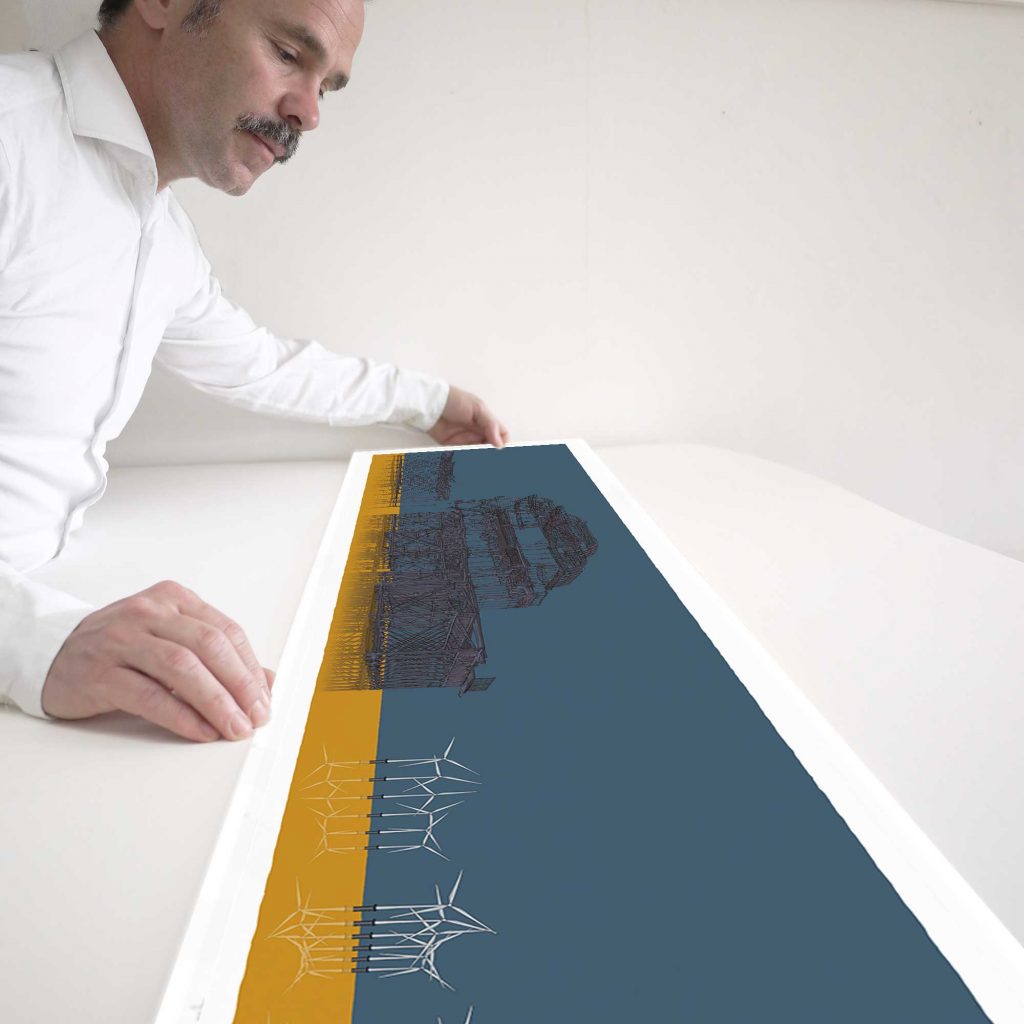 Print collection Antique Ochre and Blue
'Antique Blue and Ochre' is the first tonal palette I created. I borrowed the colours to form this palette from a miniature painting I saw at the Museum of Fine Arts in San Francisco. It depicted a palace in India that I transcribed into my print of the Brighton Royal Pavilion. The Indo-Saracenic style of the Brighton Pavilion validated this exercise. I did it instinctively with the result of a modern print with evocative echoes from the past.
Only logged in customers who have purchased this product may leave a review.