A Sussex Walk along the Cuckmere River to the Litlington White Horse
£192.00
Description
'A Sussex Walk along the Cuckmere River to the Litlington White Horse'
Print description
This panoramic print depicts a Sussex walk along the banks of the Cuckmere river near its mouth where it meanders in wide zig-zags towards the sea. Standing along in the landscape West of Litlington is a hill . At the top of this hill imprinted in chalk on the slope you can find the iconic White Horse.
Print details
Limited edition print. Panoramic format. Print size 124 x 30.5 cm approx. Signed print from a limited edition of 100. From original ink drawing to which I apply colour digitally. Printed on fine art paper using archival inks.
The South Downs
The South Downs is a range of chalk hills that extends across the south-eastern coastal counties of England from the Itchen valley of Hampshire in the west to Beachy Head, in the Eastbourne Downland Estate in the east.
Sussex walk
The South Downs Way as the name implies, is a long distance footpath and bridleway. The trail runs for 160 km from Winchester in Hampshire to Eastbourne in East Sussex, with about 4,150 m of ascent and descent.
Litlington White Horse
The Litlington White Horse is a chalk hill figure depicting a horse, situated on Hindover Hill in the South Downs, looking over the River Cuckmere to the west of the village of Litlington and north of East Blatchington in East Sussex, England.
The current horse was cut in 1924 by John T, Ade, Mr Bovis and Eric Hobbis in a single night and stands at 93 feet long and 65 feet high. A previous horse was cut in either 1838 or 1860 on the same site. Since 1991, the horse has been owned by the National Trust, who regularly clean and maintain the horse along with local volunteers.
Swan art
In the early spring of 2021 I went for a walk along the Cuckmere river with my friends Sarah and Matthew. I have been on other occasions even kayaking with them along this river. On the day we saw very far away two beautiful swans swimming along the river, the word often used to describe them is majestic. But later in the art studio I decided to put them centre stage in glorious flight and of course give them names, so one is called Sarah and the other is Matthew. So for me, this print is a metaphor of friendship and gratefulness.
Sussex art
If you like this print please follow this link where you can see my collection of prints : Sussex Art the Countryside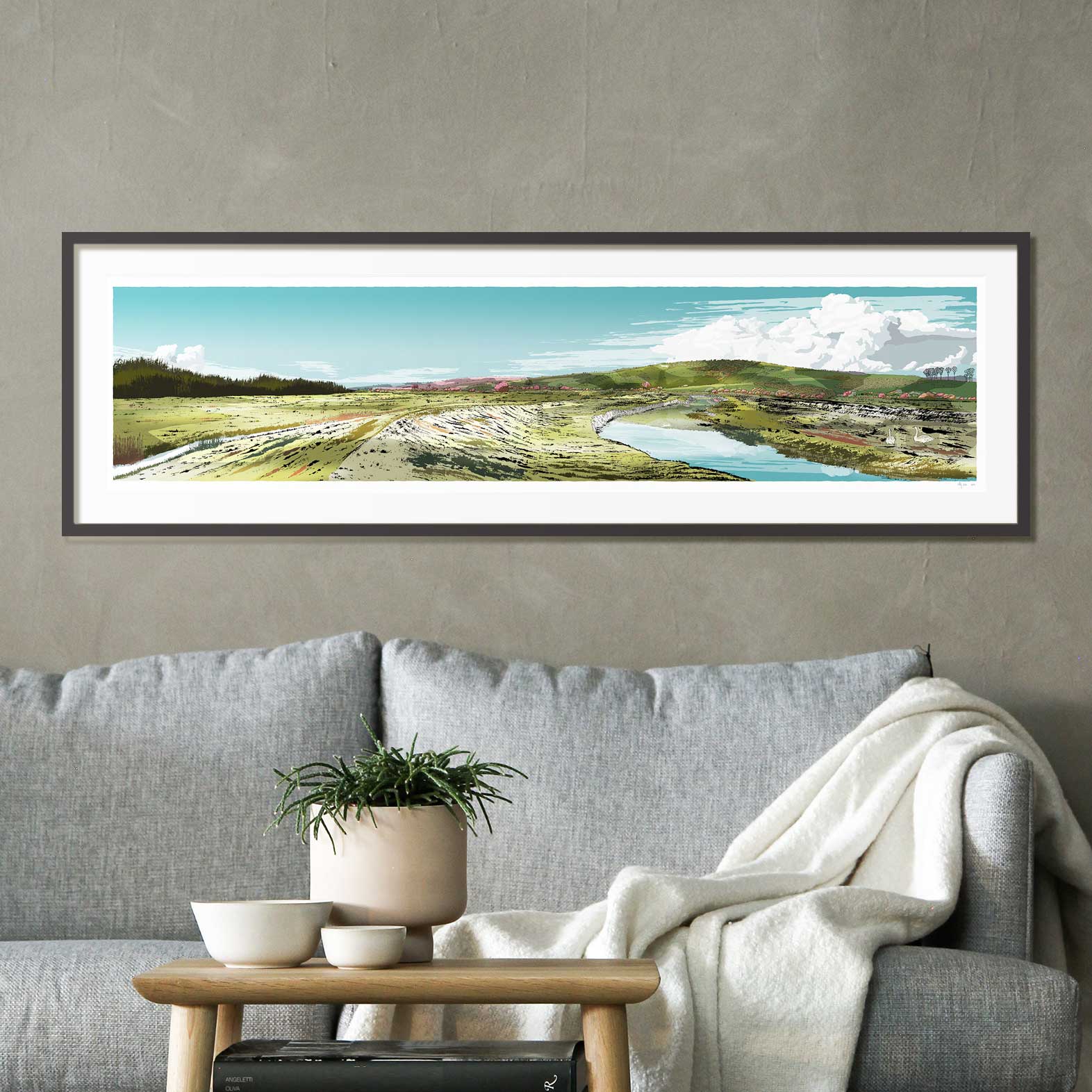 Only logged in customers who have purchased this product may leave a review.