Lavender Print. White Cliffs Lavender Sea
£40.00 – £310.00
Description
'Lavender Print. White Cliffs Lavender Sea'
Print description
View of Haven Brown towards the East and in the distance Birling Gap and Belle Tout Lighthouse at the top of Beachy Head.
Print details
Digital pigment print from original ink drawings. Printed on fine art paper using archival inks. Available in sizes A0,A1, A2, A3 or A4 as limited editions of 100. Each print is individually signed and numbered.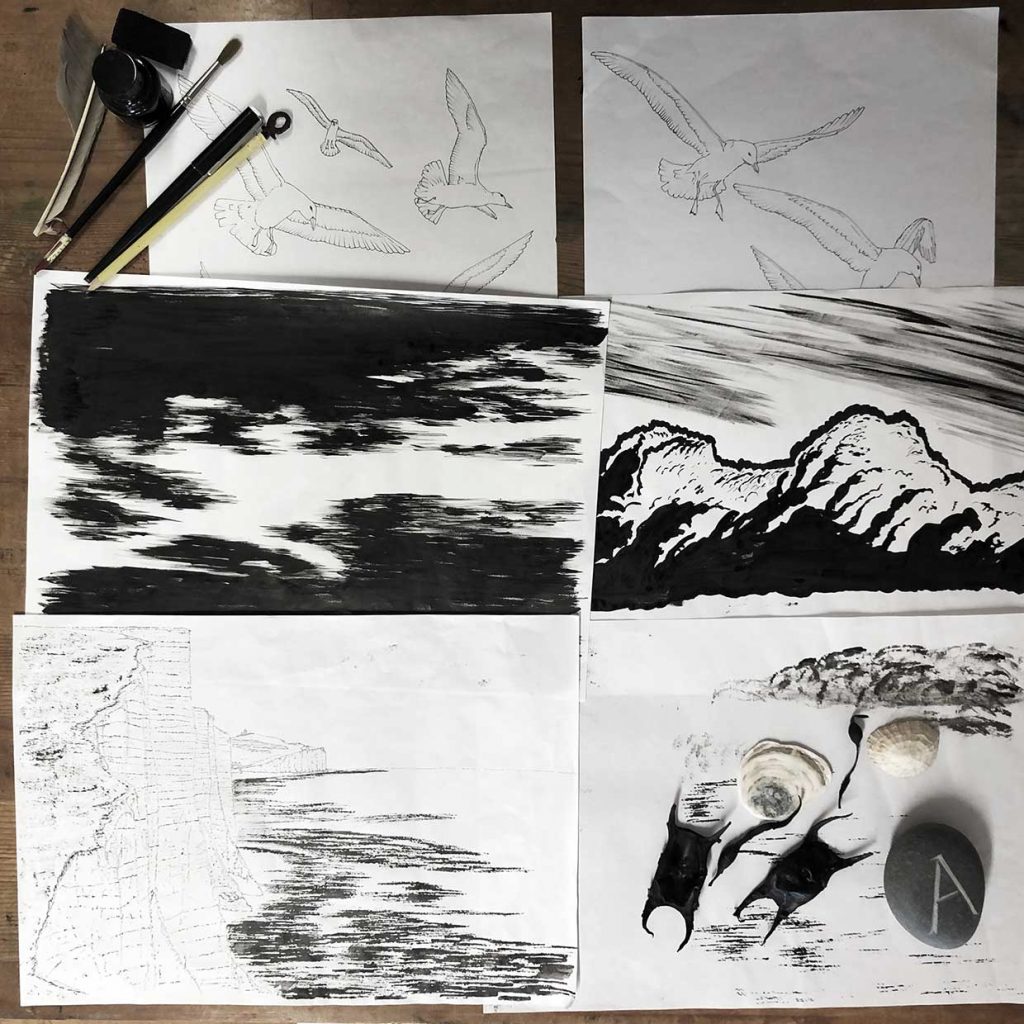 Brass Point. Seven Sisters
Brass Point is at the halfway point along the Seven Sisters. Looking east towards Belle Tout lighthouse you can imagine a scene long ago as customs officers defended this coastline against smugglers. Below you is the site of Crowlink coastguard station though all that remains today are tell-tale banks and hollows in the grassland. Recent archaeological work shed light on the day to day life of the people living here. The excavations unearthed household objects including plates, saucers, beer bottles, pins, pipe and gilt coastguard buttons dating from 1820.
The Seven Sisters are a series of chalk sea cliffs on the English Channel coast, and are a stretch of the sea-eroded section of the South Downs range of hills, in the county of East Sussex, in south-east England. The Seven Sisters cliffs run between the mouth of the River Cuckmere near Seaford, and the chalk headland of Beachy Head outside of Eastbourne. Each of the Seven Sisters cliffs are distinguished by dips in-between them, which are the remnants of dry valleys in the chalk South Downs which are being gradually eroded by the sea.
Some of the cliffs and adjacent countryside make up the Seven Sisters Country Park, which is bounded on its inland side by the A259 road, and is itself a part of the larger South Downs National Park
Mystical Colour Palette and sky inspired by Canterbury Cathedral
My colour palette for this print has complementary colours: ruby and opal green that resonates with the contrasting concepts of Heaven and Earth. In addition I create a mystical tone with use of subtle patterns in the sky and sea reminiscent of the magnificent ceiling of the Chapter House of Canterbury Cathedral. A wagon vaulted ceiling made from Irish oak built by Prior Chillenden in the early 15th century.
Very peri. Lavender print.
Described by Pantone as the "happiest and warmest of all the blue hues," the 2022 Color of the Year is called "Very Peri," a "dynamic periwinkle blue hue with a vivifying violet-red undertone," according to a press release. It combines the faithfulness of blue with the energy and excitement of red
Additional information
| | |
| --- | --- |
| Dimensions | N/A |
| Print sizes: standard landscape | Art print A0 size landscape, Art print A1 size landscape, Art print A2 size landscape, Art print A3 size landscape, Art print A4 size landscape |
Only logged in customers who have purchased this product may leave a review.