Birling Gap Starling Murmuration White Cliffs
£192.00
Description
'Birling Gap Starling Murmuration White Cliffs'
Print description
View from Beachy Head of a murmuration of starlings flying over the iconic Seven Sisters white chalk cliffs and Birling Gap. One of the most loved vista in the South Downs National Park.
Print details
Panoramic format. Print size 124 x 30.5 cm approx. Signed print from a limited edition of 100. From original ink drawing to which I apply colour digitally. Printed on fine art paper using archival inks.
Birling Gap
The beach at Birling Gap is set at the base of the imposing, sheer chalk cliffs known as the Seven Sisters between the seaside resorts of Eastbourne and Brighton. Birling Gap and the Seven Sisters is a National Trust site. It has a fascinating history that starts from 4000 BC Neolithic. At that time people lived in a settlement at nearby Belle Tout.
Birling Gap is a coastal hamlet within the parish of East Dean and Friston . It is situated on the Seven Sisters not far from Beachy Head and is owned by the National Trust. Coastal erosion has already removed some of the row of coastguard cottages built in 1878. In 1973 The first cottage was demolished due to its proximity to the eroding cliff edge. Nonetheless those that remain are still inhabited.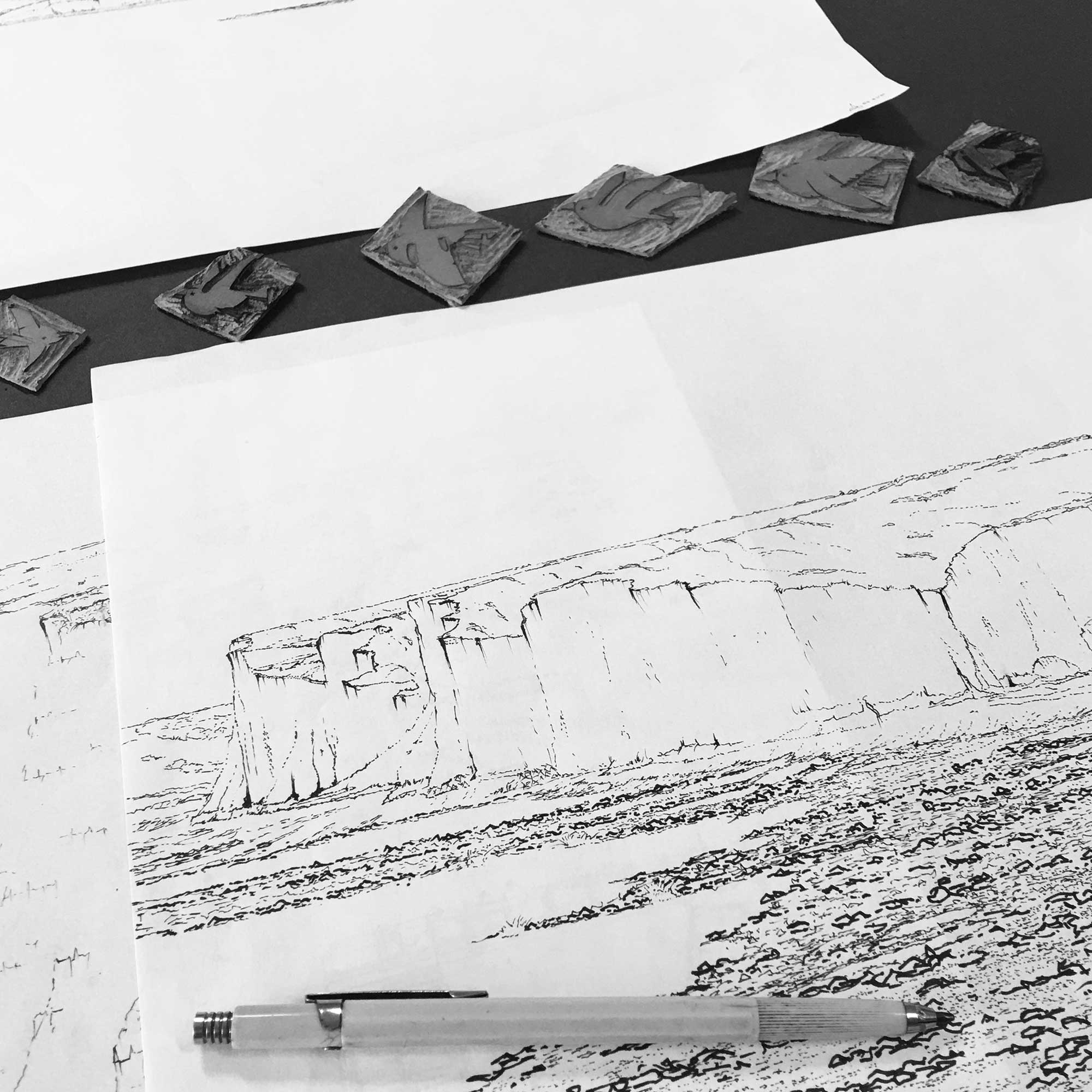 Seaford Coastguard Cottages
At the end of the Seven sisters is the Cuckmere Valley and in the opposite bank of the Cuckmere river you can find in my print the Seaford Coastguard Cottages. Interestingly I only came to this fact while I was drawing the base drawing for this print. By location geography I knew they were somewhere along the shore. I work from my own photographs, then when I am at the studio magnifying these photographs and studying the details of the landscape that this information reveals itself.
Finally past the cottages the view ends with Seaford Head Nature Reserve
In addition across the print you can see a flock of starlings forming a murmuration with its distinctive pattern in the sky. Equally in this print I record with emphasis other patterns from nature. For example at large scale you can appreciate the repetitive undulating cliffs formation. Equally and at small scale the rock scattered along the shore forms a pattern that copies itself in a repetitive scribble.
Print connections Cuckmere Haven Valley
An interesting fact in my prints is that the famous Seaford Coastguard cottages appear in this print in the distance and in a similar way in my other print 'Cuckmere Haven Valley Eventide'
Only logged in customers who have purchased this product may leave a review.