Lewes Town and Marshes from Southease
£40.00 – £310.00
Description
'Lewes Town and Marshes from Southease'
Print description
At the heart of rural Sussex lies the beautiful county town of Lewes. It retains the essence of bygone Lewes with its medieval streets, old English churches and tiny twittens (a Sussex word for alleyway). The town, dominated by the remains of a Norman castle, is surrounded by chalk cliffs, marsh lands and the distinctive landscape of the South Downs.

Print details
I create each print out of my own hand drawn ink drawings that I colour digitally. I print my design using fine art paper and archival inks, and release each print as part of a limited edition of 100 for the standard sizes 0,A1, A2, A3 or A4. Each print has my signature and edition number.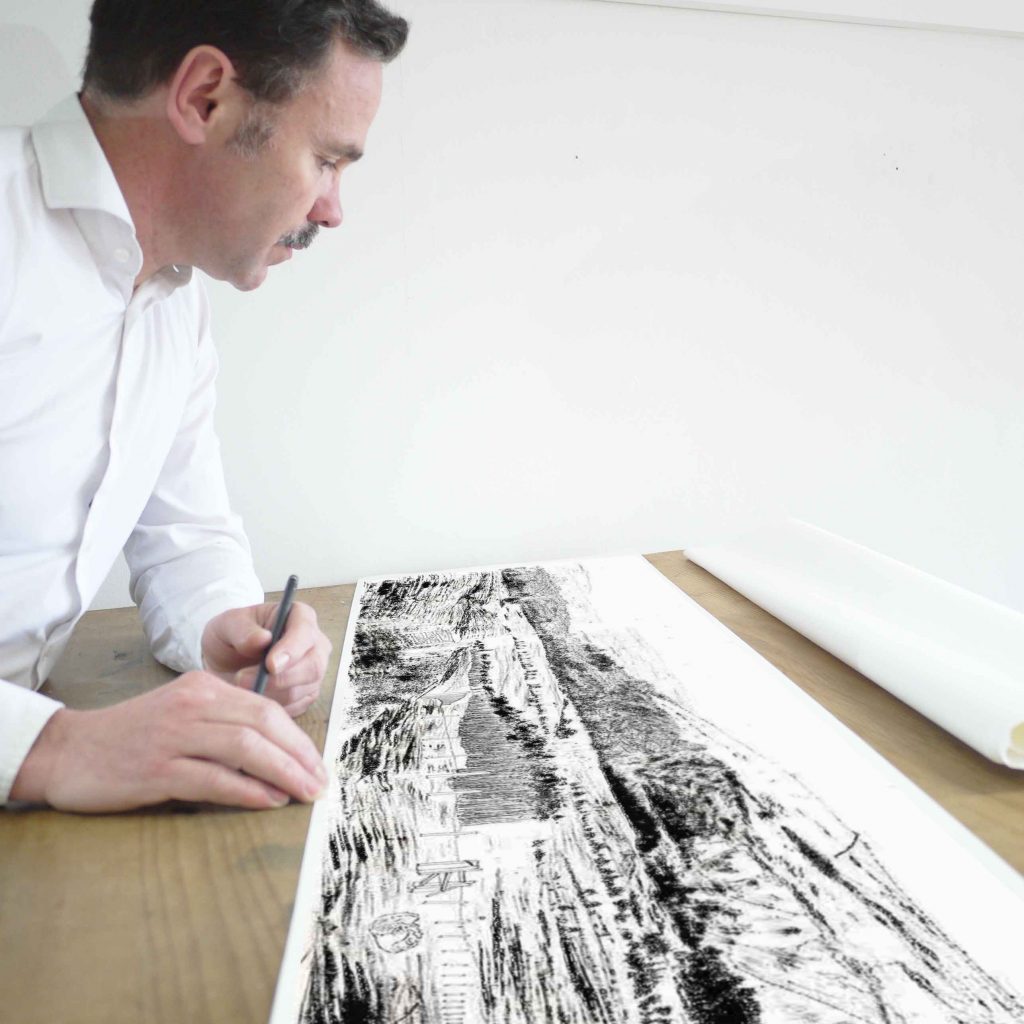 Lewes has three Natural Sites of Special Scientific Interest:
Lewes Downs, Lewes Brooks and Southerham Works Pit. Lewes Downs is a site of biological interest, an isolated area of the South Downs.
Lewes Brooks, also of biological importance, is part of the floodplain of the River Ouse that provides a habitat for many invertebrates such as water beetles and snails.
Southerham Works Pit is of geological interest, a disused chalk pit displaying a wide variety of fossilised fish remains.
The Railway Land nature reserve is on the east side of the town next to the Ouse, and contains an area of woodland and marshes, which now includes the Heart of Reeds, a sculpted reed bed designed by local land artist Chris Drury. The Winterbourne stream, a tributary of the Ouse, flows through it. This stream flows most winters and dries up in the summer, hence its name. It continues through Lewes going through the Grange Gardens and often travelling underground. The Heart of Reeds is one of the sites in East Sussex and Kent home to the marsh frog, an introduced species. It is popular with pond-dippers and walkers.
Additional information
| | |
| --- | --- |
| Dimensions | N/A |
| Print sizes: standard landscape | Art print A0 size landscape, Art print A1 size landscape, Art print A2 size landscape, Art print A3 size landscape, Art print A4 size landscape |
Only logged in customers who have purchased this product may leave a review.