Morning Swim Saltdean Lido by the Sea
£192.00
Description
'Morning Swim Saltdean Lido by the Sea.'
Print description
View of the Saltdean Lido with the backdrop of the East Saltdean, the chalck cliffs and the sea. Passion for swimming, Art Deco, coastal landscapes and the sea.
Print details
Panoramic format. Print size 124 x 30.5 cm approx. Signed print from a limited edition of 100. From original ink drawing to which I apply colour digitally. Printed on fine art paper using archival inks.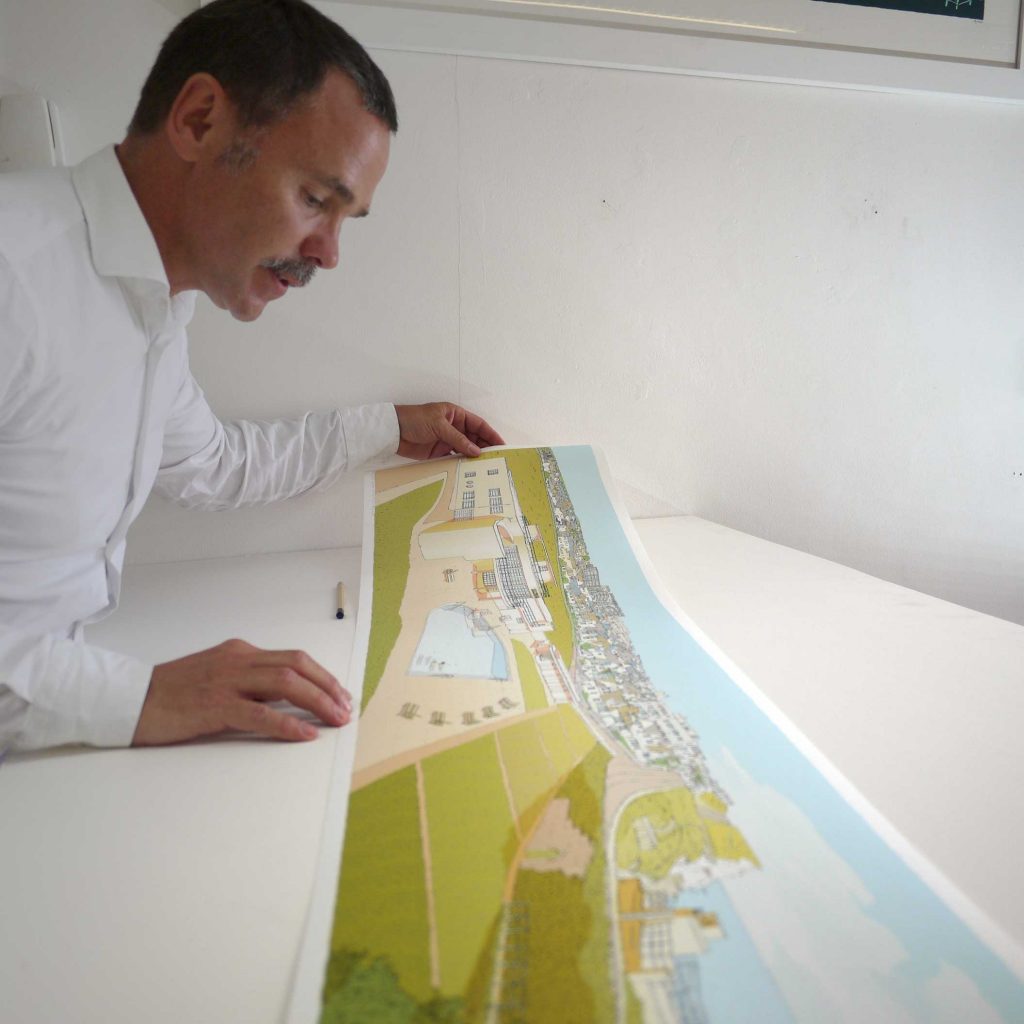 About this print
I completed this print in the summer of 2020. It expresses in one image three aspects of my personality. First, my love for swimming. Second , my passion for architecture as the main subject of this art print is the Saltdean Lido, a strikingly beautiful Art Deco Modernist building. And finally my interest for nature with the inclusion of the beautiful chalk cliffs that often define the coast of East Sussex.
The Saltdean Lido is open again. Like the two figures in my print immersed in the swimming pool, everyone can practice the healthiest of the exercises: swimming.
The Saltdean Lido
The Saltdean Lido is an Art Deco building designed by architect R.W.H. Jones. It is listed at Grade II* by English Heritage. The lido was built in 1937-38, its design was hailed as the most innovative design of its type in Britain. It has a tea terrace, a sun deck, a café perched on the flat roof and distinctive curved wings at either end.
The Saltdean Lido Community Interest Company runs The Lido, it is a 'not for profit' organisation set-up by volunteers to return Saltdean Lido to its former glory. The first phase of its restoration has been completed with the re-creation of the original 1938 swimming crescent-shaped pool. Phase Two will see the main building restored to its former glory to open its door to the public by 2023.
East Saltdean
This print depicts East Saltdean with what was at the time the Grand Ocean, a luxury hotel opened in 1938. Designed by architect RWH Jones with the classic modern styling of the age. They are currently luxury apartments.
My print continues towards the East and over the road with Whitecliffs Cafe with its expansive view of the chalk cliffs and the English Channel.
Modernist and Art Deco British architecture by the sea
This panoramic print of the Saltdean Lido together with two other prints, one of the De la Warr Pavilion and another of Embassy Court in Hove form a tryptic that celebrates Modernist and Art
Deco British architecture by the sea.
Only logged in customers who have purchased this product may leave a review.