The Writing Lodge of Virginia Woolf at Monk's House
£40.00 – £310.00
Description
'The Writing Lodge of Virginia Woolf at Monk's House.'
Print description
You can perfectly imagine that Virginia Woolf is still there. The title of this print perfectly describes this print. Though I have chosen, instead of the usual view of this hut from the garden, a point of view is from the church's ground. There is a low flint wall and a large tree.
Print details
I created this print from my original ink drawings to which I apply colour digitally. Printed on fine art paper using archival inks. I issue the formats A1 & A2,A3 and A4 as limited editions of 100 where I individually sign and number each print.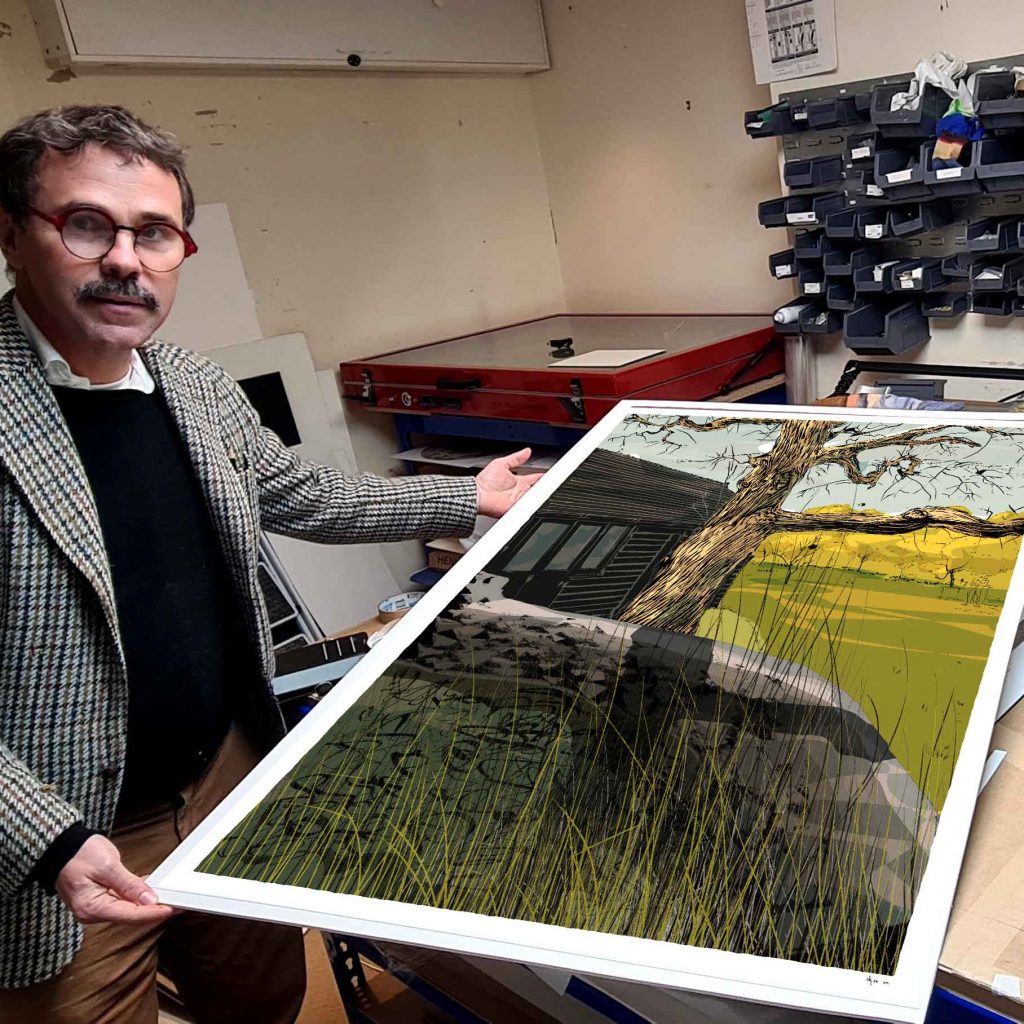 Virginia Woolf. A Room of One's Own
In Spring 2020 I read Virginia Woolf's 'A room of One's Own'. In Spring 2021 I visited her very own room, The writing lodge at Monk's House. Monk's House, owned by the National Trust was closed, but from the Church of St. Peter you can enjoy this back view of the lodge with this extraordinary tree. I see this tree like the creative spirit of Virginia. It is a listed tree. It has a plaque though I don't know anything more about it. We sat on the ledge of this flint wall for a long time, an early spring day, life starting to wake up after the winter.
'A Room of One's Own' by Virginia Woolf. Absolutely loved it and felt it is still so relevant. Virginia Woolf wrote most of her major works in her writing lodge in the garden of Monk's House. With the tranquility of the Sussex Downs through the window and the garden surrounding her, it was the perfect place to write.
Society has advanced since she wrote it, but the main message still applies where as humans in order to develop our maximum or minimum potential we individually need a safe space where we can close the door and create undisturbed by the hustle and bustle of the world . This has been practically impossible for women through history as mostly it was only men who could study, travel, work and mainly close the door and ask not to be interrupted.
To keep in mind this basic need of sacred space that we all should have access to, I have completed this print. Now go find yours.
Additional information
| | |
| --- | --- |
| Dimensions | N/A |
| Print sizes: standard portrait and square | A0 print size, portrait, A1 print size, portrait, A2 print size, portrait, A3 print size, portrait, A4 print size, portrait |