Brighton City Pier Ocean Blue
£192.00
Description
'Brighton City Pier Ocean Blue'
Print description
This print depicts how the Brighton Palace Pier first appears when you come from London Road and Steine Gardens. The pier is framed on the left by the historic Victorian Royal Albion Hotel. The hotel history is connected with the life and career of Richard Russell, a doctor who advocated sea water as a cure of ailments. After Russell's death in 1759, Old Steine developed as the centre of fashionable life in Brighton. The Russell House, as it became known, was used as lodgings for visitors such as the Duke of Cumberland, and later became an entertainment venue with activities such as a puppet theatre, a camera obscura and resident jugglers.(Wiki source). And to the right is the long-stading fish and chips Harry Ramsden's restaurant that welcomes the crowds that visit the pier along with 'Revenge' the most popular gay club in Brighton. Old Steine has earned a pivotal place in Brighton life since opening in 1991. It helped build up a safe and healthy gay scene which today supports generously Brighton economy. It has become a favourite nightspot for celebrities including comedian and TV presenter Graham Norton.
Print details
Panoramic format. Print size 124 x 30.5 cm approx. Signed print from a limited edition of 100. From original ink drawing to which I apply colour digitally. Printed on fine art paper using archival inks.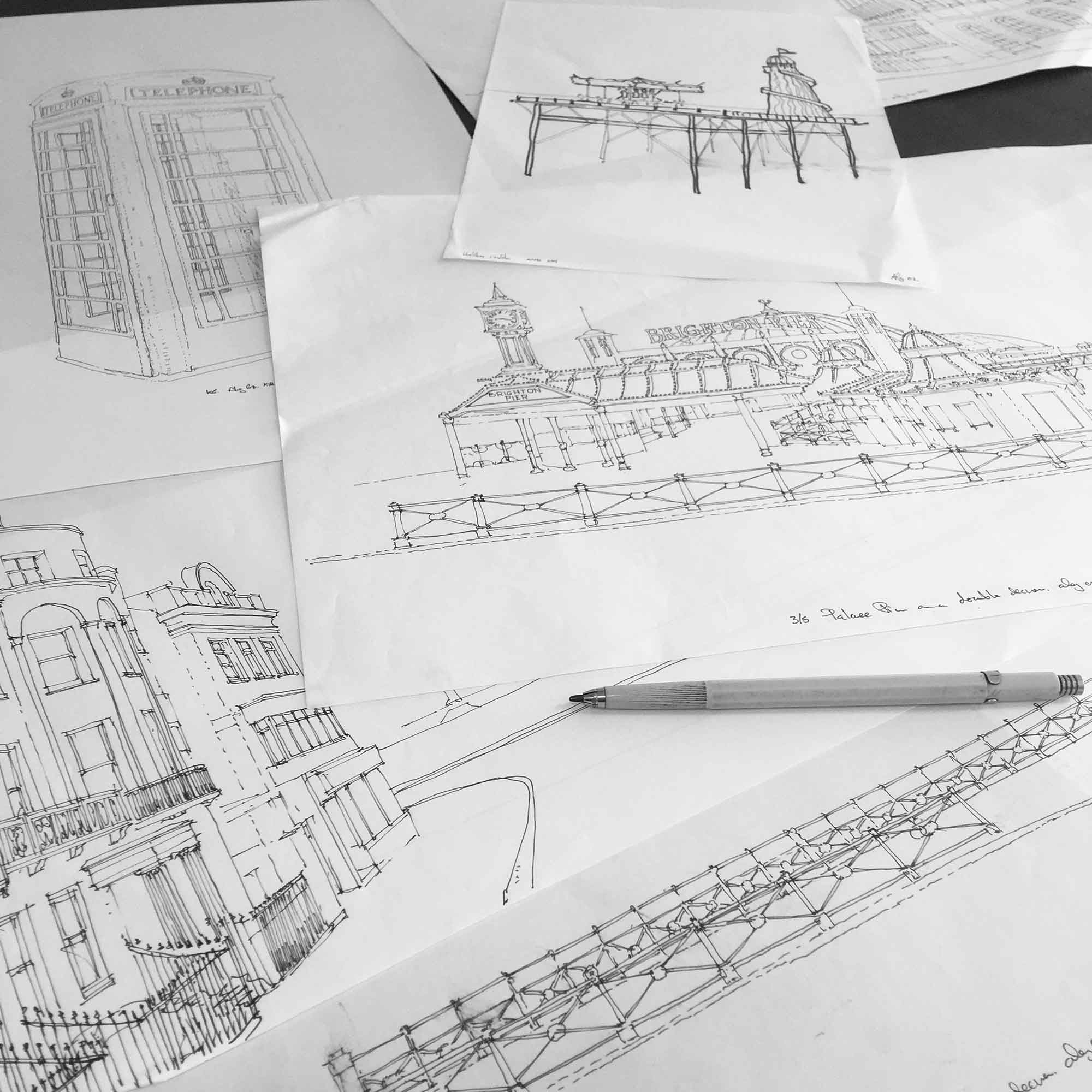 This print belongs to a tonal collection named 'Ocean Blue'. It reflects the aquamarine colours of the sea I encountered one summer day walking on the Palace Pier in Brighton with the 'Big Blue' underneath my feet glistening through the cracks between the planks of the wooden deck. And later lounging on a deck chair watching the English Channel framed in the horizon by the white lattice of Victorian wrought iron railings.
Only logged in customers who have purchased this product may leave a review.