Fallingwater Frank Lloyd Wright
£40.00 – £310.00
Description
'Fallingwater Frank Lloyd Wright.'
Print description
This art print depicts Fallingwater. Possibly the most iconic modernist house. Designed by Frank Lloyd Wright.
Print details
I created this print from my original ink drawings to which I apply colour digitally and then print on fine art paper using archival inks. I issue the formats A0, A1, A2, A3 & A4 as limited editions of 100 where I individually sign and number each print.
​Fallingwater
In 1991 I started my studies of architecture with the Universidad de Sevilla​. Fallingwater was built in 1935. Remarkably that year if you asked some students why they would study architecture, the answer was because of the fascination they felt with this building.
​In 1935 ​​Frank Lloyd Wright designed Fallingwater, an extraordinary house where the relationship between man, architecture, and nature was reinvented. Fallingwater was built as a weekend home for owners Mr. Edgar Kaufmann, his wife, and their son, whom he developed a friendship with through their son who was studying at Wright's school, the Taliesin Fellowship.
​​​I ​don't ​not know if ​I​ can​ describe this this building​ as​ historic. It does look ​so ​contemporary​ to me​. ​And​ when ​I learnt about its date of construction​n,1936, I want to do some research to try to understand also the story of my country at the time how I ended studying architecture. In July 1936 a military uprising happened in Seville, which contributed to the start of the Spanish Civil War. The city's garrison, led by Queipo de Llano, occupied the city and carried out a bloody repression. In August 1936, the Nationalists started their advance towards Madrid from Seville.
Those who have visited it assure that the​ architectural brief​ is fulfilled, ​that stated for the noise of the water to invade the entire house. Also ​ar​architecture​ fuses nature​ in a ​greatest achievement.
Fallingwater. Architectural Prints
If you like an apple. Do you like a painting of an apple too? Can the same question be asked about architecture? Possibly the difference is that architecture is expressed in its conception through drawings. So from drawings to construction and back to drawings, as a mean of expression and study.
Within my body of work there is a collection of Architectural prints where the expression of a building take centre stage in a way that the use of line and technique aims to convey with simplicity form and physicality.
For this art print of Fallingwater I focused on the horizontality of the building platforms, the verticality of the forest and the sinuous shapes of the waterfall to create a combination of cohesive elements each one with its onw expression.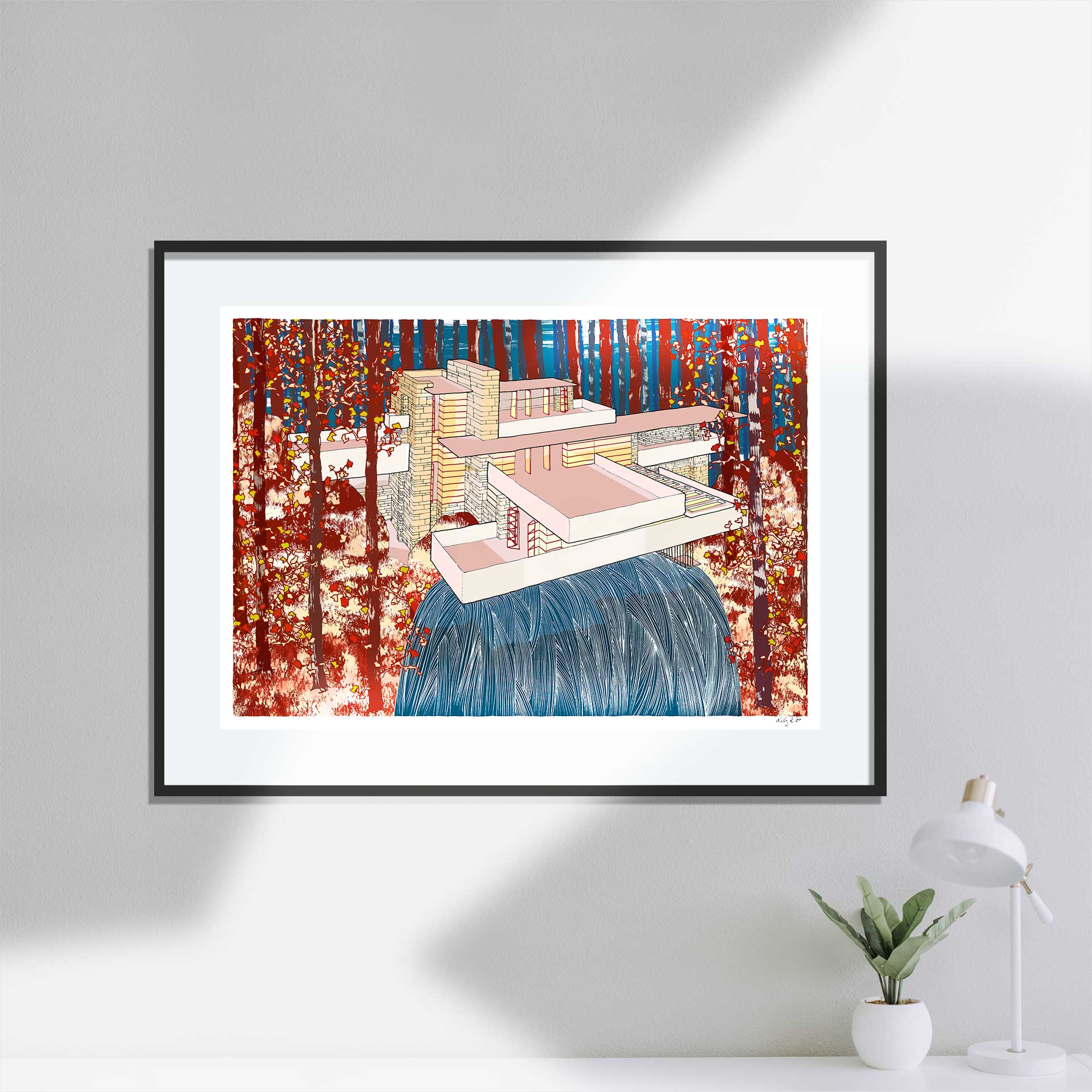 Additional information
| | |
| --- | --- |
| Dimensions | N/A |
| Print sizes: standard landscape | Art print A0 size landscape, Art print A1 size landscape, Art print A2 size landscape, Art print A3 size landscape, Art print A4 size landscape |
Only logged in customers who have purchased this product may leave a review.