The Barbeque on Brighton Beach. The two Roberts
£40.00 – £310.00
Description
'The Barbeque on Brighton Beach. The two Roberts'
Print description
Art print that depicts the famous Scottish artists named 'The Two Roberts' enjoying a barbeque on the beach next to the West Pier.
Print details
Print details
I created this print from my original ink drawings to which I apply colour digitally. Printed on fine art paper using archival inks. I issue the formats A1 & A2,A3 and A4 as limited editions of 100 where I individually sign and number each print.
The two Roberts. Robert Colquhoun and Robert Macbryde. 'Actors on a Stage'
Barbeques are an usual sight on Brighton Beach, but this one is rather different. The main subjects are an interpretation of a painting by Robert Colquhoun titled 'Actors on a Stage.'
It was painted in 1945 and depicts two figures embracing with a cat lying, stretched out, on part of the stage set behind them. A depiction of the relationship between his partner Robert MacBryde and himself.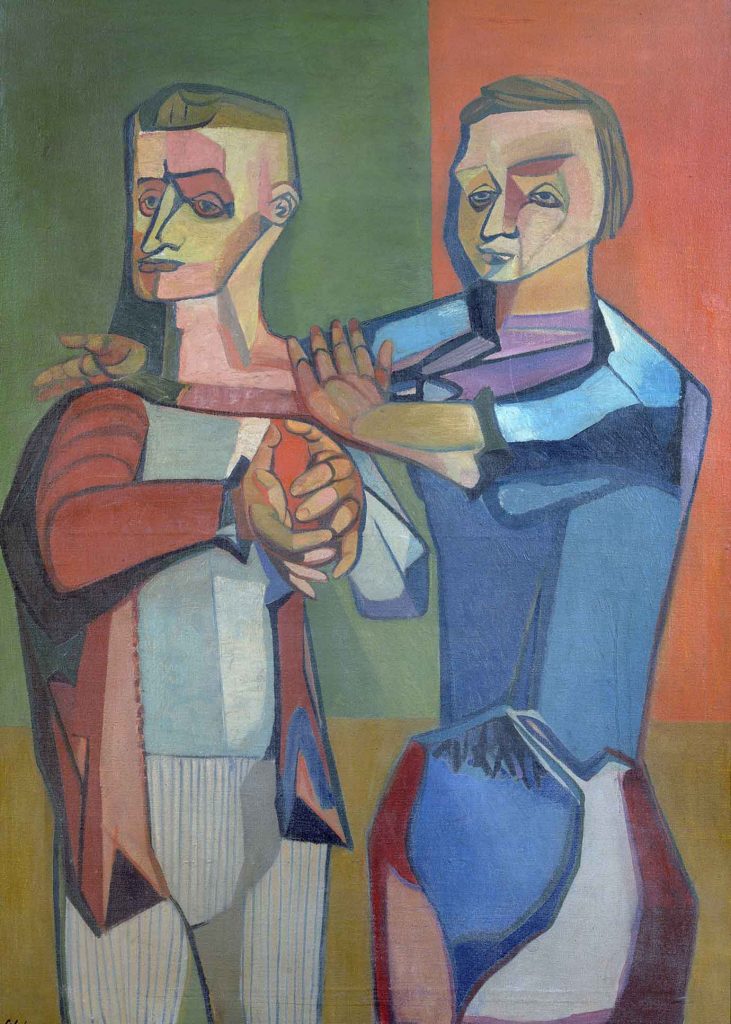 Life Drawing
I run a life-drawing class and during the Winter of 2021 we were unable to have life models due to the lockdown restrictions. For this reason Our group embarked on a project of weekly zoom drawing sessions where we studied LGBT artists and their partners. Each session had the difficult challenge to assess the work of the chosen artist and reinterpret his work and the relationship with the artist's partner.
I must admit that I did not have much knowledge on Robert Colquhoun and Robert MacBryde. Though a common denominator in our brief study showed how strong and indivisible the relationship was.
I decided to portray them physically and intimately closer with their legs intertwined by extending an existing portrait where they only appear from the waists up.
The message of a pair of tangled legs shows that your lives are intertwined and that a couple can exist as a unit. An image that these days has no consequences but that in their time was impossible as gay relationships were illegal. This art print is a homage to their creative love.
West Pier
In 2019 I held an exhibition at the West Pier Centre where I showed my work. My interest for this charismatic structure is well documented in numerous prints where I have featured the remains of the West Pier. I am currently an artist in residence at the West Pier Centre.
Beach Art
This print belongs to the series of prints I have created under the name 'Beach Art'. This series celebrates people happily spending their leisure time at the beach. Swimmers, divers, paddleboarders and the occasional tight-rope walker. Shimmering seas and bright sunny skies bathe with light these characters.
With a hint of nostalgia, these designs have my distinctive style and pay homage to the works of artists such as Robert Tavener and the New Romantic British artists John Minton and Keith Vaughan. The West Pier appears in all the prints in the series. I created this series in April 2021 to mark the start of my art residency with the West Pier Trust.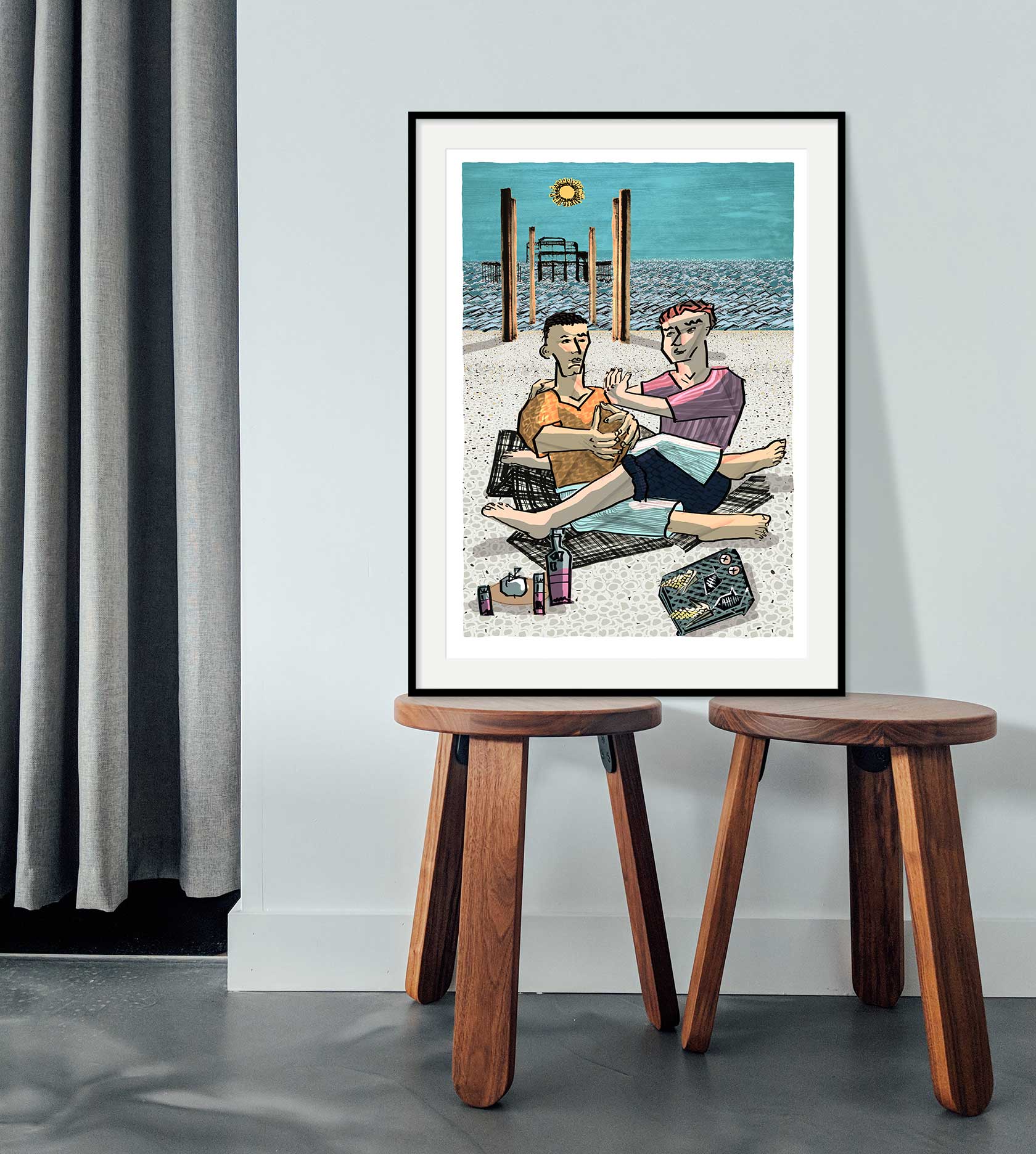 Additional information
| | |
| --- | --- |
| Dimensions | N/A |
| Print sizes: standard portrait and square | A0 print size, portrait, A1 print size, portrait, A2 print size, portrait, A3 print size, portrait, A4 print size, portrait |
Only logged in customers who have purchased this product may leave a review.