Derek Jarman Blue Night Dungeness Prospect Cottage
£192.00
Description
'Derek Jarman Blue Night Dungeness Prospect Cottage.'
Print description
This print is inspired by the film by Derek Jarman Blue. It shows Derek Jarman's Prospect Cottage and the surrounding landscape in Dungenes, East Sussex.
Print details
Panoramic format. Print size 124 x 30.5 cm approx. Signed print from a limited edition of 100. From original ink drawing to which I apply colour digitally. Printed on fine art paper using archival inks.
---
Inspection of print at studio
---
---
Dungeness
'In the afternoon, the wind got up and the sun came out, the bees took off uncertainty, the flowers danced.' (Wednesday 19 Derek Jarman's diary.)
I first visited Dungeness in 2012. I felt captivated by the landscape. At Dungeness you can see the modest Derek Jarman's fisherman's cottage surrounded by his garden. The whole place conveys harmony. The cottage building simply sits on a bed of shingles and is surrounded by a vast sky that is scarcely interrupted in the horizon.
The Garden of
Prospect

Cottage

Some of the plants Derek planted in his famous garden are local sea kale, Iberian gorse, Californian poppies, valerian, lichen. Similarly Derek found beauty in decay, he used to beachcombing the shore to pick up old rusted irons and half rotten timbers for his garden.

His garden was an experiment of life and art, of creation and survival where native and foreign plants grow together. Possibly mimicking the creative society he often surrounded himself with. To illustrate this he would describe how he would find pleasure in the smallest flower that with a struggle grows in the shingle.

The Garden Museum in 2020 put together an exhibition called 'Derek Jarman: My garden's Boundaries are the Horizon'. you can read a short article about my visit following this link.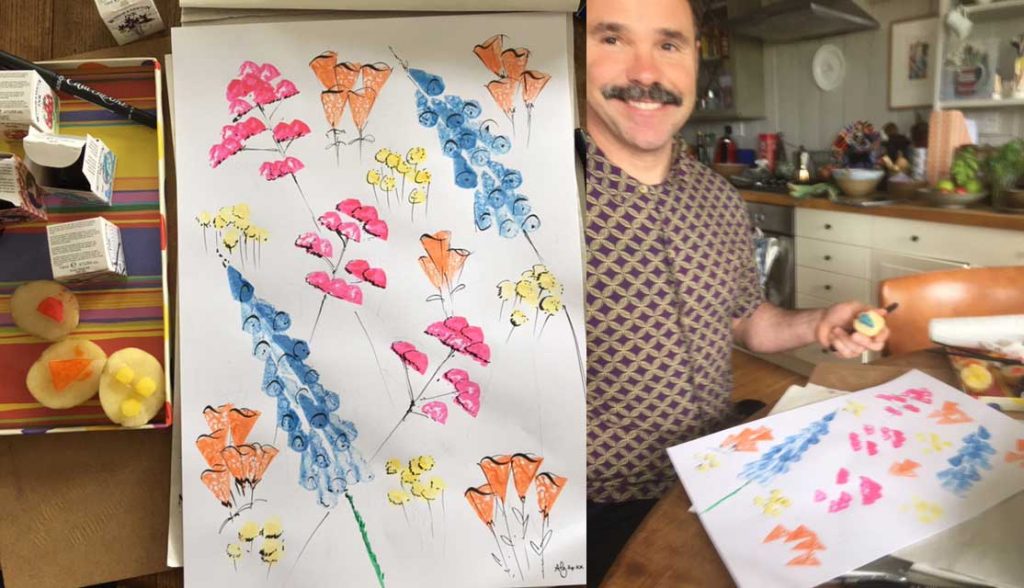 Potato Printing
The blooms in my print were created as potato prints in my kitchen. They are Valerian, Californian Poppies, Gorse and Foxgloves.
Derek Jarman
Research on the life of Derek Jarman leads to fascination and frustration at the same time. I have read a few of his books and visited his house in Dungeness.  However this has only given me a glimpse of his humanity and work.
Is film Blue there are seventy-six minutes of luminous blue screen complemented by a meticulously recorded soundtrack featuring music recorded at Brian Eno's studio and lyrical and autobiographical text read by Nigel Terry, Tilda Swinton and, at one unforgettable moment, by Jarman himself. Jarman's own confrontation with blindness in the course of his treatment for AIDS.
In his book 'At your onw risk' he relates his journey of being gay during the AIDS crisis.
Similarly his other book 'Derek Jarman's Garden' describes his man made paradise in the arid landscape of Dungeness.