Glyndebourne Harvest Moon Pheasants
£40.00 – £310.00
Description
'Glyndebourne Harvest Moon Pheasants'
Print description
Two pheasants on Glyndebourne grass meadows bathed in the light of the harvest moon.
Print details
I created this print from my original ink drawings to which I apply colour digitally. Printed on fine art paper using archival inks. I issue the formats A0, A1 & A2,A3 and A4 as limited editions of 100 where I individually sign and number each print.
In June 2022 I visited Glyndebourne to see an opera titled 'The Wreckers'. During the long interval I spotted a pair of pheasants in the grounds whilst I was enjoying a picnic.
After the picnic I visited the Green Room that had the work of Maggi Hambling who has designed this year's cover artwork for the programme. There was also at Gallery 94 an illustrative and beautiful art show called 'Cover to Cover 70 years of the Glyndebourne Festival Programme Book' fantastically curated by Philip Boot and Nerissa Taysom
Maggi Hambling's 'The Night of the Lotus Eaters' hangs in the Bluse Side of the Covered Way, It felt very special to see the original cover artwork.
'Cover to Cover' shows designs from David Hockney for 'The Rake's Progress' which I saw last year, and many other artists such as Tom Hammick dam Birtwistle, Howard Hodgkin, Mary Fedden, Fiona Rae, Grayson Perry, Julian Opie and Raqib Shaw and more.
The common pheasant (Phasianus colchicus) is a bird in the pheasant family (Phasianidae). The genus name comes from Latin phasianus, "pheasant". The species name colchicus is Latin for "of Colchis" (modern day Georgia), a country on the Black Sea where pheasants became known to Europeans. Pheasants have been depicted in art since medieval times in many cultures. In heraldry the pheasant represents a person of many ​resources. In Japanese culture the pheasants have been associated with the deity Amaterasu, putative ancestress of the imperial family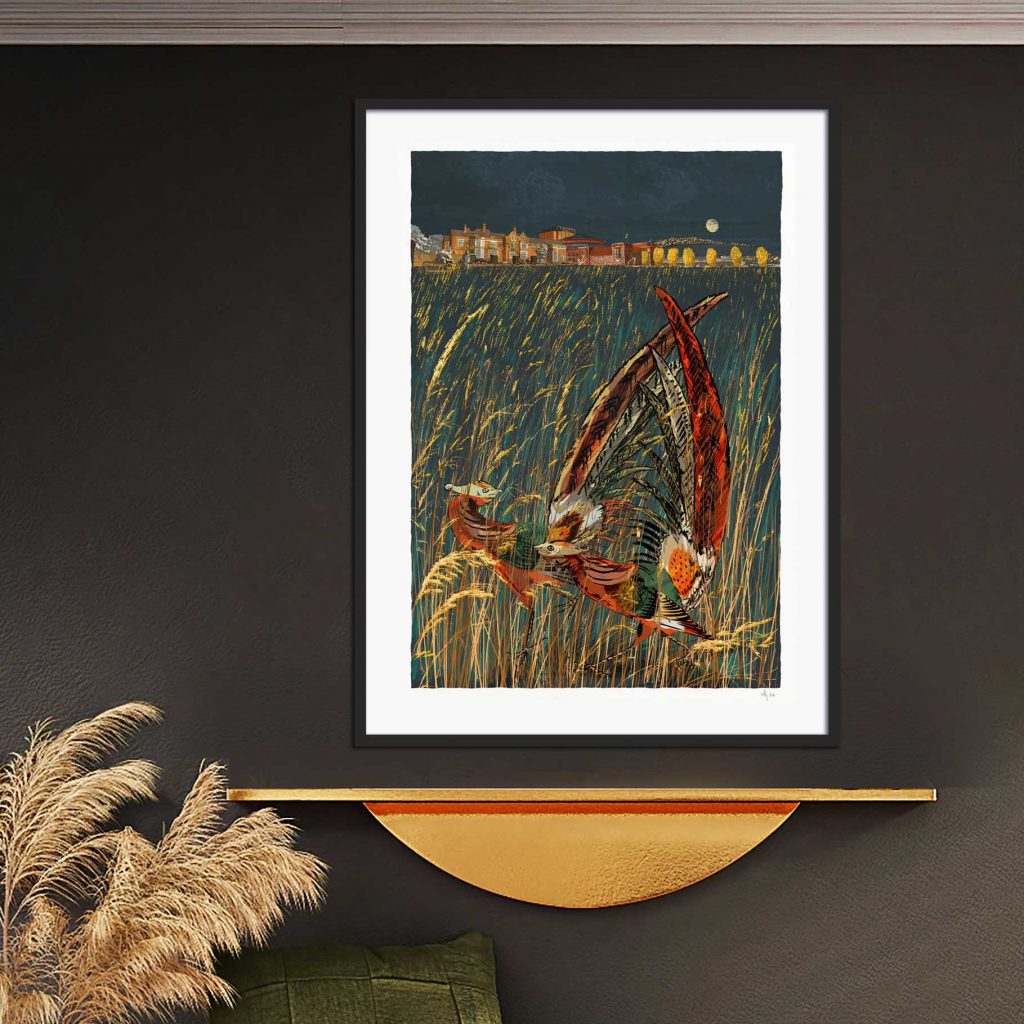 Additional information
| | |
| --- | --- |
| Dimensions | N/A |
| Print sizes: standard portrait and square | A0 print size, portrait, A1 print size, portrait, A2 print size, portrait, A3 print size, portrait, A4 print size, portrait |
Only logged in customers who have purchased this product may leave a review.