Swifts over Glyndebourne a Sussex Landscape
£40.00 – £310.00
Description
'Swifts over Glyndebourne a Sussex Landscape'
Print description
Like lightning, a pair of swifts fly through the skies above the Sussex Weald. View towards Ringmer and Glynde, with the rooftops of Glyndebourne Opera House and on the hill an electric wind turbine that sites next to the remains of a probably late C18 to early C19 windmill
Print details
I created this print from my original ink drawings to which I apply colour digitally. Printed on fine art paper using archival inks. I issue the formats A0, A1 & A2,A3 and A4 as limited editions of 100 where I individually sign and number each print.
The swift is a medium-sized aerial bird, which is a superb flyer. Sleeping, eating, bathing and even mating on the wing, swifts rarely touch the ground. They are also the fastest birds in level flight, with an impressive top speed of 69mph.
Swifts are plain sooty brown, with a white throat, but in flight against the sky they appear black. They have long, scythe-like wings and a short, forked tail. Swifts are summer visitors, breeding across the UK, but are most numerous in the south and east. Spending their winters in Africa, swifts migrate 3,400 miles twice a year, stopping off to refuel in places like Portugal and France along the way.
After a long flight back from their summer in Africa, swifts have one thing on their minds – to mate. Swifts pair for life, returning to the same site each year for a little nest renovation before laying and incubating their eggs. They like to live in houses and churches, squeezing through tiny gaps to nest inside roofs. But as more old buildings are renovated and gaps in soffits closed up, swift nest sites are fast disappearing. This, in part, has resulted in swifts being added to the Red list in the 2021 UK Conservation Status Report.
Red is the highest conservation priority, with species on this list needing urgent action. Species on this list, such as swifts, are globally threatened, with big declines in breeding populations and ranges. That's why swifts urgently need our help. By installing a swift brick in a wall, or putting up a nestbox, you could give a swift a place to rest and raise a family.

The remains of Glyndebourne Windmill at Ringmer Moor Lane. Probably late C18 to early C19. All that remains of this post windmill is the central post and 4 diagonal struts. But owing to its position on the top of a hill it is a landmark for some miles around, giving the impression of an obelisk at a distance.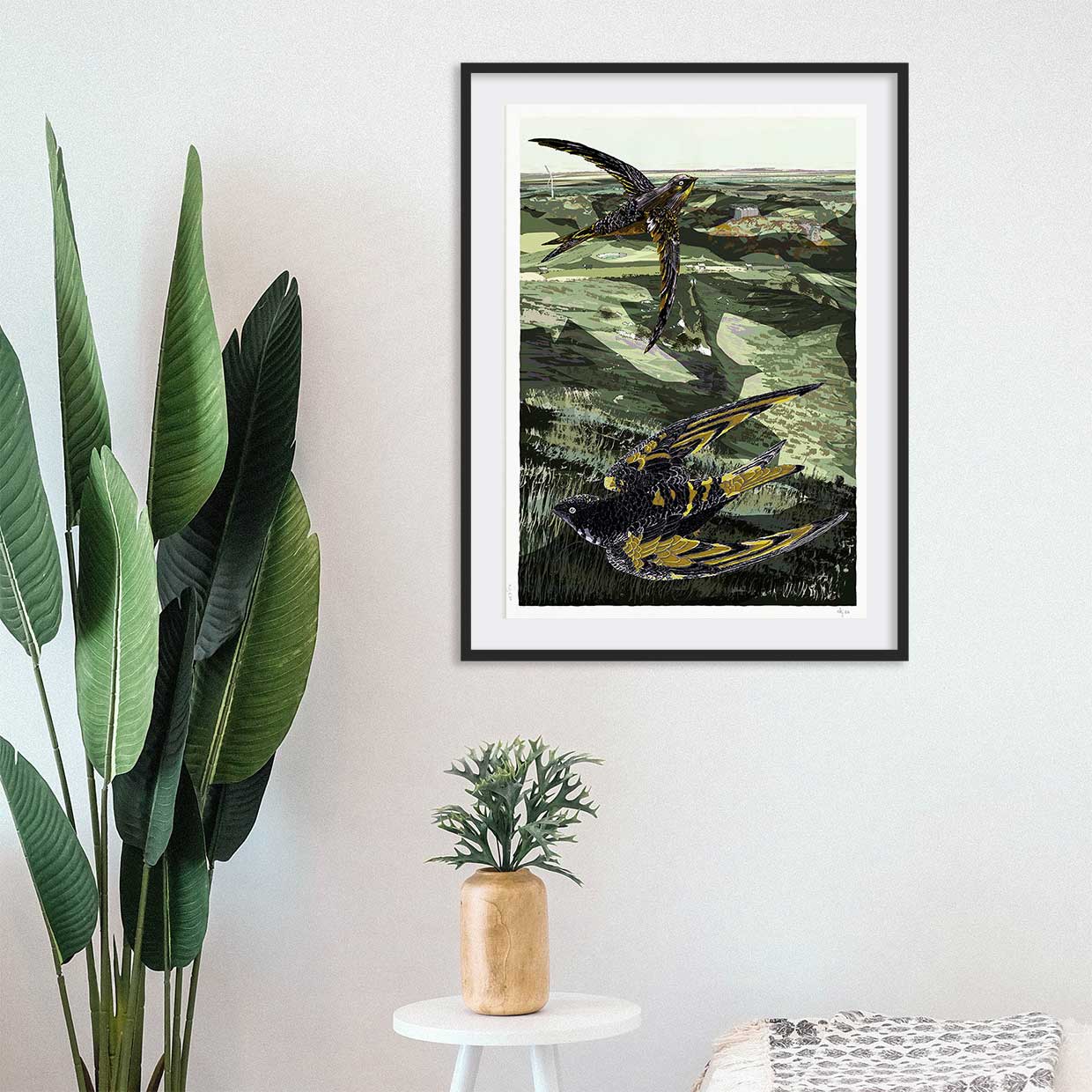 Additional information
| | |
| --- | --- |
| Dimensions | N/A |
| Print sizes: standard portrait and square | A0 print size, portrait, A1 print size, portrait, A2 print size, portrait, A3 print size, portrait, A4 print size, portrait |
Only logged in customers who have purchased this product may leave a review.