Two Swimmers by the West Pier
£40.00 – £180.00
Description
'Two Swimmers by the West Pier.'
Print description
These two characters, from Ancient Egypt, have come back to life. Their meeting place is one of Brighton's favourite spots, the beach by the West Pier.
Print details
I created this print from my original ink drawings to which I apply colour digitally. Printed on fine art paper using archival inks, the prints are available in size A1, A2, A3 or A4 as limited editions of 100 and each print is individually signed and numbered.
Framed print from the A2 edition
Ancient Egyptian art. Art references
In the spring of 2021 my dear friend William invited my partner and I to spend a weekend in his beautiful home in Hampshire. He has a fantastic collection of art books. After diner I picked a book on ancient Egyptian art.
The book was full of images of figures with a strong ancient and graphic appeal that looked also very contemporary. It was like a revelation that opened the door to question more and investigate further. Bellow you can see  two of the art pieces from the book I felt drawn to: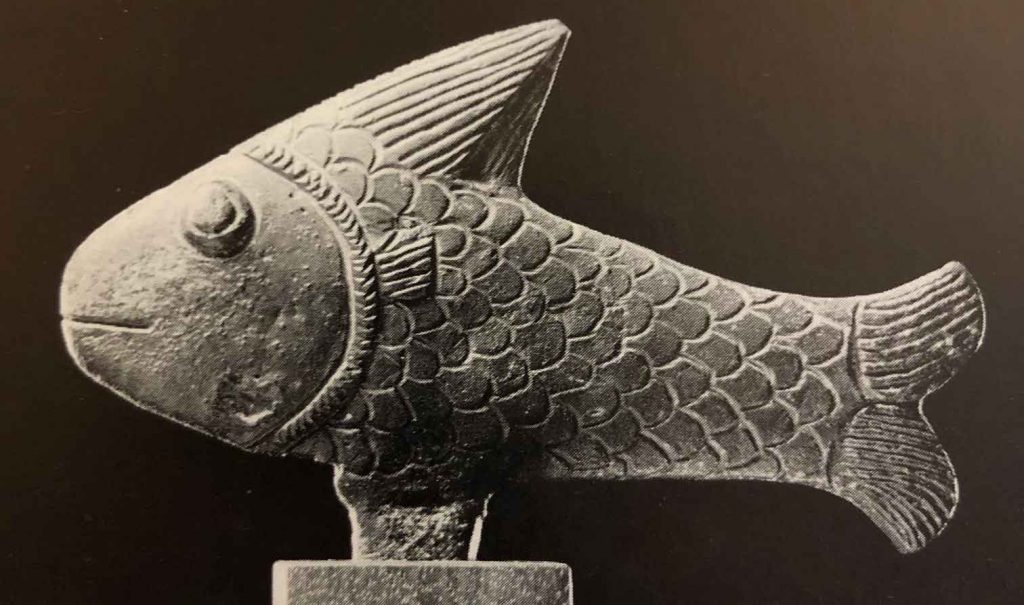 Fish. Bronze. Ptolemaic Period, c.300 B.C. Roemer-Pelizaeus Museum, Holdesheim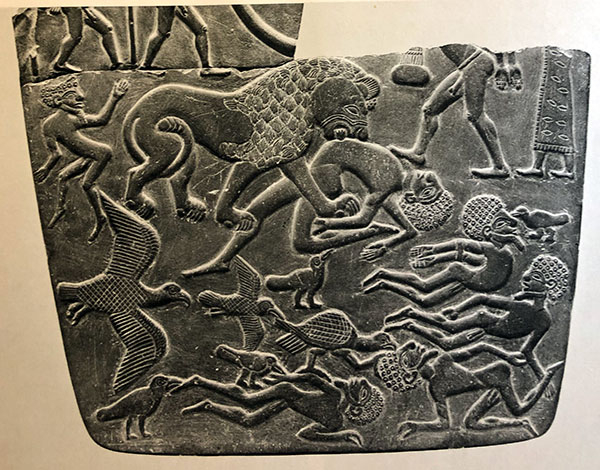 Brighton Seafront. The West Pier
The West Pier appears in this print as part of my position from April 2020 to April 2021 as an artist Residence for the West Pier Trust.
The industrial revolution brought social and technological advances. Among these, the Victorian championed the promotion of well being. For this reason many seaside towns built leisure piers across the United Kingdom inviting all segments of society to enjoy the benefits of clean air and gentle exercise. The West Pier, possibly the most beautiful in Britain,  stands today, sadly, as a bare and weathered wrought iron structure. In 2019 I held an art  exhibition at the West Pier Centre where I showed my work. 
My interest in this charismatic structure is well documented in numerous prints where I have featured the remains of the West Pier.
Original base ink drawings for the art print.
I work from original line drawings, these are scanned and colour is added digitally. I print my designs on art paper with archival inks and issue them as limited edition art prints, each one signed and dated. For queries please use the contact section and I will get back to you.
Additional information
| | |
| --- | --- |
| Dimensions | N/A |
| Print sizes: standard portrait and square | A0 print size, portrait, A1 print size, portrait, A2 print size, portrait, A3 print size, portrait, A4 print size, portrait |