Derek Jarman Garden Prospect Cottage
£40.00 – £310.00
Description
'Derek Jarman Garden Prospect Cottage'
Print description
In this art print I show a shingle garden path in which behind a large sea kale plant and a stranded timber boat appears  Derek Jarman's Prospect Cottage in Dungeness.
Print details
created this print from my original ink drawings to which I apply colour digitally. Printed on fine art paper using archival inks. I issue the formats A1 & A2,A3 and A4 as limited editions of 100 where I individually sign and number each print.
"Dungeness, Dungeness, your beauty is the best, forget the hills and valleys. This landscape is like the face you overlook, the face of an angel with a naughty smile." Derek Jarman
Derek Jarman Garden
Derek Jarman created in what is designated as the only desert in the UK a remarkable garden. He planted sea kale, Iberian gorse, Californian poppies, valerian, lichen. And similarly whilst living in Dungeness Derek found beauty in decay, as he used to beachcombing the shore to pick up old rusted irons and half rotten timbers for his garden.
His garden was an experiment of life and art, of creation and survival where native and foreign plants grow together. Possibly mimicking the creative society he often surrounded himself with. To illustrate this he would describe how he would find pleasure in the smallest flower that with a struggle grows in the shingle.
The Garden Museum in 2020 put together an exhibition called 'Derek Jarman: My garden's Boundaries are the Horizon'. you can read a short article about my visit following this link.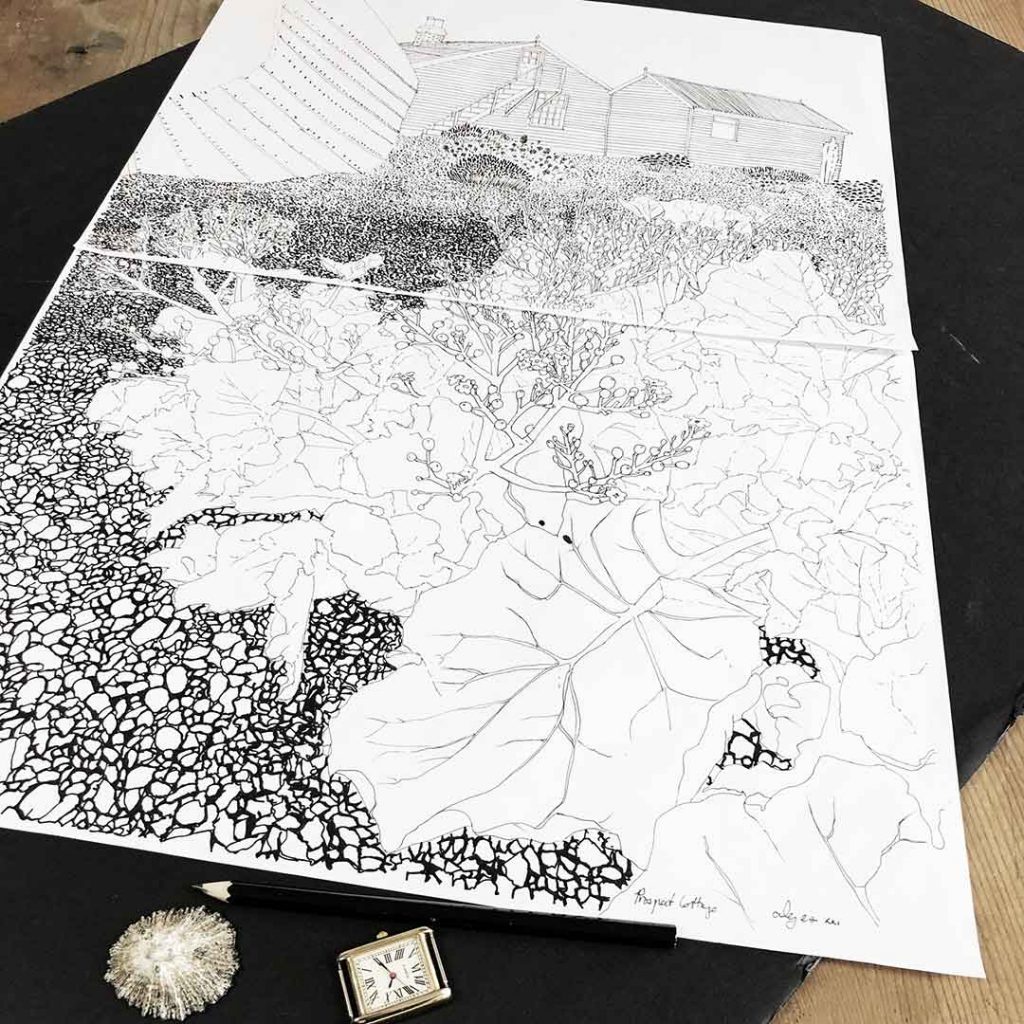 Derek Jarman
Derek Jarman (1942-1994) was a epic English filmaker and artist, he was best known for his avant-garde art films and also famous as a set designer, gardener, author and gay rights activist.
From 1986 up until his death in 1994, Jarman made his home on the shingle beaches of Dungeness, Kent.
Dungeness
Dungeness is a headland on the South coast of Kent, formed largely of a shingle beach in the form of a cuspate foreland. The Dungeness reserve is set back from the sea, boasting a large expanse of open shingle, fresh water pits, wet grassland and unique wildflower meadows.
Additional information
| | |
| --- | --- |
| Dimensions | N/A |
| Print sizes: standard portrait and square | A0 print size, portrait, A1 print size, portrait, A2 print size, portrait, A3 print size, portrait, A4 print size, portrait |
Only logged in customers who have purchased this product may leave a review.