Winter Swim with a Woolly Hat
£40.00 – £52.00
Description
'Winter Swim with a Woolly Hat.'
Print description
This print shows a winter swimmer with a woolly hat, needless to say that swimming can only happen in calm waters and the exercise must be precise to avoid the hat getting wet. If you have carried on swimming in the sea through the winter I admire you. Soon the temperature of the sea will bearable for most of us.
Only when you swim some distance from the shore can you admire a sea that is dark emerald green. Swimming in deep dark water is about confidence, knowledge, trust and love for the sea. I have medium tinnitus, ringing in my ears, caused by my love for freediving. When you are in the water you can move in any direction free from gravity.
Print details
I created this print from my original ink drawings to which I apply colour digitally. I the printed it using fine art paper and archival inks.  From a limited edition of 100. I individually sign and number each print. This print is available in the following formats:
A3 size portrait 29.7 x 42 cm (11.7 x 16.5 in)
A4 size portrait 21 x 29.7 cm (8.3 x 11.7 in)
Beach Art
This print belongs to the series of prints I have created under the name 'Beach Art'. This series celebrates people happily spending their leisure time at the beach. Swimmers, divers, paddleboarders and the occasional tight-rope walker. Shimmering seas and bright sunny skies bathe with light these characters.
With a hint of nostalgia that looks at the heyday of Britain's seaside, these designs have my distinctive style and pay homage to the works of artists such as Robert Tavener and the New Romantic British artists John Minton and Keith Vaughan.
The West Pier appears in most of the prints in the series. I started this series in the spring of 2021 to mark the start of my art residency with the West Pier Trust.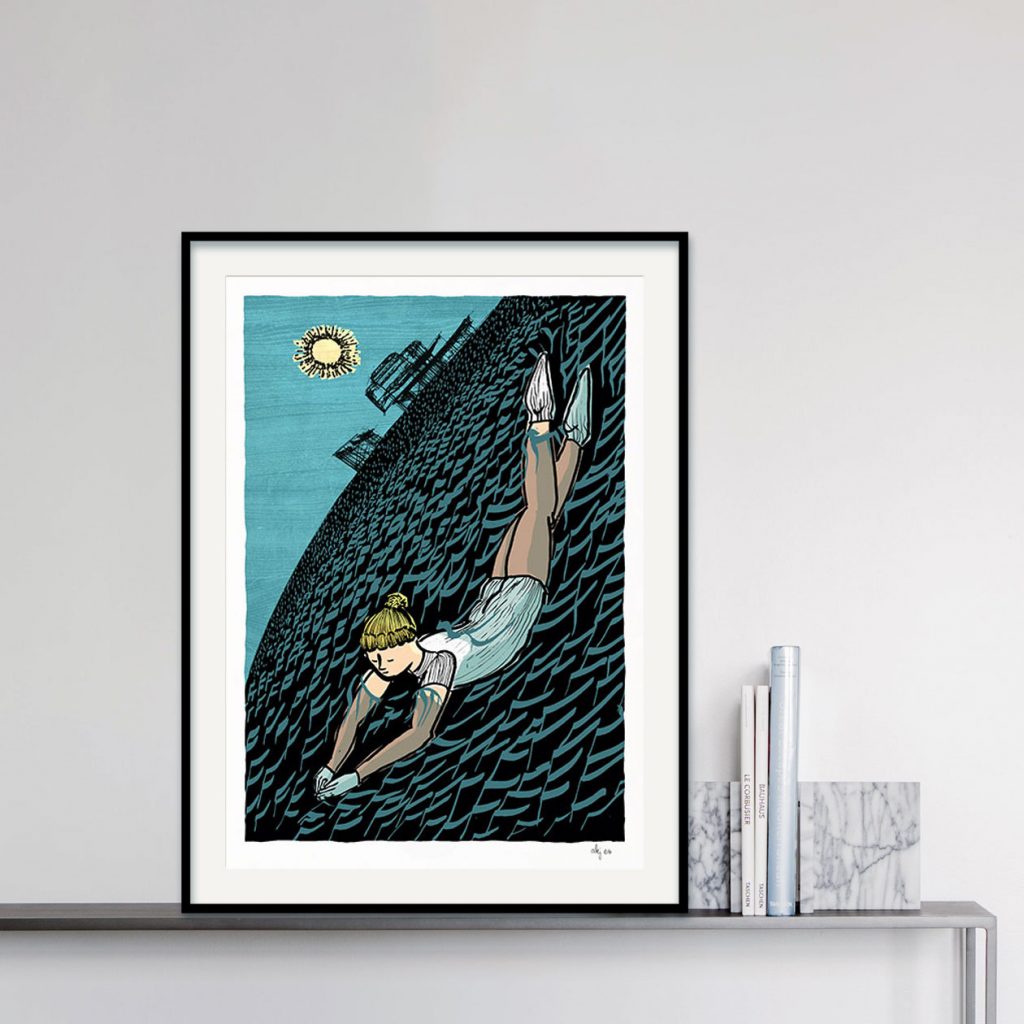 Additional information
| | |
| --- | --- |
| Dimensions | N/A |
| Print sizes: standard portrait and square | A1 print size, portrait, A3 print size, portrait, A4 print size, portrait |