Brighton art has been in the scene since the city turned from a small fishing village to the most famous seaside resort of England.
Artists such us Constable, Turner and many others have created Brighton art themed works. Brighton is known as 'London by the sea,' and indeed is a colourful and multicultural town. I live in Brighton and I love its light, architecture and people.
I live in Brighton and I love this city. It is only natural that a large number of my creations are Brighton prints. The city of Brighton and Hove is often referred as 'London by the Sea'. This term somehow reflects the vibrancy and multicultural spirit that this place has.
My first visit to Brighton was like for many of us as a day outing in early 2000. I came down by train from London. From the station after a short walk you can reach the beach and enjoy views that I often portray in my prints. Brighton has a wonderful legacy of historic buildings from different eras the and natural beauty of its coast that is part of the South Downs National Park.
 I normally carry my sketch book with me around town. I love drawing studies and ideas in situ though I create the large base drawings from my prints in my studio in the North Laine in central Brighton.
Pen and ink studies of Brighton and Hove scenes
---
Brighton Print
When I first started, my prints were lets say pocket sized. Then I started to sell these in art fairs and galleries. Eventually and linked to the tradition of printed panoramas I embarked on the idea of producing my own very first wide angle vista. You can see the print base drawing below of my first ever panoramic print that I named 'Hove Brighton Promenade'
Photograph of print base drawings. I make these formats with calligraphic brushes, fine-line markers, and other tools; ; in watercolour, ink and charcoal and  on separate sheets of A3 size marker paper. These are scanned and form the main line work and patterns in the final print.
---
Brighton Pier Print
Brighton has been a magnet for artists for centuries. Many famous artists have chosen the picturesque vistas of the historic regency architecture by the sea subjects for their work. For inspiration I often visit the Brighton Museum where you can find a wonderful collection of prints.
The process of creation one of my prints starts with site visits to familiarise with the building and the views, parallel to this process I carry out a research of the architects and period. I work from my own photographs, from which I create line ink drawings. Later I scan these drawings and I add colour digitally. Finally I print them on art paper using archival inks, issued as limited edition art prints.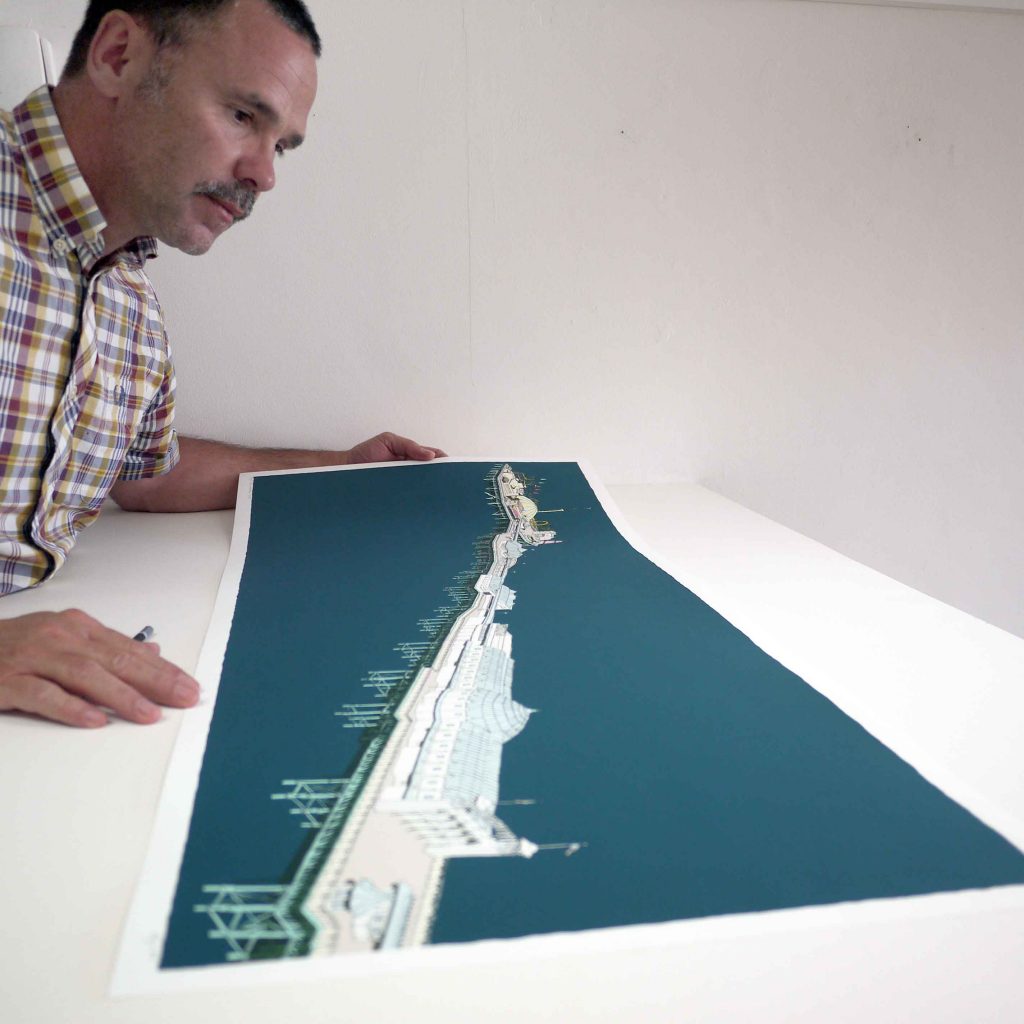 Signing and inspecting a print at the studio in Brighton. If interested to see the studio and met me, please get in touch to arrange a visit.
---
Brighton Art, West Pier Prints
One of my recurrent subject is the West Pier. The West Pier stands with its bend wrought iron beams and posts resembling a natural contemporary sculpture along the shore.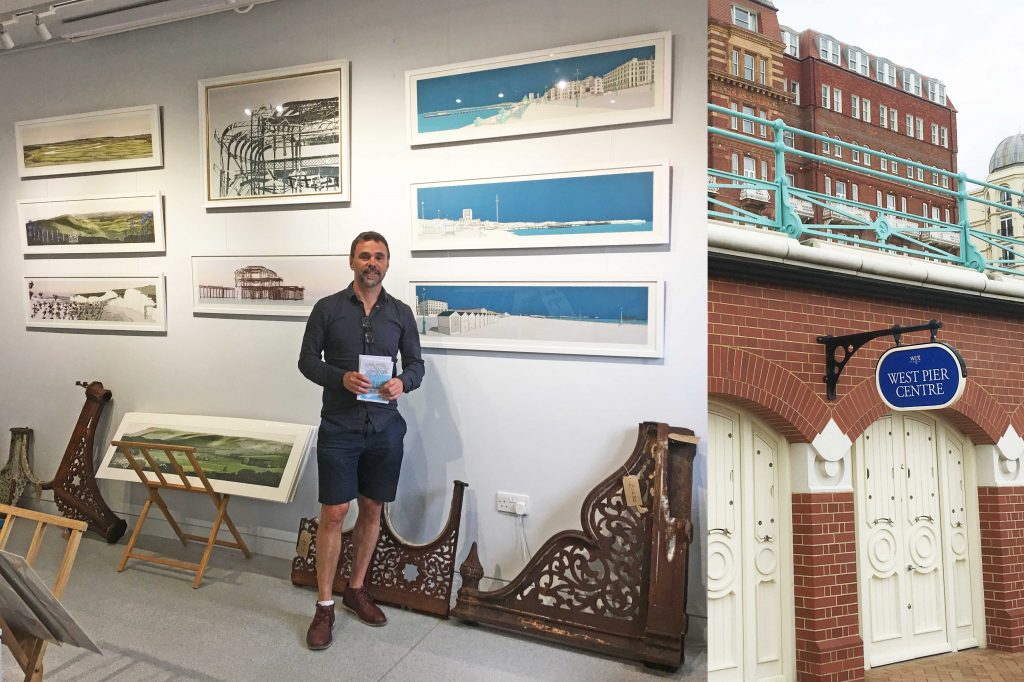 Art exhibition of my prints at the West Pier Centre in Nov 2019.
---
Brighton art print gallery